Hallmark's Andie MacDowell Still Feels Sexy In Her Skin As An 'Older Woman'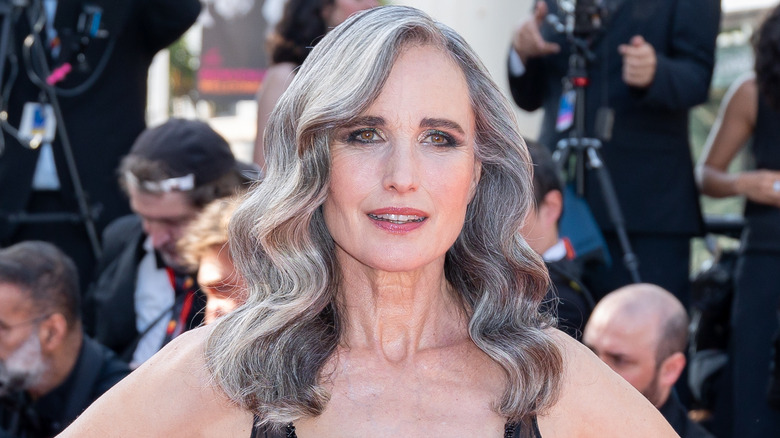 Marc Piasecki/Getty Images
It seems like Andie MacDowell is always helping to break new ground. Once a high-end fashion model, she switched to acting and cemented her on-screen career in Steven Soderbergh's directorial debut, "Sex, Lies, and Videotape." MacDowell also played Olivia Lockhart in the Hallmark Channel's first primetime drama, "Debbie Macomber's Cedar Cove." And now, the actor is at the forefront of what some call the Silver or Gray Revolution — i.e. the act of embracing the aging process. 
"I want to be old," MacDowell told Katie Couric plainly (via YouTube). "I'm tired of trying to be young. I don't wanna be young. I've been young. And to be an older person trying to be young? What an effort! The truth of the matter is, I'm old and that's okay." She both became a grandmother in real life and plays a grandma on TV, starring as Del Landry on the Hallmark series "The Way Home." 
MacDowell has also been widely lauded for her performance in the Netflix series "Maid." As the living legend informed People, "I feel like my career is actually doing really well right now because I've dove into being an older woman and accepted it." Moreover, she feels as beautiful and sexy as ever before — if not more so. 
With age comes wisdom (and sexiness)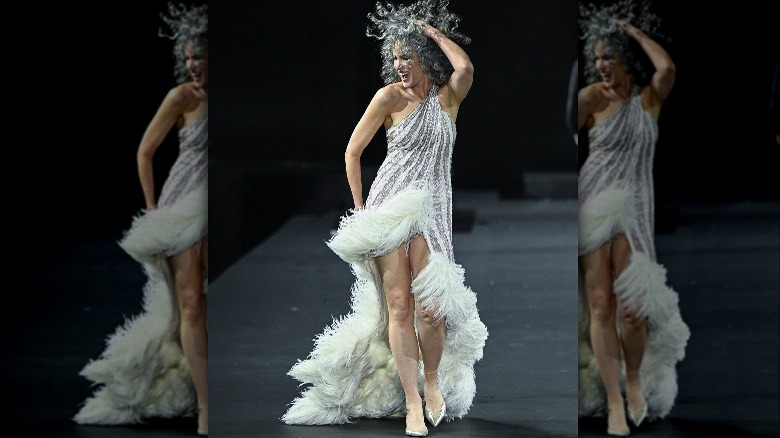 Stephane Cardinale - Corbis/Getty Images
On-screen, Andie MacDowell has captured the hearts of Emilio Estevez in "St. Elmo's Fire," Bill Murray in "Groundhog Day," Hugh Grant in "Four Weddings and a Funeral," and Joe Manganiello in "Magic Mike XXL." And, as she's got older, the in-demand actor doesn't feel any less desirable. "I love being an older woman. I really enjoy it," she shared with People. "And it doesn't feel less sexy."
MacDowell has been a L'Oréal brand ambassador for over 25 years, and in 2022, at the age of 64, she danced her way down the runway during Paris Fashion Week at the L'Oréal Paris Le Define "Walk Your Worth" show, captivating audiences with her vibrancy. The following year, the actor turned heads and caught camera lenses alike with her silver strands and impressive fashion sense on the red carpet at the Cannes Film Festival. 
As for showing off her crow's feet, MacDowell asserted to Genlux, "Some lines are kind of sexy." She also argued that, although women are typically held to higher beauty standards than men, "The idea that men are allowed to get older, but women are not, is an old rule that's being broken." The longtime actor also stated, "I know I'm equal and as beautiful and sexy as any man my age." 
MacDowell fully embraces her gray hair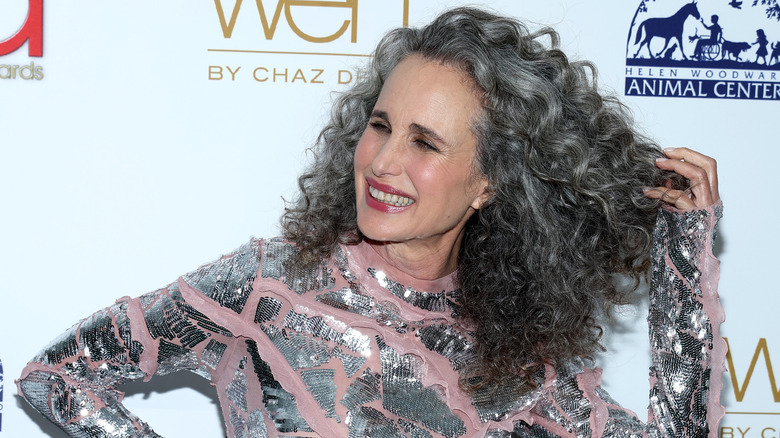 Jemal Countess/Getty Images
One of the most visible ways Andie MacDowell embraces her age is through her stunning gray hair. Known for a head of dark curls in most of her movies (remember her insanely cute, curly bob in "Four Weddings and a Funeral?"), MacDowell confirmed that it was during the COVID-19 pandemic when she first decided to let her silver roots take hold. 
As the actor explained to Vogue, "Every time my kids would see me, they kept telling me I looked badass with my gray hair." MacDowell admired George Clooney and his gray hair, telling Katie Couric that she had a feeling that the combination of her raven locks and the new silvery hue would really suit her. 
"I thought it would look good on my face," the Hallmark star remarked. "I was right. It looks good on me." MacDowell likes the way her gray hair makes her feel, too. When the hue took over, there was an overwhelming sense of empowerment that came with it. As she revealed to Couric, "I felt more powerful, and I felt more genuine, and I felt more myself."