Why Julia Roberts And George Clooney Never Took Their Friendship To The Next Level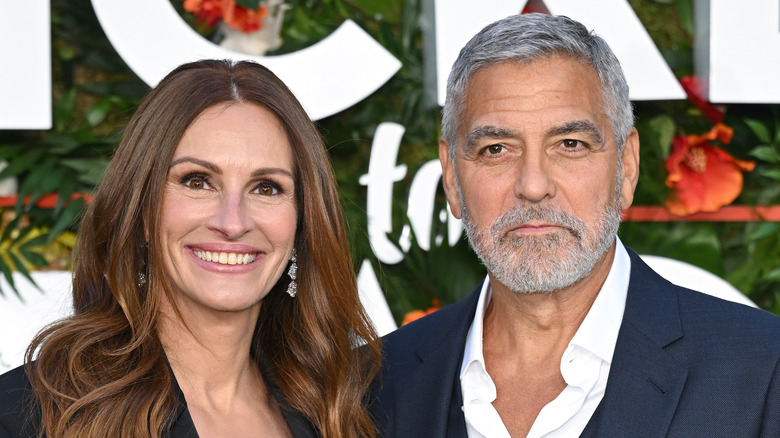 Karwai Tang/Getty Images
Julia Roberts and George Clooney are two of the most beloved actors in Hollywood. The two met in 2000 and then started off their long professional partnership. Over the years, they worked on six projects together, including films such as "Money Monster," "Ticket to Paradise," and "Ocean's Eleven." However, their friendship has never turned romantic. Instead, they've remained the best of buddies.
"We became instant friends," Roberts told Jimmy Kimmel of her first meeting with Clooney. "You just meet people and sometimes you think, 'I really don't like that person. I have no reason to not like them. I just don't like them and I will never change my mind.' Then, there's some people that you meet, like my GTC, who you go, 'OK, I'm going to know this person until the end of time. This is a good one,'" she stated.
Over the years, Roberts and Clooney have gushed over each other many times. In 2013, Roberts was there to honor her pal when he won the Stanley Kubrick Britannia Award for Excellence in Film. She also admitted that Clooney and his family saved her from loneliness while the duo were filming in Australia and she felt homesick for her loved ones (via The New York Times.) Meanwhile, things have always been completely platonic between the actors, despite their amazing chemistry.
Julia Roberts and George Clooney were always in relationships with other people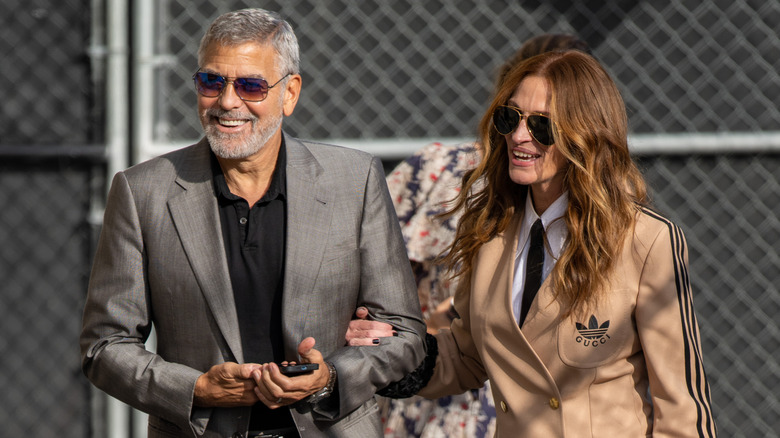 Rb/bauer-griffin/Getty Images
George Clooney is arguably one of Hollywood's sexiest men, and Julia Roberts is an American sweetheart. Although they are very close to one another, their relationship never progressed to anything intimate. During a 2022 interview with Access Hollywood, the pair was asked why they never got romantic in the early years of their friendship before they were married to other people. The duo joked and laughed about never seeing each other in a romantic way, but Clooney went on to explain that it was simply never in the cards for the pair. Clooney added that his friendship with Roberts was too strong to progress into anything more. "Julia was always in a relationship, or I was in a relationship. And we were fast friends right away. So it was nothing, but it's been nothing but fun for us. So, I don't think that was ever really a thing."
Even though Clooney and Roberts have played love interests on-screen, their real-life friendship can prevent them from tackling romantic scenes. The actor admitted to The New York Times that he and Roberts even have a hard time kissing each other. "I told my wife [Amal Clooney], 'It took 80 takes.' She was like, 'What the hell?'" Clooney said. Roberts added, "It took 79 takes of us laughing and then the one take of us kissing."
In addition to Clooney and Roberts' friendship, their families are also close.
Julia Roberts and George Clooney's families are bonded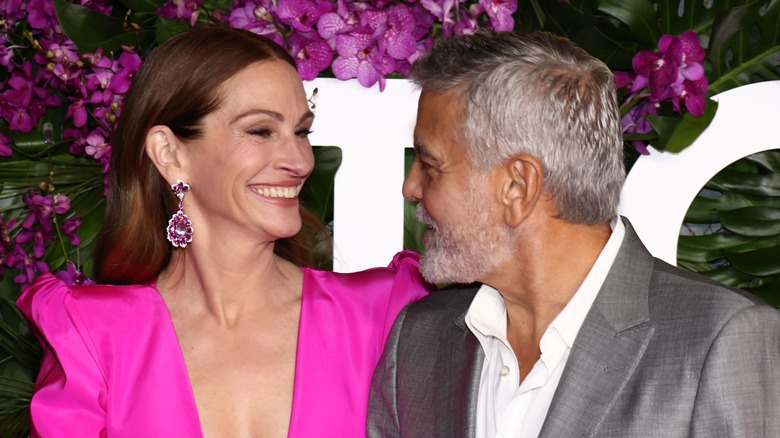 Tommaso Boddi/Getty Images
While Julia Roberts may consider George Clooney one of her best friends, their families are also in on the relationship. Roberts is married to Danny Moder, and the two share three children together. Meanwhile, Clooney and his wife, Amal, have twins. The families are connected due to the actor's longstanding friendship, and they wouldn't have it any other way.
"Danny and I are great friends and love each other," Clooney told People in 2016. "What's fun is it's really like a family. It makes it easy. It's really fun to go, 'Hey, let's do this movie together.'" Roberts also chimed in, revealing that they continue to grow closer with each new family member added. "What he's saying is we've just stitched our lives closer together. All these people that come into our lives; my husband, my children, his wife Amal Clooney. We just keep stitching our lives closer together." Clooney also revealed that Roberts stayed at his home in Italy with her children and that they had a "blast" with the kids. Meanwhile, Roberts revealed that she and Clooney really do like each other and are genuine friends.
Roberts and Clooney's friendship appears to be one for the books. They work well together, enjoy spending time together, and seem to blend their families effortlessly, making them total friendship goals.