George Clooney's Friendship With Julia Roberts Goes Way Back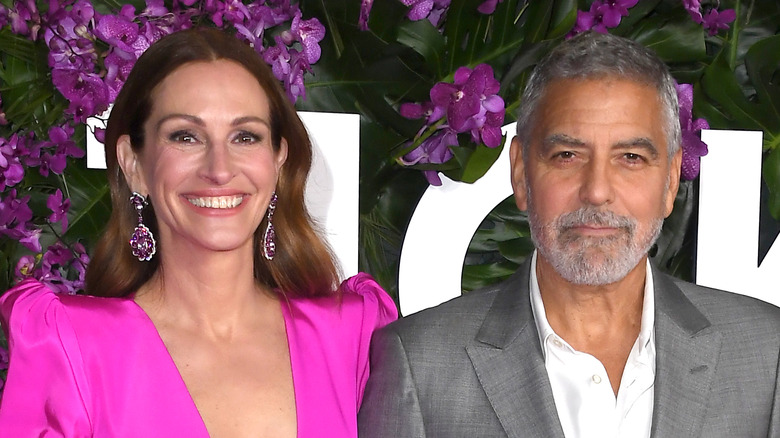 Steve Granitz/Getty Images
George Clooney and Julia Roberts are two names that are very well-known in Hollywood. The actors have been in the spotlight for decades, and during that time they've forged a long-lasting friendship with one another. The duo's bond goes beyond their careers. In fact, Roberts credits Clooney and his wife for helping to save her from loneliness while they were filming their 2022 movie "Ticket to Paradise" in Australia. Roberts told The New York Times that she was feeling blue while filming so far away from her husband Danny Moder and their three children. However, it was her old friend who cheered her up and kept her sane during the difficult time.
"The Clooneys saved me from complete loneliness and despair," Roberts said. "We were in a bubble, and it's the longest I've ever been away from my family. I don't think I've spent that much time by myself since I was 25." For his part, Clooney admitted that he and his family enjoyed having his co-star around. "We started in Hamilton Island, with all these wild birds, and Julia had the house down just below Amal and me and the kids," he explained to The New York Times. "I would come out in the early mornings and be like, 'Caa-caa,' and Julia would come out and be like, 'Caa-caa.' And then we'd bring her down a cup of coffee. She was Aunt Juju to my kids," the "ER" actor added.
However, Clooney and Roberts' friendship goes back much longer than their time on that set.
Clooney and Roberts have been friends for decades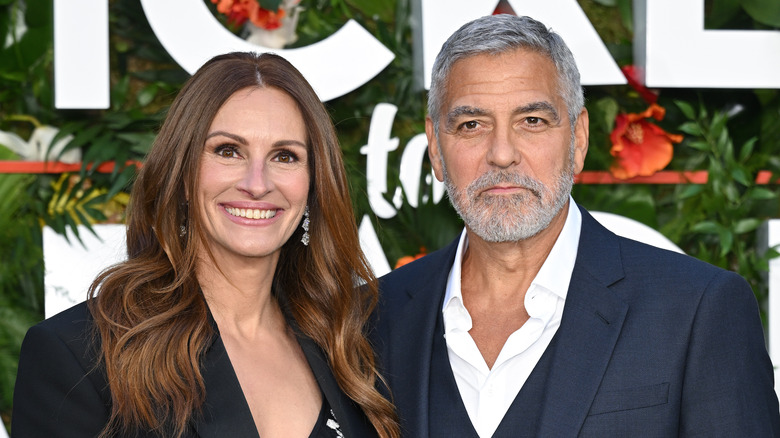 Karwai Tang/Getty Images
George Clooney and Julia Roberts have been friends for more than two decades after meeting in 2000. They hit it off, worked together on the film "Ocean's Eleven," and an iconic Hollywood friendship was born. Since that time, Clooney and Roberts have co-starred in six projects together, proving they love acting side by side.
In early 2023, Roberts appeared on "Jimmy Kimmel Live!" and opened up about her years-long friendship with Clooney. "We became instant friends," Roberts said of meeting Clooney for the first time. "You just meet people and sometimes you think, 'I really don't like that person. I have no reason to not like them. I just don't like them and I will never change my mind.' Then there's some people that you meet, like my GTC, who you go, 'OK, I'm going to know this person until the end of time. This is a good one,'" she added.
Even the pair's "Ticket to Paradise" co-star Kaitlyn Dever couldn't get enough of their epic relationship. "I admire them so much, and I will say they are everything you want them to be and more!" she told ET. "I truly just love them so much. Their friendship is something that is so sweet. They love making each other laugh and it's the best thing to be around."
Roberts paid tribute to Clooney in 2013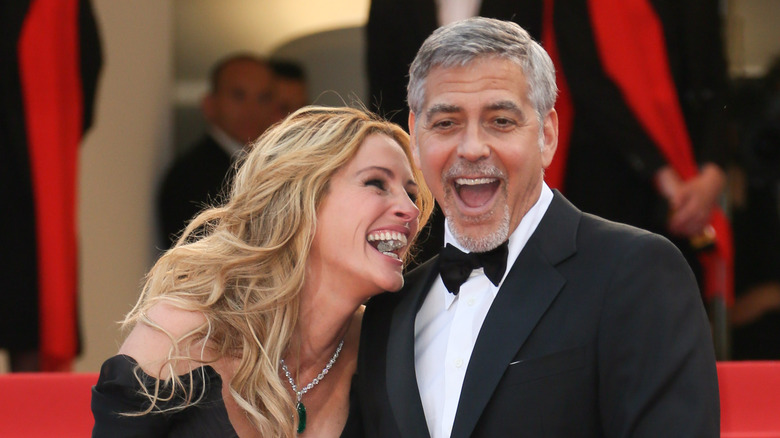 Toni Anne Barson/Getty Images
Julia Roberts admires George Clooney so much that when he received the Stanley Kubrick Britannia Award for Excellence in Film in 2013, she was there to honor him. Of course, Roberts couldn't give a speech honoring her pal without making a few jokes first. The actor quipped that she was only chosen to be at the event because Clooney's other friends Brad Pitt and Matt Damon were unavailable. However, after some laughs, Roberts paid a sweet tribute to her friend, per E! Online.
"I consider George a friend. We have worked together in many capacities. We have acted together a few times. He's been my producer and my director, all of which he is immeasurably gifted at. He's handsome, he's talented, he is an exemplary humanitarian and a gifted prankster," she stated. In return, Clooney later gushed over Roberts. "It has been such a pleasure to watch the woman you have become," he said. "... just an amazing mother, an amazing wife, and a great, great friend. It's really an honor to have her here."
It's clear that Clooney and Roberts hold a great amount of affection for one another, and fans have loved watching them bring their connection to the big screen over the years.