Nick Cannon Once Sent The Wrong Cards To The Mothers Of His Children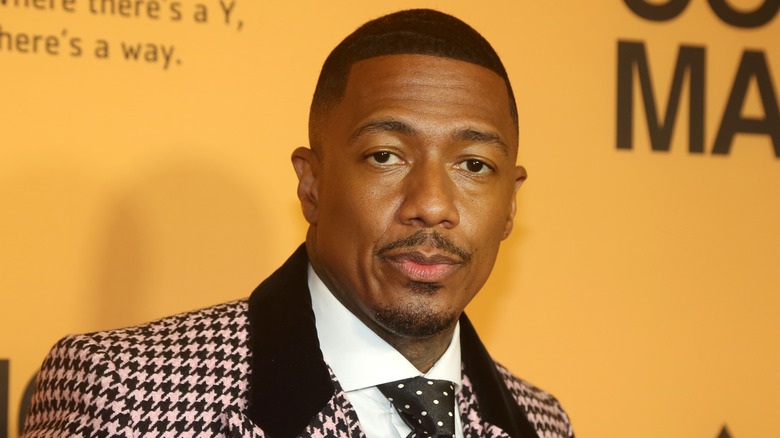 Bruce Glikas/Getty Images
Nick Cannon is best known for his acting roles in movies like "Drumline" and "Love Don't Cost a Thing," as well as his affiliation with TV shows like "Wild 'n Out," "America's Got Talent," and "The Masked Singer." However, the TV personality has also become known for his very large family. Cannon has fathered 12 children over the years, and his brood continues to grow. The six mothers of his children have also made headlines, and Cannon had admitted that things have gotten complicated with his large family over the years, like the time he mixed up their Mother's Day cards.
Cannon first became a father in 2011 when he and his then-wife Mariah Carey welcomed twins Moroccan and Monroe. After their divorce, Cannon went on to father ten more children. He shares three children with Brittany Bell: Golden, Powerful, and Rise. Meanwhile, he and Abby De La Rosa have twins Zillion and Zion, as well as a third child named Zeppelin. Cannon and model Bre Tiesi share a child named Legendary Love, while he and Lanisha Cole also share a child named Onyx Ice Cole. Cannon and Alyssa Scott welcomed a daughter named Halo in December 2022, after losing their son, Zen, to brain cancer in 2021.
For his part, Cannon has reveled in fatherhood. "I'm so excited about all my kids," he told People. "Every day I just wake up excited as a father."
Nick Cannon opens up about his Mother's Day mistake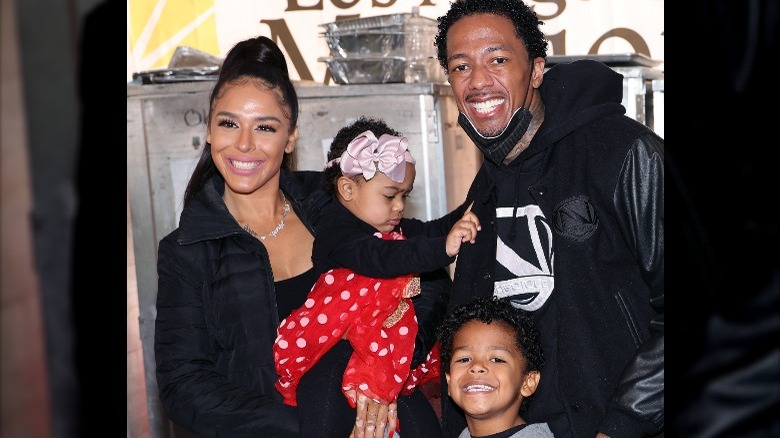 David Livingston/Getty Images
Parenting 12 children is likely very time-consuming for Nick Cannon. However, he has the help of the kids' six mothers. That's why, on Mother's Day, he makes sure to show them all how much they are loved and appreciated. In May 2023, the "Masked Singer" host admitted that things got confusing when he personalized all of their Mother's Day cards with loving hand-written notes — which got mixed up during delivery.
"I tried my best, I really did. But I thought it would be really, really good to — you know, I could buy, whatever you know — to show people how you really feel, write it down," he said on his radio show "The Daily Cannon," confessing that some of the cards were "mixed up" and delivered to the wrong people. "When one baby mama reads the card about how I feel about the other baby mama. See, if I would have just got some generic s*** that everybody else got, that wouldn't have happened!" he added.
Meanwhile, the TV star has also maintained that he takes care of all of his children financially and spends as much time with them as he can. "It's not about what I do for you or what I say to you, it's about how you feel when I'm with you. If you feel loved when you see your dad, that's what's gonna resonate," he explained, per Us Weekly.
Nick Cannon and Mariah Carey are still very close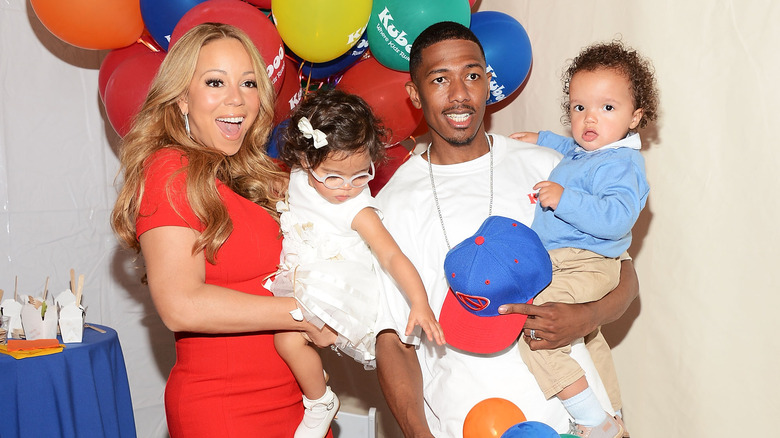 Amanda Edwards/Getty Images
Although Nick Cannon's life seems to be very busy, there is at least one mother of his children that he knows understands the pressure that he's under. Cannon has revealed that his ex-wife, Mariah Carey, is one of his biggest supporters, and that the two have remained very close over the years despite their divorce. "She's high frequency ... She always asks me, 'You aight? How you doin'? You handling it all?' ... So when we talk daily, she's just checking in on my spirit," Cannon previously told Jason Lee during an interview (via Page Six).
In addition, Cannon has admitted that Carey is one of the greatest loves of his life. "I will never have a love like I did with Mariah," Cannon said on the "Hot Tee Talk Show" in 2022. "It was literally like a fairy tale with Mariah, so I would rather it just be that way, and I appreciate that fantasy because if I try to go back and it wasn't the same, I'd be like, 'Damn, I messed it up,'" he said. "But if I had the opportunity, if it could be the way it was, I'm there."
It seems that Cannon has a great love for Carey, as well as the other mothers of his children, despite his Mother's Day faux pas.