Rebel Wilson's Coming Out Story Was Far From Fair, But She Found Her True Love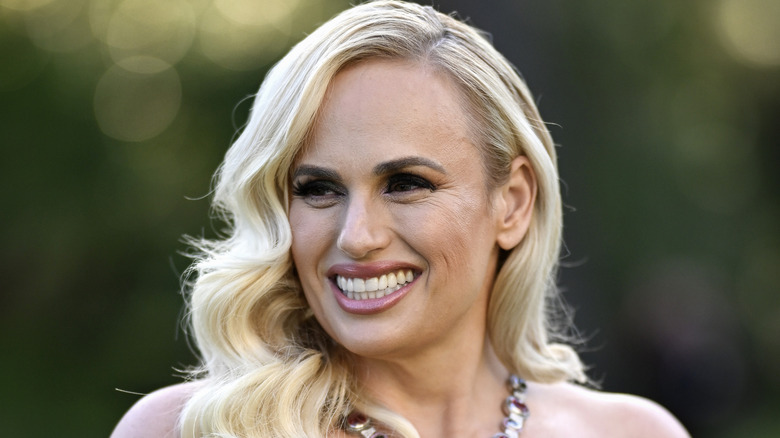 Gareth Cattermole/amfar/Getty Images
No two coming-out stories are exactly alike. For Rebel Wilson, though, her coming out story was unusual and particularly unfair. Why? Because she was given a 48-hour deadline to announce her relationship and sexuality to the world. In June 2022, Wilson hard launched her girlfriend, Ramona Agruma, with a cute selfie of the pair on Instagram. She included the caption, "I thought I was searching for a Disney Prince ... but maybe what I really needed all this time was a Disney Princess." She ended it with heart emojis, a rainbow, and the hashtag #loveislove.
To the naked eye of fans who didn't know the background of why Wilson chose to make this post, this photo seemed like a perfectly normal and sweet way for the star to announce her love to her fans and come out publicly. Yet, after knowing the real story, it becomes clear that Wilson was forced out of the closet, and she and Agruma were unable to announce their relationship on their own terms.
The truth about Rebel Wilson's coming-out post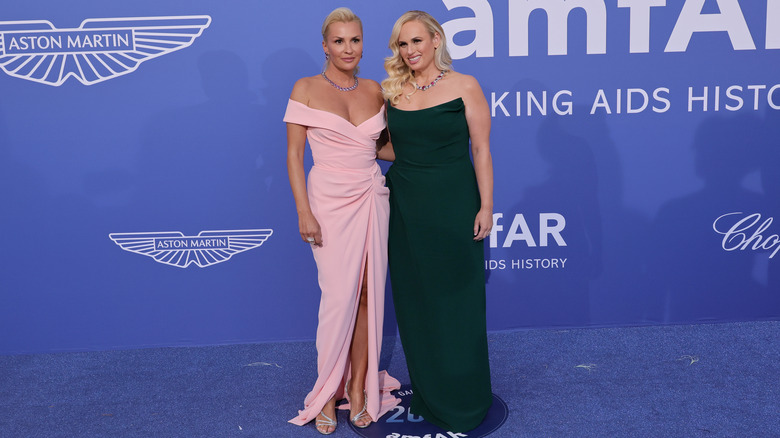 Neilson Barnard/amfar/Getty Images
One thing many fans never knew about Rebel Wilson's seemingly "pitch perfect" coming-out post is that it wasn't so perfect behind the scenes. Australia's Sydney Morning Herald published an op-ed revealing that they contacted Wilson last June letting her know that she had two days to confirm her relationship with Ramona Agruma, or they would publish the news. "It was with an abundance of caution and respect that this media outlet emailed Rebel Wilson's representatives on Thursday morning, giving her two days to comment on her new relationship with LA leisure wear designer Ramona Agruma, before publishing a single word." 
A note from the editor followed soon after, doubling down and saying, "To say that the Herald 'outed' Wilson is wrong. Like other mastheads do every day, we simply asked questions and as standard practice included a deadline for a response. I had made no decision about whether or what to publish, and the Herald's decision about what to do would have been informed by any response Wilson supplied." Since then, there has been plenty of deserved backlash, and the original article has been removed.
Wilson responded on Twitter to one tweet on the matter, saying, "Thanks for your comments, it was a very hard situation but trying to handle it with grace," and ended the tweet with a heart. The "Pitch Perfect" star certainly did handle the situation with grace, and the two lovebirds have plenty to celebrate now.
Rebel Wilson and Ramona Agruma's family is growing
Stephane Cardinale - Corbis/Getty Images
Before Rebel Wilson announced her relationship with Ramona Agruma, she told the "U Up?" podcast that she was "happily in a relationship." She explained, "I met them at a friend's set-up. He had known both of us for at least five years and he thought we would hit it off – and then we did!" (via Us Weekly). Since then, this couple has reached quite a few happy milestones.
Luckily, when it came to announcing the birth of her "miracle" baby, Wilson had control over the narrative. The star posted a photo to Instagram of her first child, Royce Lillian, in November 2022. In the caption, she included, "I am forever grateful to everyone who has been involved, (you know who you are), this has been years in the making ... but particularly wanted to thank my gorgeous surrogate who carried her and birthed her with such grace and care." And, if the announcement of adding a new baby to the family wasn't enough excitement, just three months later, Wilson took to Instagram once more to announce her engagement to Agruma. The pair showed off Agruma's engagement ring in front of the Disney World castle, which is perfectly fitting, considering the fact that this sweet family is clearly going to live happily ever after.