Jill Duggar Dillard Has Sister Jinger Duggar Vuolo's Back In The Wake Of Their Tell-Alls
To no one's surprise, Jim Bob and Michelle Duggar have blasted the "Shiny Happy People" docu-series despite its rave reviews. Yet, while the patriarch and matriarch of the controversial reality TV family are unified in their response to the docu-series that explores their family's religious ties, there's speculation that the children of the family aren't quite as firmly on the same page. 
Jill Duggar Dillard risked everything to tell her truth by appearing on the series. Consequently, plenty of fans have rightfully been wondering if this has caused a rift between Jill and the rest of her family. Jill's involvement with "Shiny Happy People" was far from the first time she's stood up against her family's unusual rules and beliefs. Back in 2020, she spoke to People about her difficult relationship with her family, saying, "I never expected this to happen or for it to get to this point. But I'm realizing I can't put a timeline on healing. I love my family and they love me. I really just have to follow God's lead and take it one day at a time."
Since then, Jill appeared in the docu-series, while her sister, Jinger Duggar Vuolo, declined. Many folks believed that Jinger has shunned her sister as a result, yet a recent Instagram story from Jill may be proving otherwise.
Jill Duggar Dillard responds to Jinger's words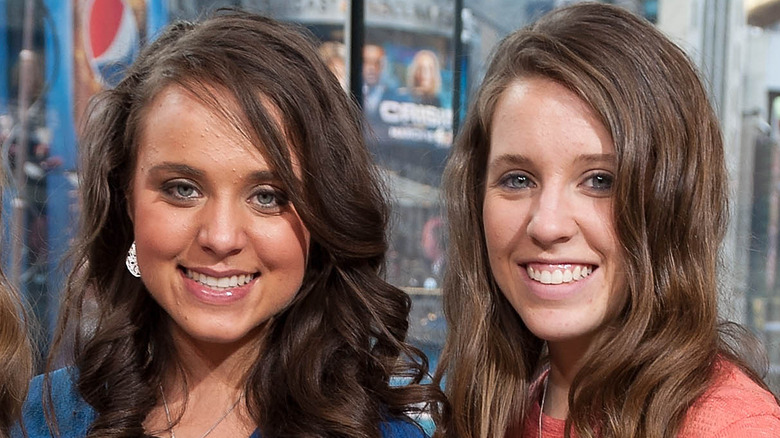 D Dipasupil/Getty Images
Jinger Duggar Vuolo's interview with People was published on June 5, and the star opened up about "Shiny Happy People." "I was actually approached and asked to participate in the docu-series, but I thought that from my perspective, I really wanted to make sure that I was able to share my story in my own words and in my own timing," she explained. "So that's why I wrote 'Becoming Free Indeed,' was to share more of my journey out of IBLP's teachings. I wanted to be able to share it in a way that was, like, God-honoring and hopefully sharing my story in a balanced way." She added that her sister, Jill, "has her voice," and said "I am excited to hear what she has to say, even in this documentary." It seems that while Jinger may not be keen on the docu-series itself, she wanted to support her sister.
Jill posted an Instagram story the following day with a screenshot of Jinger's interview and the caption, "Thanks for the love sis! And yes, acknowledging for yourself the actual harm in a group like that is the first step in finding your voice. Secondly, realizing the degree to which people are still being harmed gives you courage to use your voice to help others." While the sisters may not see eye to eye on everything, it's clear that they don't want this to get in the way of their relationship.