Shimmery Lips Are The Secret To A Perfect Ethereal Makeup Look, But How Do You Pull Them Off?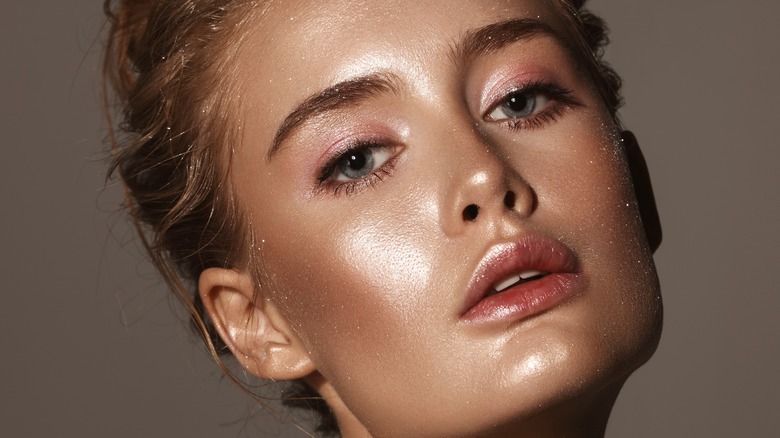 Lambada/Getty Images
We may receive a commission on purchases made from links.
Everyone looks stunning when they're channeling ethereal vibes on their face. The natural yet elevated style is soft and enchanting, characterized by shimmers and an overall glow. "Ethereal makeup is meant to look otherworldly — softly glowing but not in a conventional way," makeup artist Jenny Patinkin explained to PureWow.
The base of the makeup is key for a successfully done ethereal aesthetic, but the cold-toned shimmer is what truly makes it work. According to Patinkin, blue, green, and white shades, as well as cool silver and lavender, are the tones you want to be aiming for to achieve the alien-esque glow.
Highlights, shadows, and glosses are obvious essentials here, but the secret ingredient to this makeup recipe is shimmer on the lips. This subtle yet powerful addition will imbue a mythical aura and round off the look so well; all you need to know is how to pull it off.
Go for a lip product with a shimmery finish
The perfect glow for an ethereal makeup look can be achieved by adding a touch of shimmer to your lips. This easy hack can be done in a few ways, so choose one that works best for you and the overall makeup look you're doing.
The obvious way to go about creating shimmery lips is to snag a lip product that has a shimmery finish. These are usually buildable and have ingredients like vitamin E and shea butter that hydrate your lips while giving them the otherworldly gleam you're after. For an ultra-glowy look, opt for a gloss with a shimmer effect, like Makeup Revolution's Shimmer Bomb Lip Gloss or the Crushed Oil-Infused Gloss Shimmer by Bobbi Brown.
If glosses aren't your thing but you don't want to lose the mythical sheen, opt for a lipstick with a metallic finish, like Charlotte Tilbury's Superstar Lips Lipstick or Rimmel's Lasting Finish Lipstick, which comes in a wide array of shades. For an even more subtle shimmer, Nivea's Shimmer Lip Care is the chapstick alternative you can use to achieve shimmery fairy lips, as is the creamy Lip Shimmer from Burt's Bees.
Monochromatic shimmer is perfect for achieving the dreamy look
While lip products are obviously formulated to be used on the lips, why get a separate product when you can use the ones you already own to get that extra shimmer? "I think we'll see people continuing to want makeup products that are multitasking and flexible, particularly when it comes to shimmer," Priscilla Ono, Fenty Beauty's global makeup artist, shared in a conversation with Byrdie.
Most highlighters, eyeshadows, and blushes should be safe to use on the lips, and these oftentimes have the perfect shine for elevating the fairy makeup look. Dab your shimmery product of choice onto your lips with clean fingers, and add the optional gloss to seal it off. For example, you can opt for your favorite shade of that shimmery eyeshadow palette you've always loved; if it works for your eyes, why not rock it on your lips, too?
The monochromatic hue will tie the ethereal look together with minimal effort and make it look intentional rather than looking like a kid has been messing with your makeup. Achieving the soft glow of this airy makeup trend is easier than it may seem, and your lips are the perfect secret weapon to use in the shimmer play.