For Extra Shimmer, TikTok Says To Use Eyeshadow In A Surprising Spot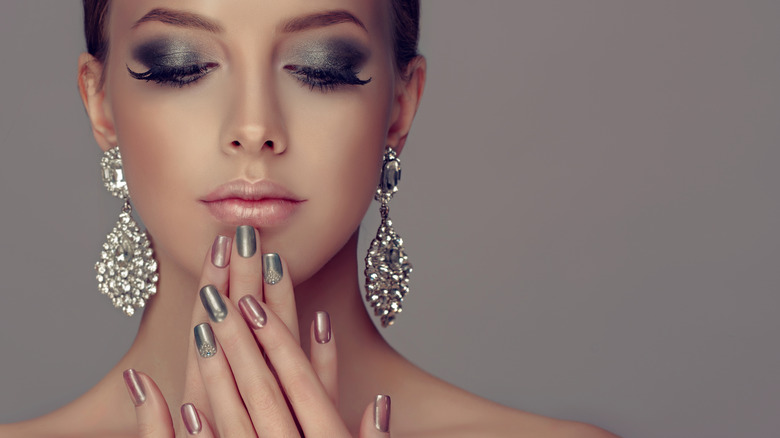 Sofia Zhuravetc/Shutterstock
Every day, TikTok proves that there is no limit to just how magical rocking makeup can be. If you're creative enough, your go-to beauty product can have multiple uses outside of what it's advertised for. Instead of dropping cash on each part of your face, simplify your beauty routine by going for multi-use masterpieces that will compliment your look without even trying. 
For instance, there are certain bronzers that double as eyeshadow. Lip and cheek tinted balms have been on the market for a while and can be used to add a pop of color to your lips, cheeks, and sometimes, your eyes. Gloss is another versatile makeup product that celebrities love for a luminous holiday glow. Even your clear mascara is interchangeable enough to define your lashes and tame your brows, per Beauty Bay. 
But for the woman who loves sparkle, making an entrance, and cutting her morning routine in half, TikTok's viral eyeshadow makeup hack is working double time to prove that shimmery eyeshadow and highlighter have a special place on your lips.
Glitter eyeshadow is here to bless your lips
If you've ever picked up an eyeshadow palette and wished you had a lipstick or gloss in those exact shades, TikTok's makeup hack is here to save the day, one glimmer at a time. In lieu of searching far and wide for a complimentary lip, a quick visit to your makeup bag instead might prove more fruitful. 
In TikTok makeup artist Lexus Perez's beauty tutorial, Fenty Beauty's Killawatt Freestyle Highlighter in the Wattabrat shade is pulling double duty as a traditional highlighter and glimmering gloss. In her video, Perez boldly applied the glitter eyeshadow and highlighter duo to her lips, before going over it with a layer of Fenty Beauty's Gloss Bomb Ice Cool Lip Luminizer for extra sheen. Her gloss held the look in place and balanced out the metallic color. 
Fans of the beauty boss' look rushed to the comments section to celebrate the look and offer up tips of their own. One TikTok user suggested applying chrome eyeshadow over matte lipstick as an equally gorgeous alternative.
Take it a step further with metallic eyeshadow
When you're getting ready for the latest party, it's easy to fall into the routine of pulling out your dependable ruby lipstick. A red lip is classic, compliments every look, and is easy to find. But red isn't the only shade that will get everyone's attention. Treat your lips to a much-needed glam session by using metallic eyeshadow and your go-to moisturizing lip balm. 
TikTok makeup artist Antoinette defined her lips using a red-toned base, lip liner, and gold eye shadow. What makes her look stand out is that when the light hits it at the right angle, her DIY lip color shimmers like a sunset. 
The good news is that you're not limited to highlighter and can imitate this red carpet-worthy look in three steps. Prep your lips with a primer and/or lip balm, then gently dab your lips with a metallic pigment. Purr's Lip Balm & Primer is the best of both worlds and will eliminate multiple products from your makeup bag. NYX's Ultimate Glow Shots in the shades lemon slayed or golden goji are the perfect choices to incorporate warmer colors into your makeup routine.
The turnout will look sexy, but beware that its staying power is short. Lindsay Ebbin, Celebrity Makeup Artist for BeYu and Co-Founder of BAM Brands USA, pointed out to InStyle that the eyeshadow-lipstick hack has a life span of two hours max, so go forth and be great until then.