Do Ariana Madix And Tom Sandoval Still Live Together?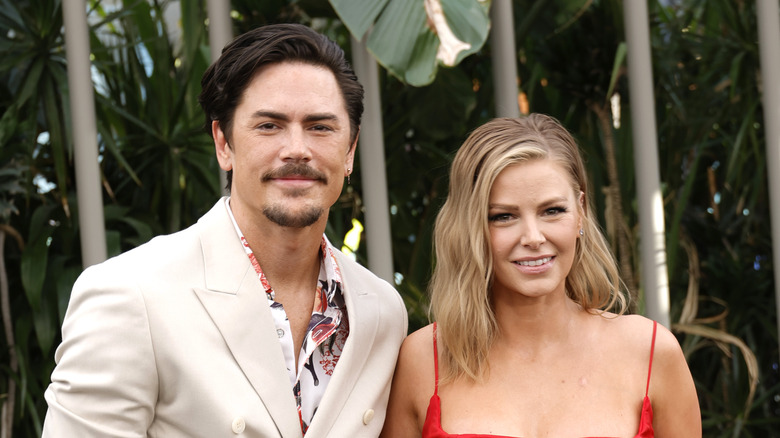 Frazer Harrison/Getty Images
Even those who have never watched or heard of the Bravo reality show "Vanderpump Rules" before are probably familiar with "Scandoval" now. The term, of course, refers to possibly one of the most horrific cheating scandals in all of TV history. Stars of the show Ariana Madix and Tom Sandoval had been dating for nine years when it came to light that he'd been having a secret affair with her friend and their costar, Raquel Leviss — for seven months. 
Despite all of the wild drama, the exes have somehow continued to live in the same home together (without interacting at all) since their ugly split. In May 2023, Madix was photographed moving boxes out of her house and into a U-Haul, so fans thought the day of her moving out had finally come. However, the photos turned out to be staged and part of an advertisement for SoFi, a personal finance company that Madix partners with now. The reality star clarified (via ET) that she was moving "up," not "out."
The photos of her moving were misleading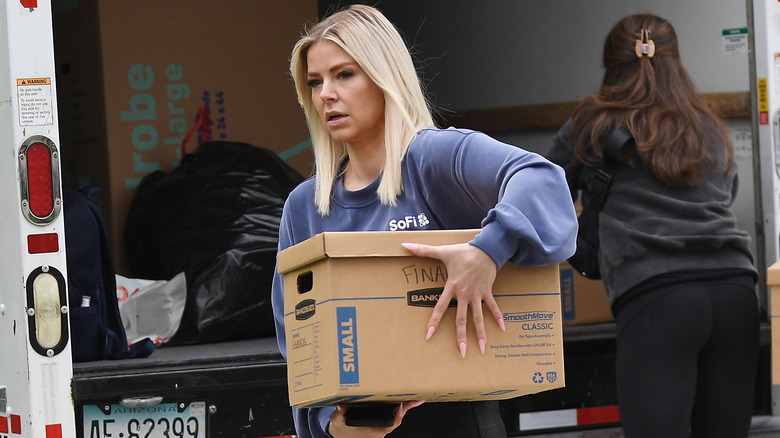 Mega/Getty Images
On May 22, 2023, Ariana Madix did really make it seem like she was moving out when she shared a video on her Instagram story showing cardboard boxes outside of her and Tom Sandoval's Los Angeles home. She even captioned the clip, "Ready to dip out." Several photos from the day also show her packing the boxes into a U-Haul, so naturally, fans got excited. Later that day, Madix revealed that she's not actually going anywhere just yet. 
"I'm moving up not out, well not yet at least," the "Vanderpump Rules" star said in another Instagram story. "It's time to get my financial house in order. I will have more to share with you very, very soon." A spokesperson for SoFi told People that the photos and posts were merely a "stunt," and a rep for Madix confirmed to the magazine that she and Sandoval are both still living at their shared property. Madix is notably wearing a SoFi shirt in the "moving" photos. She posted a SoFi ad the next day and wrote in her caption, "I'm only surrounding myself with ride-or-dies from now on. SoFi is the all-in-one finance app with a whole squad of financial planners who have YOUR best interests in mind."
She does have plans to leave soon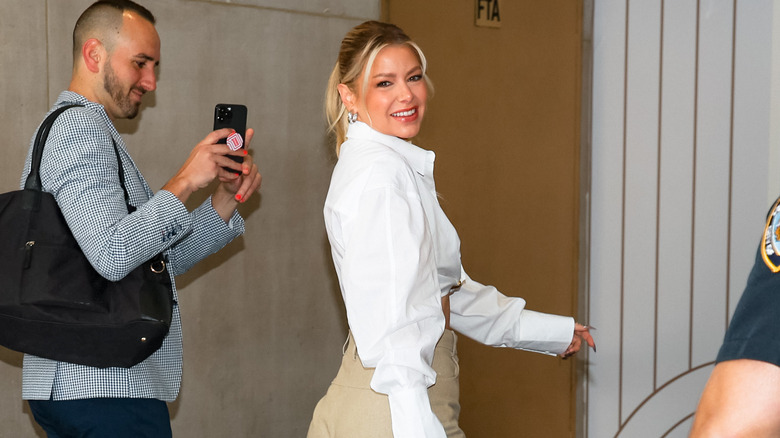 Jason Howard/bauer-griffin/Getty Images
The good news is that Ariana Madix won't be living with her ex, Tom Sandoval, for too much longer. During a May 18, 2023 interview on "Today With Hoda & Jenna," Madix shared that she's been in contact with a real estate agent and noted that she wants to own her own home and start completely fresh. She also appeared on "The View" the same day and emphasized, "I really want to sell the house. That is my goal, to be able to save up." 
The reality star opened up to "Vanderpump Rules" reunion host Andy Cohen about her current living situation on his show, "Watch What Happens Live." She explained that she wants her money "out of that house as quickly as possible," and added that she and Sandoval "do not interact on any level." Instead, they have intermediaries to communicate through, like Sandoval's assistant. Here's hoping that Madix is able to sell her house quickly and get the beautiful home and the brand new, Sandoval-free life she deserves.