This Black-Owned Beauty Brand Featured On Shark Tank Caught Beyoncé's Eye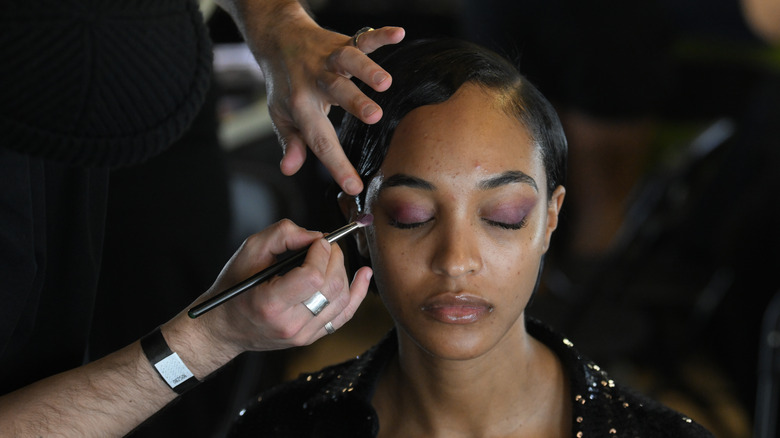 Charles Mcquillan/bfc/Getty Images
Alicia Scott, founder of Range Beauty, took on multiple roles like designer's assistant and account executive for fashion brands across New York City after graduating from Virginia Tech. During this time, she noticed a pattern of Black models bringing their own makeup kits for runway shows and press photo shoots. She grew curious and eventually asked one of the models why they brought their own makeup.
The model told Scott that makeup artists often did not have the proper shades of makeup to match Black models' skin, creating a need for the models to bring their own product. "Her story led me to look at my own non-existent makeup collection," Scott told Entreprenista. "With my eczema, acne, and brown skin, it was impossible to find a brand made for me. I left the fashion world to take on the beauty world!"
This encounter highlighted a need Scott set out to meet. She had dreams of creating her own fashion line, but after the conversation with the model, Scott shifted the dream to apply to makeup rather than fashion. This was the start of Range Beauty.
Growing a business and brand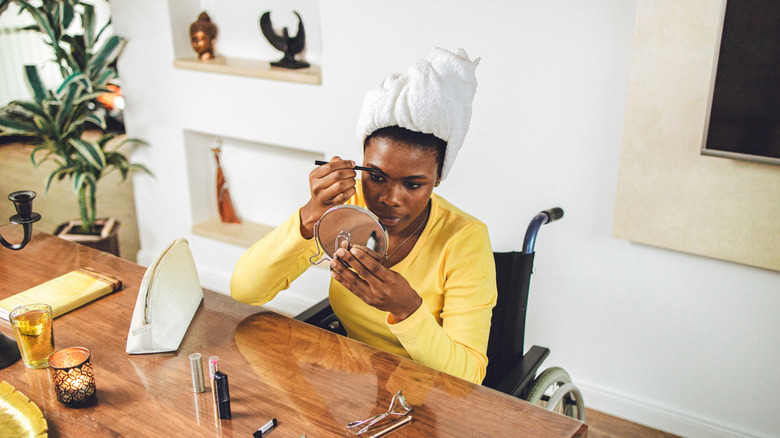 Ika84/Getty Images
Alicia Scott resolved to make makeup accessible for those with darker skin, as well as for those with eczema and acne-prone skin. She had $300 for this venture and she was determined to make every penny count. She dove deep into research for creating both her brand and the makeup itself. She eventually found a woman-owned company that produced makeup for sensitive skin and paired with them. She utilized social media for marketing, and encouraged her friends and family to spread the word with those around them. One of her Tweets went viral, which helped generate business once it launched in 2017.
Additionally, Scott entered numerous pitch competitions, applied for grants, and secured a deal on "Shark Tank" — this was the first deal between a Shark and a Black-woman-owned makeup brand. She turned her initial $300 into thousands.
After the initial launch and seeing success, things got even better for Scott's new brand, Range Beauty. Beyoncé featured Range Beauty on her website as part of the Black Parade Route, which highlights and celebrates small businesses impacted by economic inequities.
Accepting challenges and finding success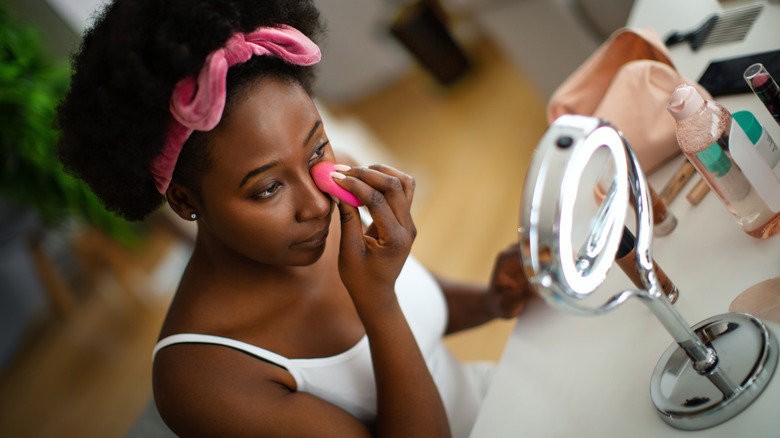 Aja Koska/Getty Images
Challenges inevitably emerged, especially during the onset of the pandemic in 2020, but the resurgence of the Black Lives Matter movement generated a push to support Black-owned businesses. Range Beauty, being a Black-owned beauty brand, felt the support in full. They went through four months of inventory in a matter of three weeks. This, however, put them in a tricky situation. They couldn't restock because their manufacturer paused production of everything except for hand sanitizer. "It was such a crazy time," Alicia Scott told Entreprenista. "I had to get resourceful but we made it happen and I'm grateful for all the opportunities and exposure it brought us."
Range Beauty's products, which vary from face and body glow to foundations for sensitive skin, are under $30 and are available on their website. All of the makeup contains ingredients that are dermatologist-backed and they ensure it's up to The National Eczema Association's standards. "I never saw or heard about eczema and acne friendly makeup until I launched," Scott told Tini Lux. "I wanted to create a safe space in an industry that has always pushed perfect, flawless skin and show that all skin conditions and tones are worthy of high-performing products that are actually good to your skin."