Is Gigi Hadid Friends With TLC's Cake Boss Buddy Valastro?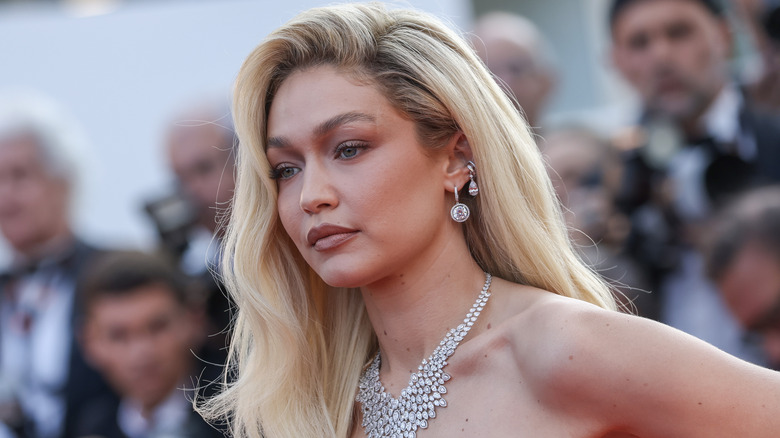 Mike Marsland/Getty Images
Got a thing for TLC reality shows? Apparently, so does Gigi Hadid. Yep, you heard us right – that Gigi Hadid. Hadid is a widely known and highly successful supermodel, alongside her sister, Bella Hadid. The two were raised by the former Dutch model Yolanda Hadid, and have been in the business since they could walk. While Gigi's most known for her participation in the Victoria's Secret Fashion Show and her romantic involvement with singer Zayn Malik, there's more to her than meets the eye. Namely, her "Cake Boss" obsession.
Gigi's love for the reality show is no secret. In fact, she even got the chance to tell Buddy Valastro, the Cake Boss himself, just how much she loved it. The two seemed to hit it off immediately. Awesome, right? It's not every day that you get the chance to meet your idols. So, how did it all go down?
Valastro's biggest fan
Buddy Valastro took a long hiatus from being the Cake Boss after the release of Season 10, but it seems like Gigi Hadid has remained a steadfast fan. Their first interaction was around her 25th birthday — well, sort of. While they didn't personally meet at this time, Hadid's friends commissioned the "Cake Boss" star to bake her a birthday cake in the shape of an everything bagel. Hadid absolutely adored it, raving on social media and talk shows about it.
On "The Tonight Show Starring Jimmy Fallon," Hadid jumped on the opportunity to talk about her specially made cake. She launched into a recitation of the "Cake Boss" intro by heart, after which she admitted to "[crying] every five minutes for, like, an hour" each time she remembered that her cake was made by the Cake Boss himself. In the caption of her birthday Instagram post, she said that she would "be a Carlo's intern whenever needed." Now, we can't verify what she wished for when she blew out those candles, but it must've been "Cake Boss" related, because her dream eventually came true!
Hadid's biggest dream
In a special video with Harper's Bazaar, Buddy Valastro aimed to teach Gigi Hadid his favorite cake decorating tips and tricks. Can you think of a better teacher? Hadid certainly couldn't. "You don't understand, I'm your biggest fan!" she exclaimed as she arrived on set. "I've been watching you my whole childhood [...] it means the world to meet you and to be here." Valastro then admitted that he was also a fan of hers as well, and after she donned an official Carlo's Bakery coat, the two set to work.
He first showed her how to make decorative flowers out of icing, and she caught on pretty quickly. Clearly, Hadid wasn't lying when she said she was a huge "Cake Boss" fan — her cake was beautifully decorated. After filming, Valastro told Insider that he thought that she was the "sweetest, nicest person," saying that it "makes [him] feel good to know that [they] made good family content that people can watch and be inspired by."
We couldn't agree more. Hopefully, another collab is on the horizon for these two new besties.