The Skirt Style That Should Be A Staple In Your Wardrobe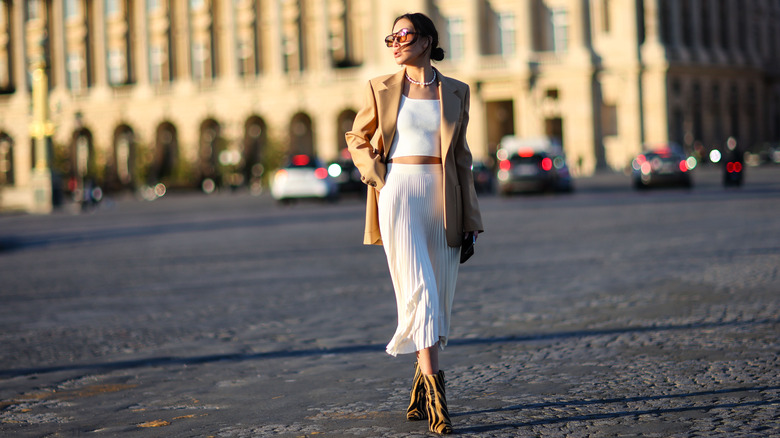 Edward Berthelot/Getty Images
There's a style of skirt to suit everyone, but there's one style in particular you should be looking out for, and that's a midi skirt. Speaking to Who What Wear, stylist Roz Kaur included midi skirts on her list of her 11 wardrobe essentials. "This versatile piece transforms easily from daytime to nighttime with a simple change of shoes," she shared, and we can definitely see what she means.
Not long enough to cover your legs completely but also avoiding that awkward thigh to knee area mini skirts often fall at, midi skirts are the versatile staple your closet is looking for. Classy, elegant, and, as Kaur said, extremely versatile, a midi skirt can take you from the office to the bar in seconds.
Plus, they go with basically everything. T-shirts? Tick. Sweaters? Tick. Blouses? Tick. Whatever the occasion, midi skirts have you covered. Here's a few of the best ways to style this closet must-have for every occasion (and weather forecast).
These styles of midi skirt are fun and fresh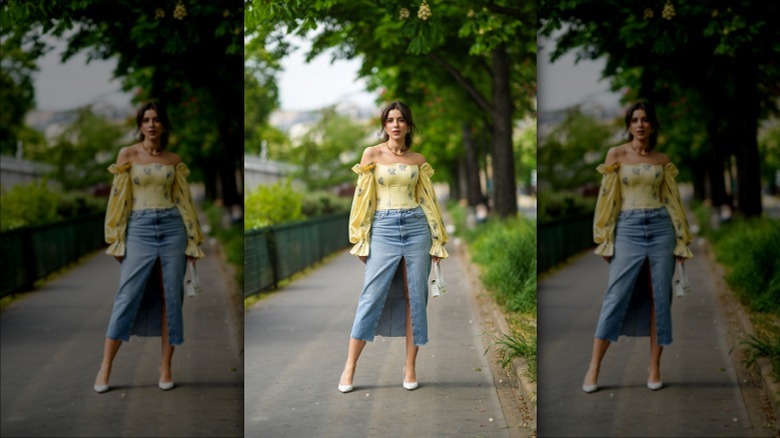 Edward Berthelot/Getty Images
Denim midi skirts are an effortlessly cool piece to have in your closet. Able to be dressed up a little with heels and a corset-style top, you can also make your denim midi suitable for a brunch date by pairing it with an oversized t-shirt and your favorite sneakers. Denim midi skirts are also great for fall and winter (depending on the winter climate) due to the thickness of denim. Add a sweater on top, either cropped or tucked in for a streamlined silhouette, and some tall boots for a look that's stylish and protects you against cold weather.
If denim isn't your thing, pleated midi skirts are another good option. They're also extremely easy to transition from workwear to after work drinks. Wear a blazer and shirt with your pleated midi during the day, then swap out these items for a plain tank top. This will create a streetwear-esque look. Remember that a pleated skirt doesn't have to be pleated all round — midi skirts with just one or two center pleats have been spotted on  both the fashion pack and the runway.
These midi skirts will elevate your wardrobe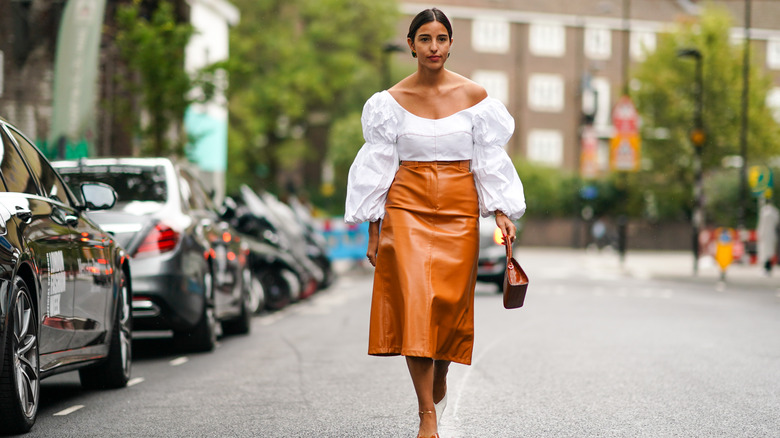 Edward Berthelot/Getty Images
For day to night dressing, this pleated midi skirt from COS is the perfect choice. Available in bright orange or bright yellow, it will bring a pop of color to your look. If you're intrigued by the denim skirt outfit inspo, this denim midi skirt from Zara has a gorgeous bleached finish that would look stunning in a double denim look. Alternatively, a leather midi skirt like this A-line faux leather pick from Mango would look amazing styled with a tank top and sandals during spring, or with boots and a sweater in cooler weather. 
Don't worry if you're petite. Several places now do petite sizing but, just like you can style maxi skirts when petite, you can absolutely style a midi skirt if you're on the shorter side, too. Platform sneakers, chunky shoes, and heels are your best friend, but the main thing is to make sure you don't choose a skirt that's too long. Cropped silhouettes on your top half will also help to visually lengthen your body.
Once you get your hands on a midi skirt, you'll realize just how endlessly versatile the skirt style is.