Midi Skirts Are The Versatile Staple Your Spring Wardrobe Needs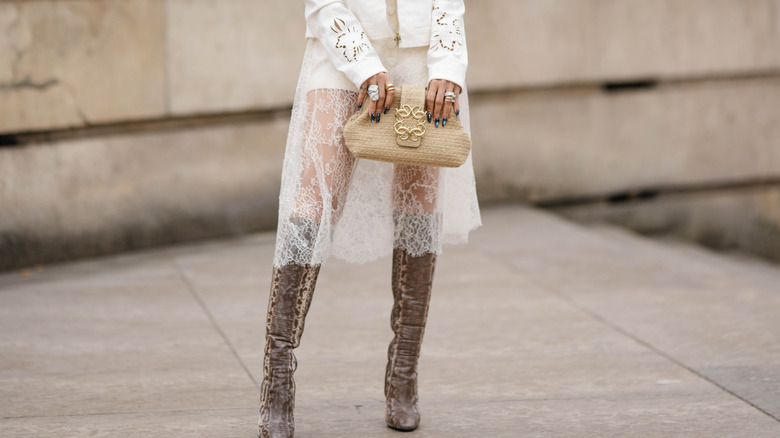 Edward Berthelot/Getty Images
There's no better way to freshen up your wardrobe than by adding a few flowy staples that you can wear all year long. Think light, breezy pieces that encapsulate the spirit of classic, sophisticated, and fun looks. Falling in between the maxi and the mini, the midi skirt is one of the staples you should have in your closet if you're looking for comfort and style. It can be paired with almost any top from a chic blazer or button-up top to a cozy and casual cardigan.
Whether you're dressing up for a dinner event or running errands for the day, the midi skirt is a go-to piece. Notable celebrities like Kendall Jenner and Emily Ratajkowski have been seen sporting the skirt, showing us that this wardrobe staple is universally stylish. There is an endless list of ways to rock this trendy skirt and it's the perfect transitional item to have when updating your wardrobe for spring.
Denim midi skirt
The denim midi skirt trend is quickly taking over social media by storm and is showing no signs of slowing down. We'll be seeing a lot more denim midi skirts around this season and we're not complaining about it. You can dress up your denim skirt with a pair of heels and a corset top, or keep things casual with a cozy sweater or vintage tee. Managing fashion editor at Nordstrom Kate Bellman told Marie Claire, "Similar to jeans, the best denim skirts offer immense versatility within your wardrobe."
Keep it classic with plaid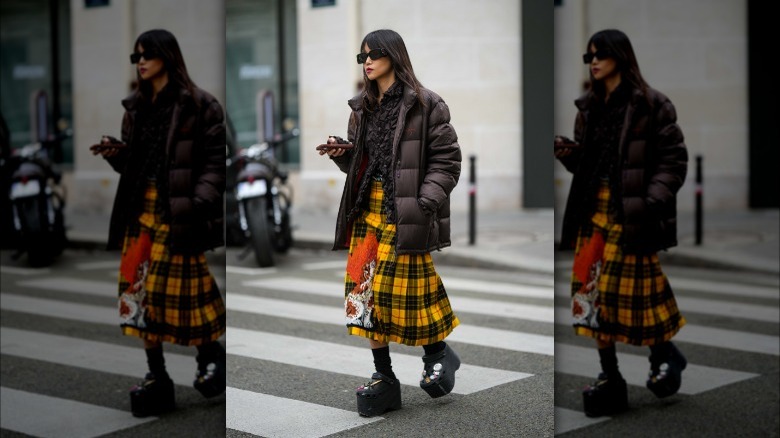 Edward Berthelot/Getty Images
You can't go wrong with a bit of plaid. If you're looking to curate an outfit that stands out, a plaid midi skirt is a bold piece you'll want to have in your wardrobe. There are plenty of color combinations to work with and you can pair your skirt with a solid, monochromatic top that doesn't clash with the look. The best part about the plaid midi skirt is that you can wear it all year long. 
Dress it up with a blazer
Dress up and accentuate your midi skirt with a chic blazer. According to The Zoe Report, the midi skirt suit is currently trending and is an effortless look to sport if you want to show off an elegant and sophisticated outfit. To make the look more casual, you can match a suit blazer and midi skirt with a relaxed tank top, or you can dress it up with a simple pair of heels and a few accessories.
Add a splash of color
Although black, white, and neutral colors are easy to mix and match together, sometimes a pop of color can really make an outfit stand out. Pair your midi skirt with a colorful top, blazer, or sweater to elevate your entire look. You can opt to stick to a neutral top and pair it with a vibrant, bright midi skirt in the color of your choice. Finding the best clothing colors for your skin tone can make all the difference in how flattering your outfit looks.
Keep it simple with a matching set
When you're in a pinch for time and need a simple outfit that requires minimal effort, the midi skirt set is the perfect go-to ensemble you need in your closet. You can quickly slip on your midi skirt set and head out the door without having to worry about ways to mix and match your outfit. You can sport a midi skirt matching set in a fun, bright color or stick to white, black, or neutral shades for a simple, classic look.
Midi skirt with a side slit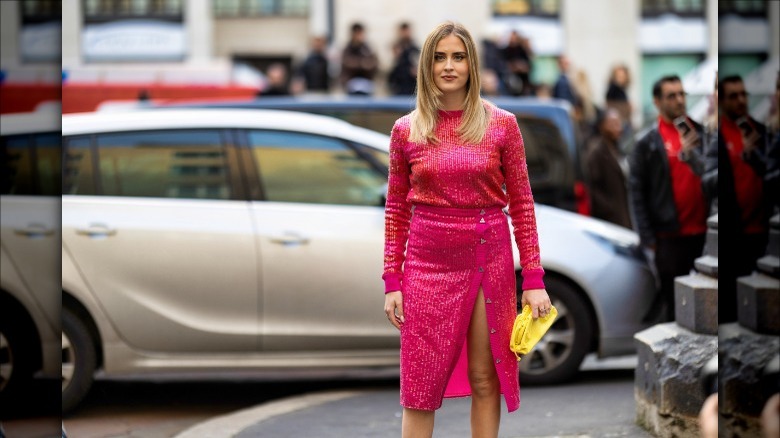 Valentina Frugiuele/Getty Images
Jazz things up with a midi skirt that has a slit on the side. This will automatically make an outfit sexier and is perfect for a glam night. While this may not be the best choice for a work outfit, you can wear this sexy midi skirt when out on a date, or for a night out on the town with friends. To complete the look, pair this midi skirt with a basic crop top or even a matching top for a coordinated look.
Have fun with animal print
One of the most popular midi-skirt patterns is animal print. Cheetah or leopard print midi skirts have been around for years and are nothing new, but they are making a comeback. The best way to style an animal print skirt is with a solid, monochromatic top to avoid any clashing. You can go for a pop of color, or stick to neutral shades and pair the skirt with your choice of accessories from hats and earrings to purses and shoes. 
Experiment with florals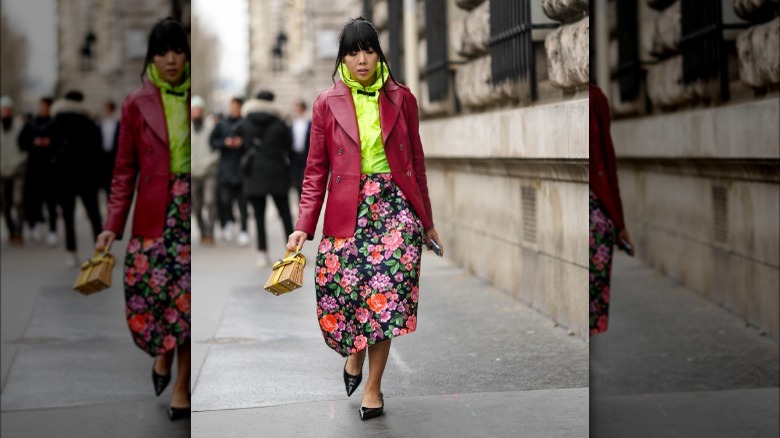 Edward Berthelot/Getty Images
Florals may not be a groundbreaking trend or anything we haven't seen before, but they are a fun way to elevate and add brightness to an outfit. A floral midi skirt will add a pop of color to your outfit and look best when paired with solid-colored tops. Avoid pairing this skirt with any other patterned staples, as they will likely take away from the overall look. You can dress up your floral skirt with a pair of heels, or keep your look on the casual side with flats, boots, or sneakers.
Embrace color with a tie dye midi skirt
Why not have a bit of fun and inject some color into your closet with a tie-dye midi skirt? Per Vogue, there are plenty of sophisticated tie-dye patterns that incorporate vibrant colors and a funky pattern you can still wear as an adult. If bold colors aren't for you, this pastel midi skirt is the perfect blend of soft, pastels that bring some simple color to an outfit without making it feel too childish or costume-y.
Spice things up with polka dots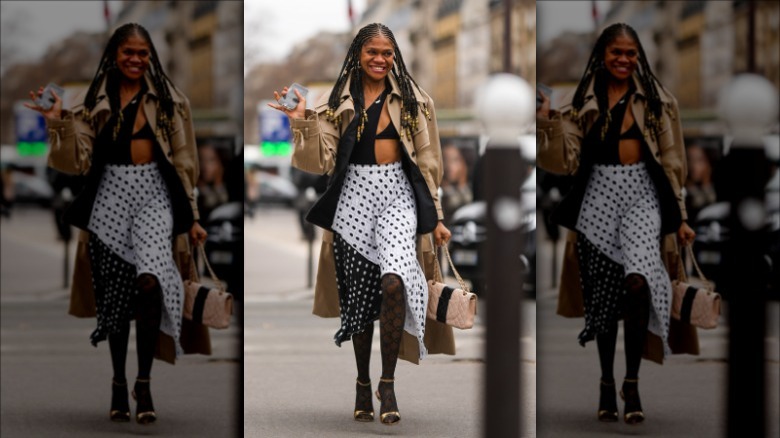 Edward Berthelot/Getty Images
Polka dots are a classic, elegant pattern that wil never go out of style. You can have so much fun with a polka dot midi skirt and try out different colors depending on the look you're going for. For a vibrant, bright polka dot midi skirt, pair it with a white or neutral top for a balanced look. If you're rocking a black, white, or neutral midi skirt, brighten things up with a colorful top.
Stay sophisticated in black and white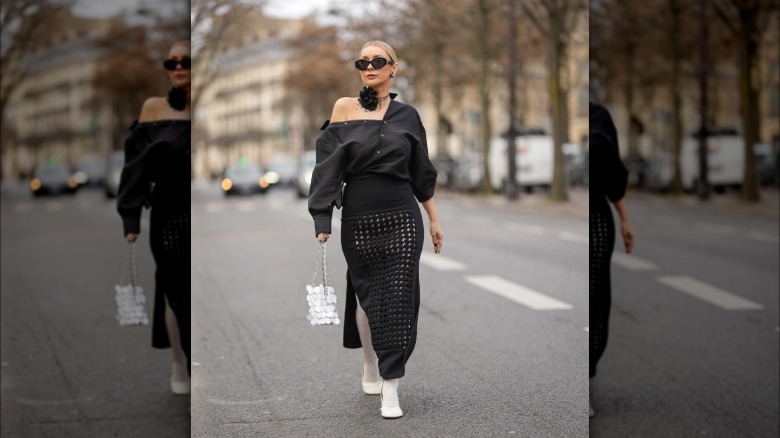 Edward Berthelot/Getty Images
Curate a simple and elegant outfit with a classic black-and-white combination. You can either rock a black midi skirt with a white top or switch it up with a white skirt and black top. You could even do all white or black in your outfit and accessorize with the opposite color for an equally dynamic look. Combining monochromatic hues will give you an effortless minimalist style that is super chic for anything your day throws at you.