Chrissy Teigen Is On Team Ariana Amid Vanderpump Rules Scandoval Drama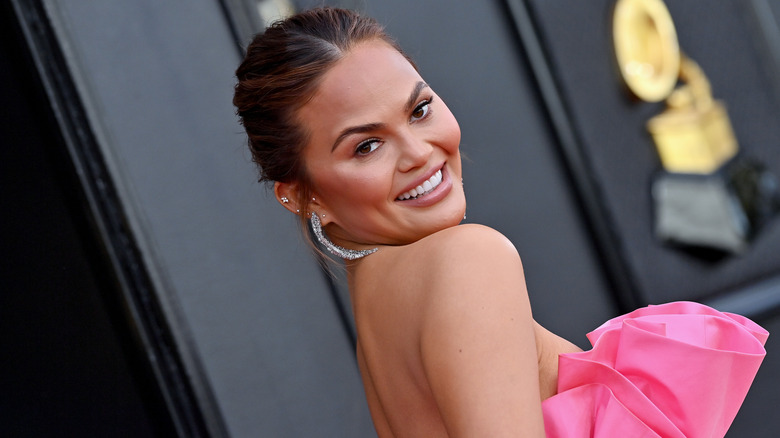 Axelle/bauer-griffin/Getty Images
It turns out, Chrissy Teigen is just like all of us — completely obsessed with "Vanderpump Rules" and especially "Scandoval." The Bravo reality show caught seemingly everyone in the world's attention when news of an outrageous affair involving three stars of the show broke; Tom Sandoval and Ariana Madix had been dating for nine years when Madix found out he'd been having an affair with her best friend, Raquel Leviss, during the last seven months of their relationship. 
The cruel betrayal culminated in a dramatic Season 10 finale and a trio of incredibly intense reunion episodes. Teigen has been a vocal fan of the show for many years. To properly enjoy part two of the reunion, she and her friends had a pizza watch party, per OK! magazine. On May 18, 2023, the "Vanderpump Rules" expert stopped by "Watch What Happens Live" to share all her thoughts on the infamous affair and the finale episode, as well as sharing some of her theories. 
Teigen didn't hesitate to call Sandoval and Leviss "icky," while she praised Madix and fellow "Vanderpump Rules" star Scheana Shay for looking beautiful while crying. Needless to say, the model is a proud representative of Team Ariana. 
She called Tom and Raquel out for their behavior
When "Watch What Happens Live" host Andy Cohen asked Chrissy Teigen about her take on the Tom Sandoval and Raquel Leviss scenes in the "Vanderpump Rules" finale, she did not shy away from answering the question honestly, describing it as gross. Teigen continued, "And then they were like, 'Let's not kiss. The cameras are here.' But you could see it in between them. It was weird seeing them together, for sure." 
Leviss and Sandoval showed off their chemistry and even somewhat awkwardly said "I love you" to each other during the episode, but decided that kissing would be disrespectful to Ariana Madix. Teigen had much more positive things to say about Madix and her long-time BFF, Scheana Shay, noting, "Scheana, no makeup, sad, gorgeous." Likewise, "Ariana, no makeup, sad, gorgeous." 
In fact, Teigen also told Cohen that she and Madix have the same fighting style: "It's quiet, quiet, quiet, and then explosive." The former model was referring to a scene in the finale where Madix finally breaks, seemingly after hours of back and forth, and yells at Sandoval, "I DON'T GIVE A F*** ABOUT F*****G RAQUEL!" 
Chrissy Teigen shared a theory about Tom Schwartz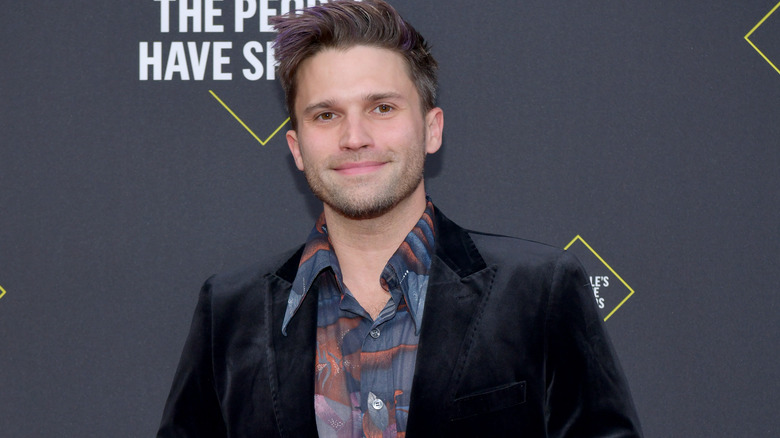 Rodin Eckenroth/Getty Images
According to Chrissy Teigen, Tom Sandoval and Raquel Leviss are not the only guilty parties involved in the Scandoval; she believes that Sandoval's best friend and business partner, Tom Schwartz, has some explaining to do too. When Andy Cohen asked her what question she most wants answered during the explosive three-part reunion, Teigen replied that she would like to know what exactly Schwartz knew about the situation. 
Throughout the season, there was some flirtation and even a kiss between Schwartz and Leviss, and Teigen has strong opinions about that storyline. "I don't think Schwartz was ever attracted to Raquel," she speculated on "WWHL" "I think he did all this for a big cover-up." Teigen also suggested that the Schwartz & Sandy's co-founder was more involved than he's willing to admit, and for longer. 
Teigen pointed out that the fledgling relationship seemed "forced" and "weird" on Schwartz's behalf. Suffice it to say, if there's one celebrity who's definitely looking out for Ariana Madix, it's definitely Teigen.