Lady Gabriella Windsor: 9 Facts About The Royal Who Shared A Birthday Week With Queen Elizabeth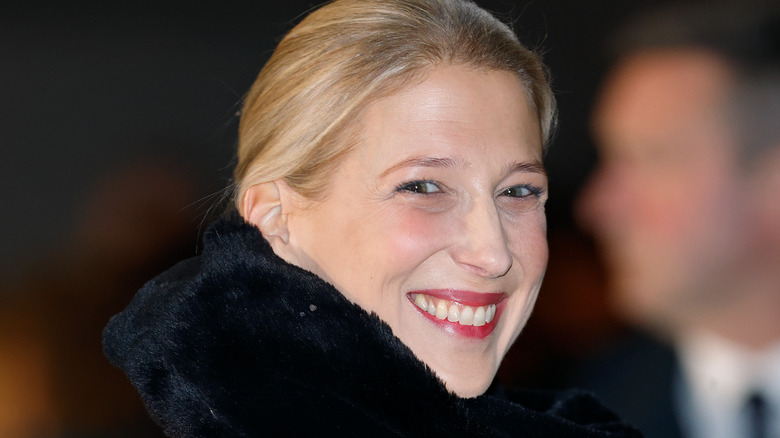 Max Mumby/indigo/Getty Images
If you're not an avid royal watcher, you might not be familiar with Lady Gabriella Kingston, née Windsor. She recently made headlines when she attended a funeral in Prince William's stead, catching the attention of the press and the public in the process. If you're wondering where she's been all this time, well, she's been hiding in plain sight.
Gabriella is 55th in line to the throne, which is why we don't see much of her — she's usually leading a pretty ordinary life. She does, however, share a birthday week with the late Queen Elizabeth II (Gabriella was born on April 23 and the queen on April 21), and her parents hold the titles of Prince and Princess Michael of Kent. Her birth name is Gabriella Marina Alexandra Ophelia Windsor — that's a mouthful! — and she has one brother named Lord Frederick.
Gabriella attended Downe House School — yes, the same school Princess Catherine left after only a year of attendance due to bullying — and went abroad to study at Brown University, completing a BA degree in Comparative Literature and Hispanic Studies. However, she isn't a one-degree girl — she also holds an MPhil in Social Anthropology from Oxford. A look at her résumé reveals that she worked as a contributing editor for Sustainable First and even served as an advisor for Saving the Oceans at one point. She might not be in the spotlight that often, but she's anything but boring. Here's all there is to know about Lady Gabriella.
Her father is Queen Elizabeth II's first cousin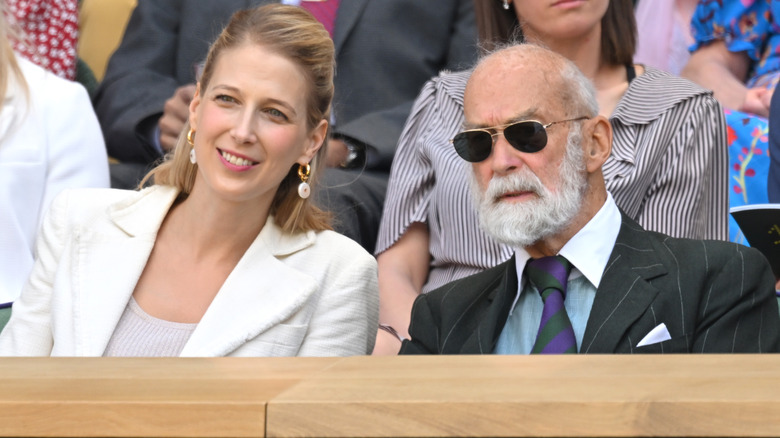 Karwai Tang/Getty Images
If you're trying to figure out how Lady Gabriella Kingston is related to Queen Elizabeth II, wonder no more. Gabriella's father, Prince Michael of Kent, is Queen Elizabeth II's first cousin — King George V and Queen Mary were his grandparents — which makes Gabriella the queen's cousin once removed.
When Michael was born, he was eighth in line to the throne. His parents were Prince George, Duke of Kent, and his mother was Princess Marina. Michael's father was killed during World War II in a plane crash shortly after he was born. As the royal family grew, Michael continued to move down the line of succession, and now he's only a short way ahead of Gabriella in 51st place.
Despite being way down the line of succession, Michael attended some formal royal engagements over the years, but since he's never been a working member of the royal family, he made a living managing his own consulting business. Gabriella has operated in much the same way — those in the know are aware that she's related to the royal family, but she's not exactly getting ambushed by paparazzi around every corner. When you think about it, it's kind of the best of both worlds.
Gabriella is a freelance journalist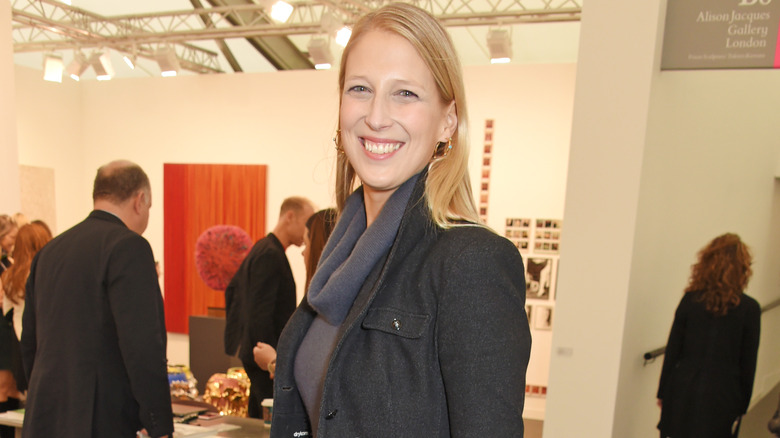 David M. Benett/Getty Images
While Lady Gabriella Kingston has to deal with curious members of the press from time to time, she also knows firsthand what it's like to be the press.
Since she finished university, she's built a career as a freelance journalist. Her name can be spotted in the bylines of articles that have appeared in Vogue, The Telegraph, and The London Magazine. Keen observers will also have spotted her work in Country Life, the Evening Standard, and The Spectator. She even wrote for Hello!'s Spanish outlet at one point. Yup, her résumé is nothing short of impressive, but just like she holds two different degrees from two different universities, Gabriella clearly loves keeping her career interesting as well. Aside from writing for some major publications, she also used to work for Branding Latin America as a Senior Director.
While she works an ordinary job to pay the bills like the rest of us, Gabriella still gets to enjoy some royal perks from time to time, like attending some official royal events. So if she looks slightly familiar, you've probably spotted her socializing with some of the family's senior members before.
She's a talented singer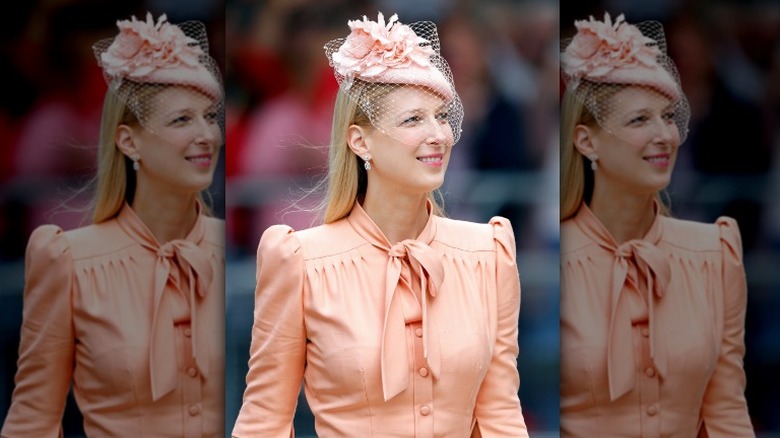 Max Mumby/indigo
2020 was a tough year for the world, but it was also a year where many people took a leap and did things they've always wanted to do, and Lady Gabriella Kingston was one of them. Much like the rest of the royal family, she is passionate about giving to charities, and she decided to help raise funds for the non-profit organization Playing for Change Foundation. They focus on using music as a tool to make people's lives better, and Gabriella, who has always loved to sing, decided to release two songs she wrote to help raise awareness and funds for the organization. Yeah, she just keeps surprising us — and herself.
During an interview with Hello!, Gabriella revealed that she never imagined putting her songs out there. "I've always loved music, but never imagined I would become involved with it like this — releasing my own songs," she told the outlet, adding that her husband, Thomas Kingston, threw all his support behind her, which made it easier to take the leap. "He's been wonderfully encouraging and gracious from the start," she gushed, adding that he's a music lover too. The songs she released in support of the charity are titled "Bam Bam" and "Out of Blue." The latter was an extra special song for Gabriella because she sang it at her wedding. Excuse us while we go listen to both of those songs. "Out of Blue" is going to be first in our Spotify queue, obviously.
She's married to Thomas Kingston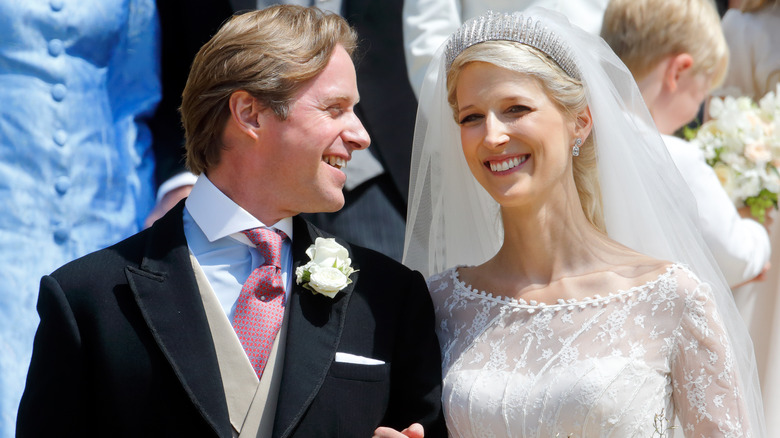 Pool/max Mumby/Getty Images
A year after Prince Harry and Meghan Markle tied the knot at St. George's Chapel, Lady Gabriella Kingston walked down the same aisle to marry financier Thomas Kingston on May 18, 2019. Gabriella and Thomas met through mutual friends in 2015 and reportedly started dating that same year.
Even though Gabriella is not a working member of the royal family, her wedding still made headlines. Various members of the royal family were in attendance — Prince Harry, Prince Andrew, Princess Anne, and some of Princess Catherine's family members, including her sister Pippa and her parents Michael and Carole, were seen donning their best as they entered the church. To top it off, Queen Elizabeth II and Prince Philip also attended the ceremony, and pictures taken on the day show Gabriella sharing a beautiful moment with the queen. She can be seen holding the beaming queen's hand in hers during her wedding breakfast. Someone hand us some tissues!
The day did not proceed without some hiccups, however. Gabriella told Hello! that she nearly lost her tiara while she made her way down the aisle. "Suddenly I could feel my tiara start to pull back and in those few unnerving moments I thought it would come crashing down with an almighty clunk," she told the outlet. "My little bridesmaids had accidentally wandered on to my very sheer tulle 20ft veil." Luckily, Gabriella's hairdresser had been incredibly thorough and the tiara didn't slip off. Phew!
She attends royal events from time to time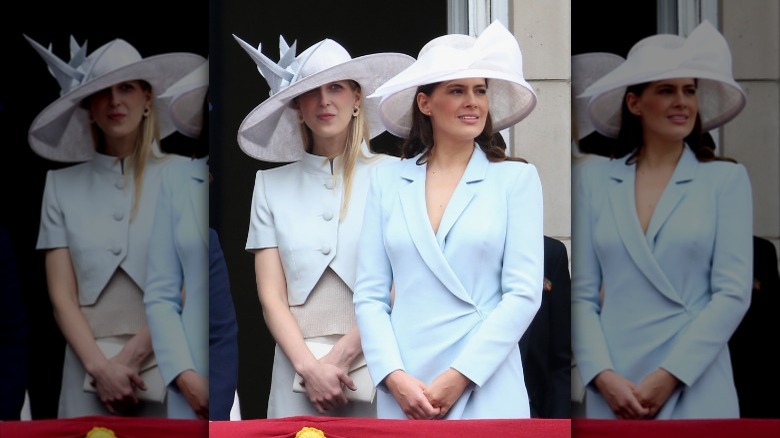 Chris Jackson/Getty Images
She might not be a working royal, but Lady Gabriella Kingston still enjoys some of the perks that come with being a member of the royal family, like getting married at St. George's Chapel with the queen of England in attendance. While she's usually flying under the radar and living a normal life like the rest of us, she has made some appearances at royal events. She's been spotted at the queen's annual Trooping the Colour parade, and when Queen Elizabeth II died in 2022, Gabriella and her husband were seen attending the funeral. She was also spotted at King Charles III's coronation.
Aside from official royal events, Gabriella also attends some fun family outings every now and then. In 2022, she and her husband, Thomas Kingston, were spotted at the Wimbledon men's final. Her brother, Lord Fredrick, and his wife Sophie Winkleman were also in attendance, as well as Prince William and Princess Catherine with their eldest son Prince George. Stepping in and out of royal life is probably way more fun than being a full-time member of the royal family. Gabriella gets to build her own career and live life on her terms while also getting to enjoy a taste of royal life every now and then. If we could choose to be any royal, we'd probably pick her.
Gabriella's mother has been in some hot water over racist incidents in the past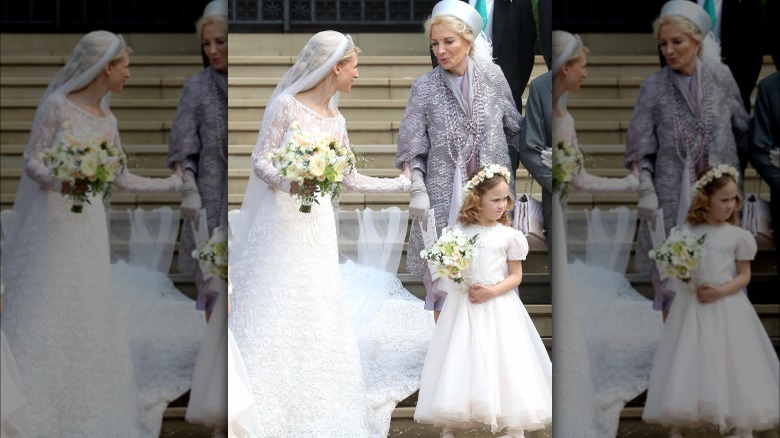 Chris Jackson/Getty Images
While Lady Gabriella Kingston has mostly made headlines for all the right reasons in the past, her mother can't say the same. In 2004, Princess Michael of Kent allegedly told a group of African-Americans at a restaurant in New York that they should "go back to the colonies" because they made too much noise. This incident made headlines, with even The New York Times reporting on it.
In an essay Gabriella's ex-boyfriend Aatish Taseer wrote for Vanity Fair, he revealed that Princess Michael once told him in confidence that she never told the African-American diners what the press claims she did. "'I would never have said that,' she later confided to me," Taseer wrote. "I would have liked to believe her, but I had my doubts," Taseer continued, adding that the princess even had two pet black sheep, which she named Venus and Serena.
Gabriella's mother was in hot water once again in 2017 when she attended Queen Elizabeth II's annual Christmas luncheon wearing a blackamoor brooch. This jewelry is seen as an idealization of slave imagery, and given that Meghan Markle, whose mother is black, was present at that luncheon, it was indeed a very distasteful choice. No one knows for sure whether the princess wanted to make a statement or if she was simply unaware of what the brooch represents. Either way, it did not go down well with the public.
Gabriella's ex-boyfriend made some controversial comments about her in an essay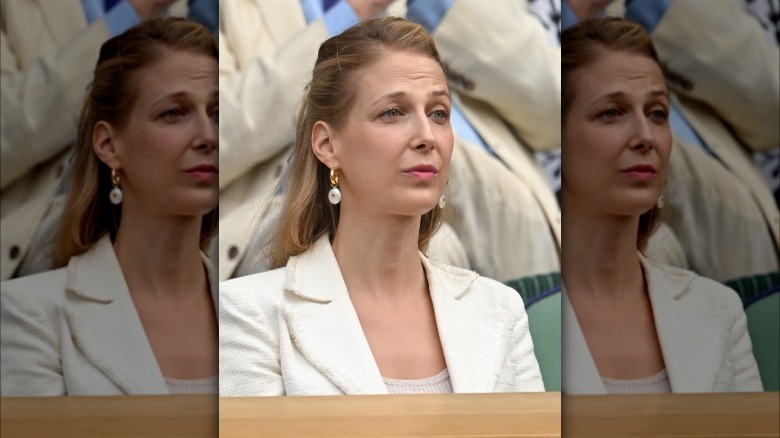 Karwai Tang/Getty Images
Aside from being pretty open about his experience with her mother, Lady Gabriella Kingston's ex-boyfriend, Aatish Taseer, also revealed some of the shenanigans they allegedly got up to when the two of them spent some time at Kensington Palace. "Ella and I hung about Kensington Palace; we swam naked in the Queen's pool in Buckingham Palace; we did MDMA in Windsor Castle," Taseer wrote in his essay for Vanity Fair. Yeah, that was some bombshell he dropped. Skinny dipping aside — accusing a member of the royal family (albeit a distant one) of drug use is no small thing, and it wasn't a good look for Gabriella.
Many came to Gabriella's defense, most surprisingly Taseer's half-brother, Shehryar Taseer, who told the Daily Mail that the essay was "purely an attention-seeking piece from somebody who has been cut out of high society," adding that "it is a despicable, cad thing to do, to reveal secrets in a kiss and tell. A gentleman would never do such a thing." Yikes! The man did not hold back. He also added that his brother has a tendency to overexaggerate things. As for whether or not his claims had any truth to them, Shehryar couldn't say for sure. A royal insider also made their voice heard over the matter, calling Taseer cruel, while one of Gabriella's friends called him pathetic. Gabriella never spoke out publicly about the allegations.
She reportedly fainted at the queen's funeral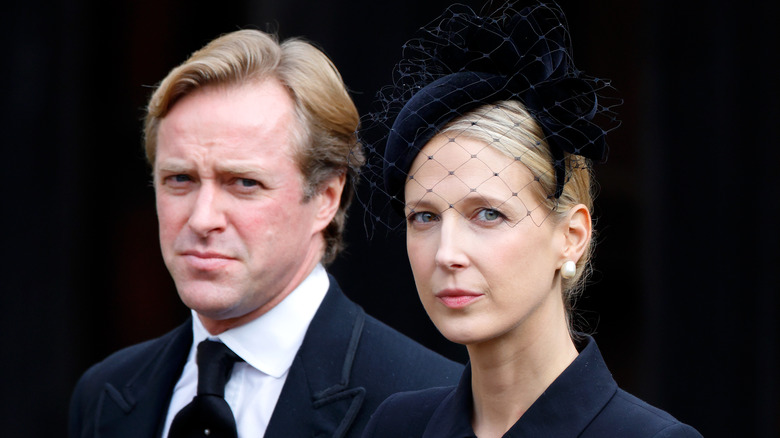 Max Mumby/indigo/Getty Images
It would be fair to assume that Lady Gabriella Kingston and Queen Elizabeth II were close (just look at the aforementioned photo of her and the queen on her wedding day), so naturally, the queen's death must have been very hard on her. No one can quite imagine the emotional toll the queen's death must've taken on family members. While everyone attending the intimate service preceding the queen's lie-in-state looked incredibly morbid, it appears it all became too much for Gabriella.
Gabriella was seen lining up with the other royals as they waited for the queen's coffin to be brought inside Westminster Hall, and then there was a bit of a commotion as she fainted. Her husband, Thomas Kingston, was seen trying to support her, while Gabriella's brother, Lord Fredrick, his wife Sophie Winkleman, and her mother Princess Michael all appeared very concerned. Gabriella wasn't seen for the remainder of the service, but her family members stuck around. Clearly, her fainting spell hadn't been too serious. It's not clear whether Gabriella's collapse was due to the emotional toll of the day or if she was simply not feeling well from the get-go. Either way, we're happy she's okay!
She represented Prince William at King Constantine II of Greece's funeral
Patrick Van Katwijk/Getty Images
Lady Gabriella Kingston made some brand-new headlines when she attended a funeral in Prince William's stead. For those not in the know, it's not at all uncommon for members of the royal family to send other family members or even close friends to represent them at funerals. Queen Elizabeth II was no fan of funerals (who is?) and often sent others to pay their respects on her behalf. With King Charles III as the new head of the monarchy, it appears that this tradition will continue.
When King Constantine of Greece died in January 2023, King Charles' sister, Princess Anne, attended the funeral in Athens on his behalf. Prince William also couldn't make it to Greece, so he asked Gabriella to attend in his place, putting her back in the spotlight. Many wondered why William chose her specifically, and it turns out that Constantine was William and Gabriella's godfather. Many speculate that Gabriella's attendance signifies that she might play a bigger role in the royal family from now on, but whether she'll be taking on more duties remains to be seen.