Body Language Expert: Pence Conceals His True Feelings About Trump In CNN Town Hall - Exclusive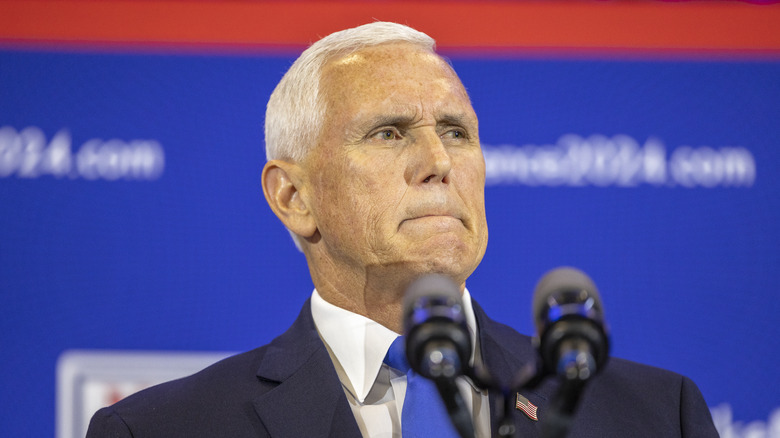 Bloomberg/Getty Images
In a speech at Mar-a-Lago in November 2022, Donald Trump became the first to announce a run for the presidency in 2024. But the field for the Republican nominee is getting more crowded with a number of former Trump allies coming out as his rivals. Some candidates have been direct in their critique of Trump, like Florida governor Ron DeSantis, while others have taken a more indirect approach (at least for now), like former South Carolina governor Nikki Haley, who didn't mention the former president by name when she threw her hat in the presidential ring. And in his presidential bid announcement, Mike Pence took a subtle dig at Donald Trump, saying in the launch video on Twitter that "different times call for different leadership."
It's a fine line that Pence is walking between separating himself from Trump and also appealing to his voters. He sat down to answer questions from Iowa voters in a town hall with CNN, including some burning Q's about the Department of Justice investigation into Trump's handling of classified material after leaving office. It could have been an opportunity for Pence to voice how he truly feels about Trump, but instead, body language expert Jess Ponce exclusively broke down to The List how Pence kept his cards close to his chest about his ex-boss.
Pence won't let his guard down about Trump
"Sir, I just want to clarify what you're saying is if they believe he committed a crime, they should not go forward with an indictment? You just talked before about committing to the rule of law." pic.twitter.com/8tk5XBZOxe

— Acyn (@Acyn) June 8, 2023
Body language just became a powerful tool in deciphering the intentions of former Vice President Mike Pence — particularly how he keeps his guard up about Donald Trump. According to Jess Ponce III, body language expert, communication coach, and author of A.W.E.S.O.M.E.: Seven Keys to Unlocking the Speaker Within, Pence held himself firm as he sat with his feet "planted firmly on the ground," showcasing his assertive and determined stance when asked about Trump's potential charges. As exclusively pointed out by Ponce, Pence's steady cadence expressed his confidence and preparedness to address the issue head on and take control of the situation by addressing it on his terms.
As Ponce describes, Pence powerfully asserted his dominance after host Dana Bash tried to interrupt him but he just moved his hand upward toward her, and just continued to speak. Bash's interruptions just helped Pence claim the stage as his territory, demonstrating his eagerness to continue talking. Without making an eye contact with the host, and occasionally glancing at the audience, Pence continued giving his answers while looking at an empty space, which served as his visual cues to remember his script about division in the country over the DOJ's pursuit of Trump. "He definitely mitigated the situation and did not reveal his emotions about the situation or Trump," Ponce described.