Donald Trump Heats Up Rivalry With Ron DeSantis In Petty Response To Governor's Presidential Bid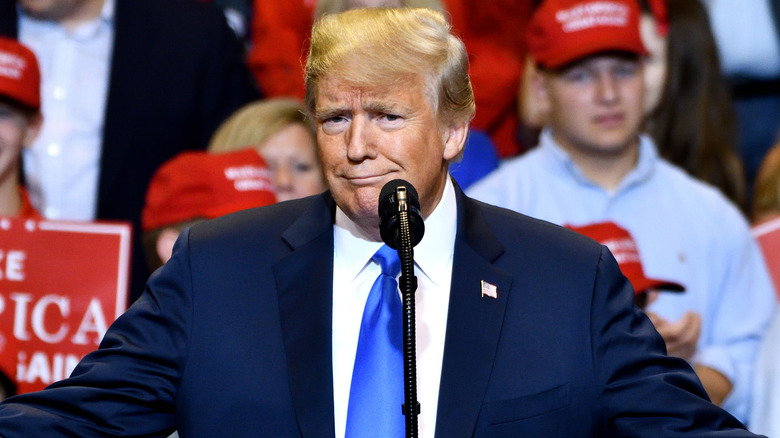 Evan El-Amin/Shutterstock
On Wednesday, after much speculation amongst voters on both sides of the aisle as to whether or not he would do so, Florida Governor Ron DeSantis took to Twitter to announce via the social media's audio platform that he is indeed throwing his hat into the ring to become the next President of the United States (via CNN). 
During a conversation with Twitter owner Elon Musk, DeSantis stated, "I am running for president of the United States to lead our great American comeback." He went on to speak to his potential supporters, saying, " ... we know our country's going in the wrong direction. We see it with our own eyes. And we feel it in our bones."
By officially entering into the Republican presidential primary, DeSantis has created an instant rivalry with the current Republican frontrunner: former President Donald Trump. And Trump, in his usual fashion, has wasted no time in letting his supporters know how he feels about DeSantis and his run. 
Trump's tirade about DeSantis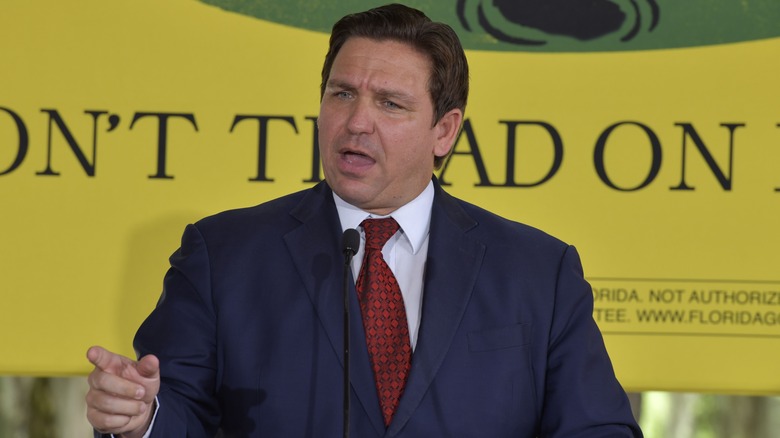 Wirestock Creators/Shutterstock
Shortly after DeSantis made his announcement via Twitter, Donald Trump took to his own social media platform, Truth Social, to share the following statement: "I'd like to personally congratulate 'Rob' DeSanctimonious on finally announcing that he will be entering the race for President of the United States ... " (via Yahoo). Later, he shared another comment directed at DeSantis, saying, "Rob,' My Red Button is bigger, better, stronger, and is working (TRUTH!), yours does not! (per my conversation with Kim Jung Un, of North Korea, soon to become my friend!)" (via New York Post). 
While it may read as a bizarre, threatening message to some, it appears the Trump campaign felt it was a legitimate statement to be shared with the former president's supporters. The campaign copied and disseminated the post, word for word, in an email to its subscribers and supporters later that day.
Some have been left scratching their heads, trying to understand what exactly Trump was trying to say to DeSantis. What "Red Button" the former president was referring to is unclear, leaving some to wonder whether he was referring to the United States' nuclear capabilities, or whether he was poking fun at the initial technical difficulties DeSantis experienced while trying to start his announcement via Twitter. Further, Trump's suggestion that he is friends with a dictator in an attempt to appear more powerful than his new opponent also left people perplexed.  
How people are responding to Trump's statement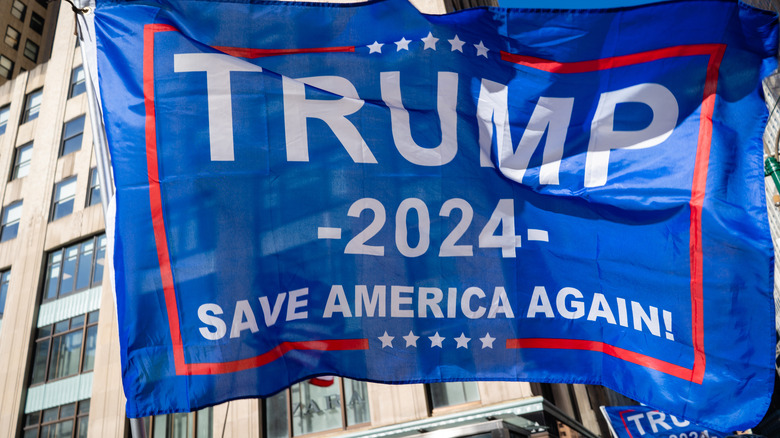 Wirestock Creators/Shutterstock
Those who support DeSantis were quick to make fun of Trump's post. For instance, Zach Montanaro of Never Back Down, a pro-DeSantis super PAC, tweeted, "Almost half a million people tuned in to listen to Gov. [DeSantis] for over an hour. Trump, meanwhile, was bragging about how he wants to soon be friends with Kim Jong Un. I'd say today was a major win for DeSantis!" (via New York Post).
Similarly, a conservative writer named AG Hamilton stated, "DeSantis has been talking about detailed and substantive policy issues for the last hour ... This is what you get from Trump. If people want idiocracy and entertainment, Trump might be the better option. If you want substance on the right, DeSantis is it."
While only time will tell which Republican hopeful will be the one to take on President Biden in the next election, it's becoming clear that the race will be filled some eyebrow-raising moments as DeSantis takes on the longtime party favorite, Trump.