What We Know About Rose Byrne And Seth Rogen's Friendship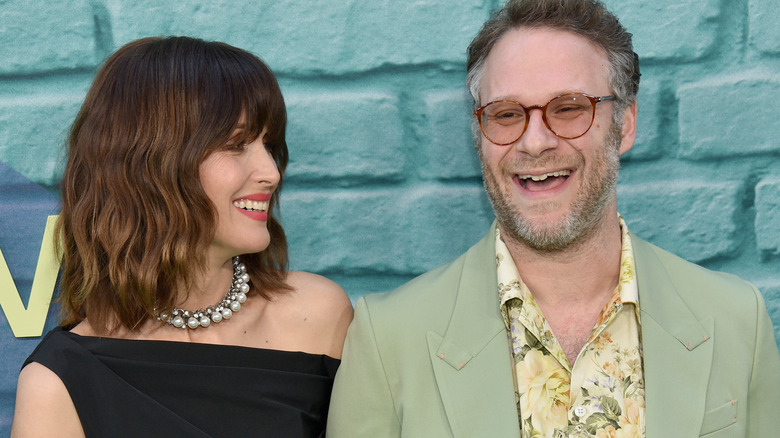 Gregg Deguire/Getty Images
Only a handful of duos in Hollywood radiate as much warmth and genuine chemistry as Seth Rogen and Rose Byrne. Their enduring bond, which was forged on the sets of "Neighbors" and its follow-up, "Neighbors 2: Sorority Rising," made them a beloved pairing both on and off-screen. Rogen and Byrne first joined forces in 2014, playing a married couple dealing with their chaotic neighbors when a rowdy fraternity moves in next door. 
They reunited two years later for the sequel, which was released in 2016, creating more magic. Now that the lovable duo is on their third project together, the Apple TV+ comedy series "Platonic,"  which premiered on May 24, 2023, Byrne is taking the opportunity to express her admiration and respect for Rogen. In the show, they star as estranged best friends Will and Sylvia, and, while their characters often bicker, offscreen it's all love. 
Byrne confirmed in an interview with People that she's cultivated a sweet and endearing friendship with Rogen over the years. The actor clarified, "We're far more kind with one another. We're from the Commonwealth! He's Canadian; I'm Australian. We don't have that front-footedness that the characters necessarily have."
They had to adjust to the change in their characters' dynamic
"Platonic" was co-created by Nick Stoller, who also directed "Neighbors" and "Neighbors 2," with his wife, Francesca Delbanco. After reading the script, Rose Byrne knew that the role of Will was made for Seth Rogen and decided to get him involved. As she told People, "I knew that it had to be Seth [to play Will]. And it just was a question of whether he would or not, and convince him, but he was immediately on board, so it was wonderful."
The show sees Byrne as lawyer–turned–housewife Sylvia, who's married to Charlie (Luke Macfarlane). After being separated from her best friend Will for a long time, she seizes the opportunity to reconnect after hearing he's getting divorced. The pair go on to quickly return to their old selves and start doing all the things they used to do when they were a bit younger and less domesticated. Soon, their closeness begins to irritate Charlie.
The "Bridesmaids" star confessed that they had to adjust their usual approach, from playing a married couple to just being best friends. Thankfully, it wasn't too much of a struggle finding their footing. "The dynamic is just intuitive. And we realized that day one, like, 'Oh, yeah, all right. We can do these things, but we can't do these things.' It was an opportunity to discover different ways to find the comedy," Byrne explained. 
Byrne was initially affected by Rogen's mean behavior towards her
During a joint interview with Collider, Rose Byrne admitted that initially, she wasn't used to her frequent co-star, and real-life buddy, Seth Rogen being mean towards her and was quite affected by it. She noted, "It's interesting because we had done the 'Neighbors' movies where we were a married couple, and there was far less affection in this show. We were able to be meaner to each other, which was interesting."
Rogen acknowledged that he felt the same way when it came to giving each other a hard time during filming. To make sure that they wouldn't hurt each other to the extent that their off-screen relationship wouldn't recover, Byrne shared, "We'd apologize in between takes, or something corny like that." Just like their on-screen relationship, Byrne and Rogen believe that men and women can have platonic friendships.  
The beloved comedic actor chimed in, during a joint interview with The Strait Times, to assert that although he's had tons of male friends — Rogen even used to be good friends with James Franco — he also has plenty of close female friends in general too. Thus, since both Rogen and Byrne enjoy platonic friendships with the opposite sex, they see no problem with it and can more accurately portray that dynamic onscreen.