Pat Robertson, Broadcaster, Dead At 93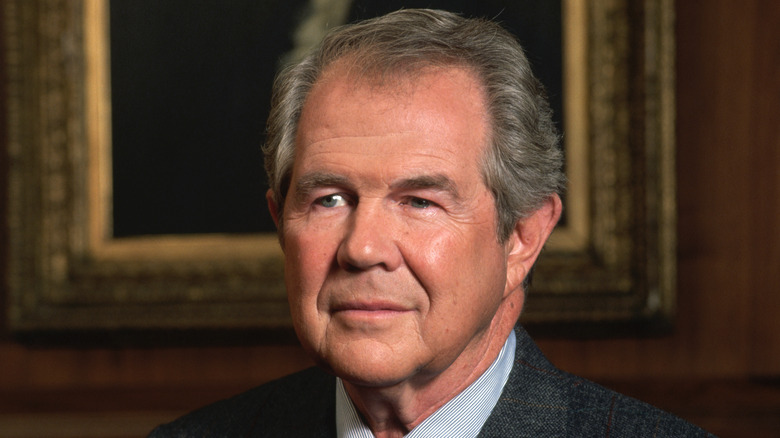 Wally Mcnamee/Getty Images
Religious broadcaster and evangelist Pat Robertson has died at 93 years old. So far, no reason has been given for his death, which was announced by the Christian Broadcasting Network on June 8. Robertson suffered a stroke in 2018, though it isn't confirmed whether this has any relation to his death.
Robertson was known for being outspoken about his Christian faith, which had a lasting impact on conservative politics. Alongside his run for president in 1988 as a Republican candidate, Robertson founded several ventures. These included the evangelical Christian school Regent University in Virginia Beach and the humanitarian organization Operation Blessing, a non-profit dedicated to spreading the word of God and philanthropy.
In addition to these ventures, Robertson began the American Center for Law and Justice in 1990, a movement which aimed to protect the first amendment right for religious people. He was also known for his appearances on "The 700 Club" on the Christian Broadcasting Network that he hosted from 1966 to 2021.
The broadcaster had a history of strong views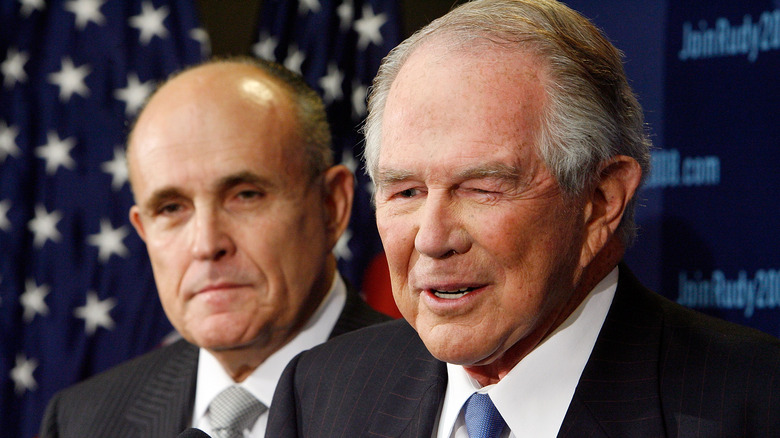 Chip Somodevilla/Getty Images
As well as his other ventures, Robertson founded the Christian Coalition of America, previously known as just the Christian Coalition, a "political organization made up of pro-family Americans" who seek to banish anti-Christian bigotry, promote the pro-family model, and defend those of Christian faith. Robertson was known also for his strong words about groups with whom he disagreed; for example, he appeared to blame the shocking 9/11 attacks on American liberals.
Years after his own failed presidential run in 1988, Robertson endorsed Donald Trump's former lawyer Rudy Giuliani in 2007 as the Republican presidential candidate. Per the BBC, he was also supportive of Trump during his 2016 run, stating that those against Trump were "revolting against what God's plan is for America."
However, Robertson seemed to distance himself from Trump in more recent years. Per CNN, though he did say some positive things about the former president, he also implied that Trump should stop talking about his 2020 election loss. Moreover, Robertson stated that a Trump 2024 presidential campaign would be a "mistake" and called his behavior "very erratic."