Before Becoming People's Sexiest Man Alive, Paul Rudd Had A Major 'Awkward Phase'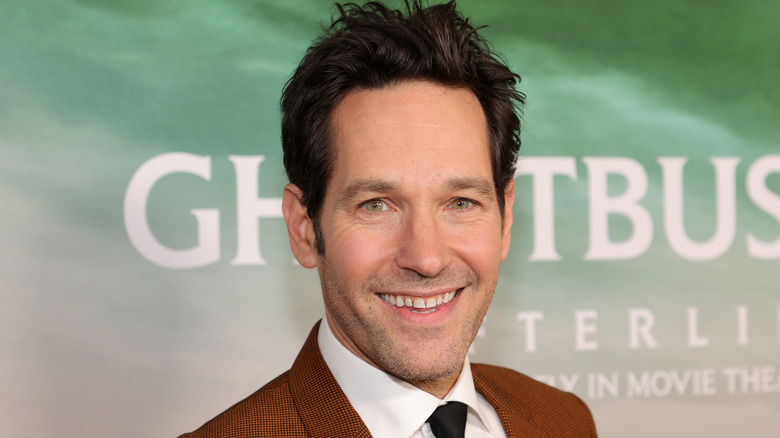 Theo Wargo/Getty Images
Paul Rudd has been stealing hearts since audiences saw him in the 1995 flick, "Clueless." But you might not know that Rudd had made several small appearances in the media before. In 1991, the actor starred in a Super Nintendo commercial, and fans in the present day were quick to notice that he doesn't seem to have aged a day since. He made his first feature film debut in "Halloween: The Curse of Michael Myers," the sixth movie in the franchise. And he was a regular on the Emmy-winning show, "Sisters," before he quit to make it on the big screen with "Clueless." And the risk paid off because his charming portrayal of Josh opened many doors for him.
He played a supporting role in the mega-hit, "Friends," and he thought he'd get fired from the set. He scored lead roles in the "Ant-man" and "Anchorman" series. And fans still applaud his comedic performances in "This is 40," "I Love You, Man," and "The 40-year Old Virgin." There's no denying that Rudd's acting abilities have made him a household name, but his charming, down-to-earth persona has also played a big part in his success.
Part of that persona comes from Rudd's simple upbringing in Kansas by his English parents. When you pair his looks, persona, and acting abilities, you get People's Sexiest Man Alive of 2021. But despite all these amazing qualities, Rudd wasn't always confident in his abilities.
Paul Rudd went through an awkward phase in high school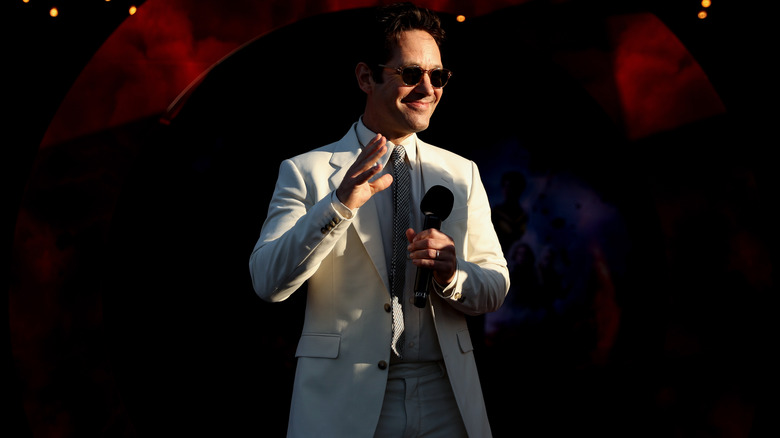 Brendon Thorne/Getty Images
In an interview with People, Paul Rudd said he lacked confidence growing up. He started by joking about how some of his childhood photos would make the outlet revoke his Sexiest Man Alive title. Rudd told the outlet that in high school, he managed to make several friends without fitting into a particular group of people. And then he delved into the reasons for his insecurities, "I'm still having an awkward phase," he says. "Oh my God, puberty hit me like a Mack Truck. All of a sudden my hair got really curly, my skin would break out, I was self-conscious like anybody," he added.
"I took medicine and it made my lips dry out. It's a good look, it's a really good look." And Rudd wasn't kidding when he said he's still having an awkward phase. On "The Howard Stern Show," he recalled an awkward moment that took place near the end of "Friends." "It was an emotional experience, and they'd grown up together and been there together for 10 years on the show," he said. "I would just go over and join the embrace and go, 'Guys, what a ride, huh?'" But the joke didn't stick the landing, making things understandably uncomfortable.  
And he even shared how he managed to get over his insecurities as he grew older, "I think I've learned enough to know what's important, so I've become a little less concerned with some of the other trivial things," he expressed to People. 
Paul Rudd didn't quite fit in at high school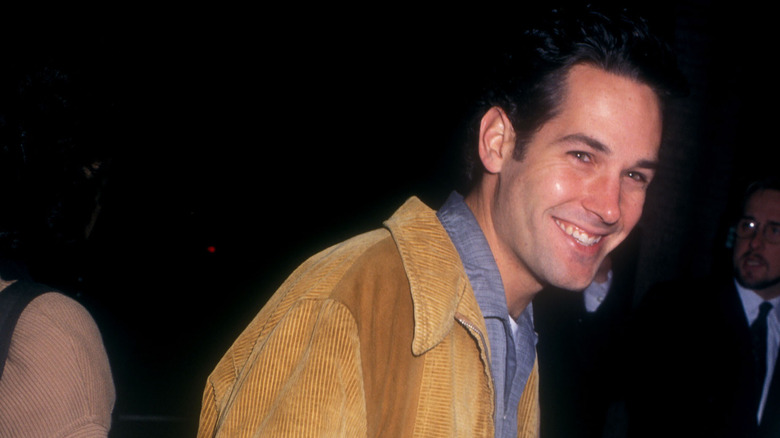 Barry King/Getty Images
Growing up, Paul Rudd moved cities several times because his father worked in an airline, but eventually, they settled in Kansas, Missouri. But Rudd did feel a bit out of place growing up as a Jewish person raised by British parents in a city where they were a minority. However, Rudd has appreciated his humble roots throughout his life. He told People, "I thought I had this awareness, that if you grow up in a town that no one really wants to visit, it's good for your own character."
On a "The Howard Stern Show" appearance, Rudd said, "What I learned kind of early on is that if I make Jewish jokes about myself, I noticed that all the kids would laugh really hard." He added. "It wasn't until I got older that I realized that's kind of messed up." He said that he received some anti-semitic jabs from his peers.  
In an interview with The Guardian, Rudd talked about how his Midwestern upbringing has shaped him as a person and how he uses his experience to deal with his insecurities, "There is something about growing up in the Midwest that gives a different kind of sensibility," he added. "But if I'm feeling insecure, the smiles and politeness get upped a notch, and maybe that isn't totally reflective of how I'm feeling on the inside. But, you know, better to be thought of as a nice person than a d****head."