Does American Idol Pay Contestants To Be On The Show?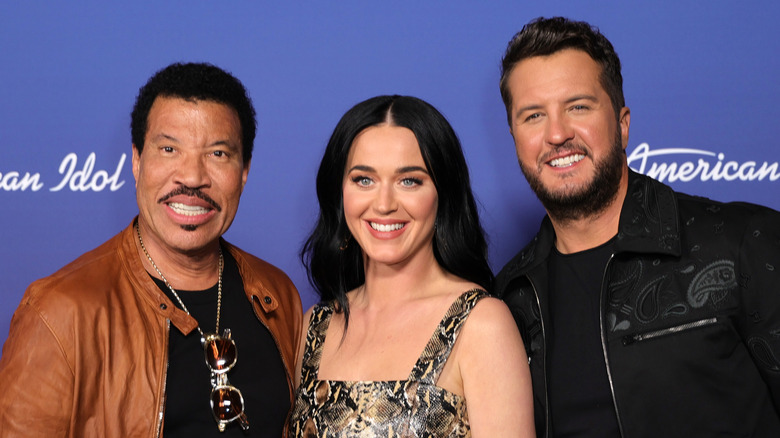 Momodu Mansaray/Getty Images
"American Idol" is one of the oldest singing competition shows. It aired years before "The Voice" and "Masked Singer" and gave us some of the most talented players in the music industry. At just 15 years old, you can audition and have your dreams come true.
The winner walks away with $250,000 and a record deal with Hollywood Records/19 Recordings. Half is awarded to the top singer at contract signing, and the other half is rewarded after completing their studio album within four months. During the recording process, the artist receives $1,000 weekly and another grand for each completed song. They also have up to $300,000 for expenses related to the album's completion. However, those funds are deducted from any of the record's profits.
To even be considered for this chance, contestants leave their hometowns, risk their jobs, and sing each week. Luckily, you don't have to be the final participant under the raining confetti to cash a check from "American Idol." Those who make it far in the contest do make money.
There's a paycheck, but only after surviving weeks in the competition
You just sang your heart out, and now Ryan Seacrest hands you a golden ticket to Hollywood — it's the start of every "American Idol" success story. However, traveling the States and singing for America is not cheap. But you can cash in that golden ticket if your vocals and stage presence lands you in the top 24. The double dozen get paid for their performances by the American Federation of Television and Radio Artists. The compensation is based on the episode's run time. Contestants receive $910 for half-hour shows, $1,303 for 1-hour shows, and $1,571 for 2-hour shows. However, they need to be AFTRA members, which has a $1,600 joiner fee.
Apart from the talent competition episodes, there is an American Idol Live tour for the top 12.
Four to five months of touring equates to $150,000. Richard Rushfield, author of "American Idol: The Untold Story," told Fox Business, "Their payday for a year of very hard work comes to something like $1 million." Of course, that's only for the few top participants who endure the competition. He added, "The top four all do Disney World commercials; that's one of the biggest paydays. They also get money for albums and shooting the Ford commercials."
It pays off to have an angelic voice. And these pay cuts aren't the only way Idol contestants are compensated.
Contestants don't have to worry about lodging or clothes
It might be a singing contest, but looking good for cameras is a part of the whole showbiz. The top 12 singers receive a $450 stipend for wardrobe and speak with a fashion consultant. It might sound like a nice shopping spree, but it is easy to blow in expensive Hollywood boutiques. Singer-songwriter and Season 7 winner David Cook revealed to Insider, "The idea of having $100 to $200 on an outfit for your performance was like, 'Oh my God, how am I possibly going to spend all this? And then you go shopping in L.A. and you're like, 'Oh, that's how I'm going to spend all of it.'"
The best 12 also have room and board taken care of. Typically, contestants share rooms. Suppose your roomie doesn't win America's vote, that doesn't leave you with a single. The number of rooms is cut with the competition pool, and it's not always five-star boarding. "American Idol" expert Richard Rushfield told Fox Business, "There have been years where they want to show it on the air so they put them up in mansions in the Hollywood hills; other years, they've put them up in this apartment complex that's not seen on the air. It's nothing fancy, but it's not squalor."
It's not a lucrative business, but making it to the top 12 and beyond has its payoff. Just ask prosperous "American Idol" stars Jordan Sparks, Carrie Underwood, and Kelly Clarkson.