The Most Controversial Royal Wedding Guests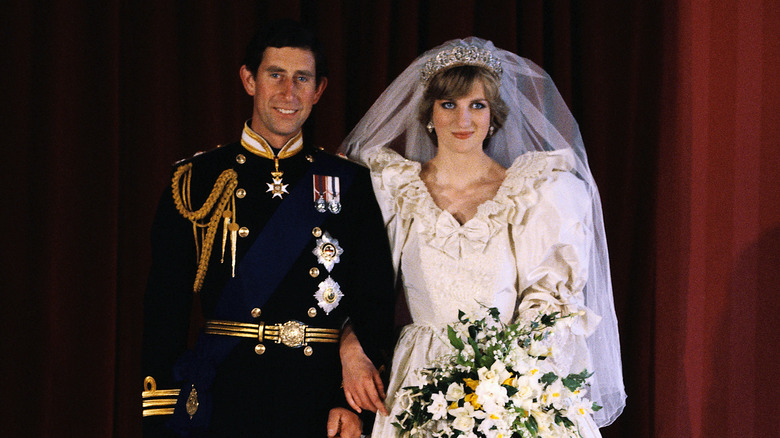 David Levenson/Getty Images
The following article includes references to sexual assault and child abuse.
Royal weddings are always a momentous occasion in the U.K. There's nothing quite like the pomp and pageantry of regal nuptials, replete with the fashion faux pas that inevitably blight such proceedings. Admittedly, much has changed since the austere days of Queen Elizabeth II and Prince Philip's much-publicized 1947 wedding. In contrast to the prim and proper proceedings of Liz's special day, Prince William and Princess Catherine's 2011 wedding, for instance, boasted a guest list that encapsulated the crème de la crème of Britain's elite. Everyone from Posh and Becks to Princess Diana's BFF, Sir Elton John, graced Westminster Abbey to pay their respects to the future king and his bride.
Prince Harry and Meghan Markle's nuptials seven years later further exemplified how times have changed since the solemn 1940s iteration of the royal wedding. Indeed, these ceremonies have long been criticized for not being representative of modern-day, multicultural Britain. As such, critics argued that Harry and Meghan's big day was a much-needed celebration of diversity, an antidote to the white-centric royal weddings of yesteryear.
But as enjoyable as royal weddings may be to watch from the comfort of our couches, popcorn and party poppers in hand, the aforementioned pageantry sometimes masks something more sinister lurking beneath that glossy TV coverage. Throughout the years, numerous controversial individuals have been invited to the ceremonies — from despots to smugglers.
Princess Alice of Battenberg was reunited with her estranged son at his wedding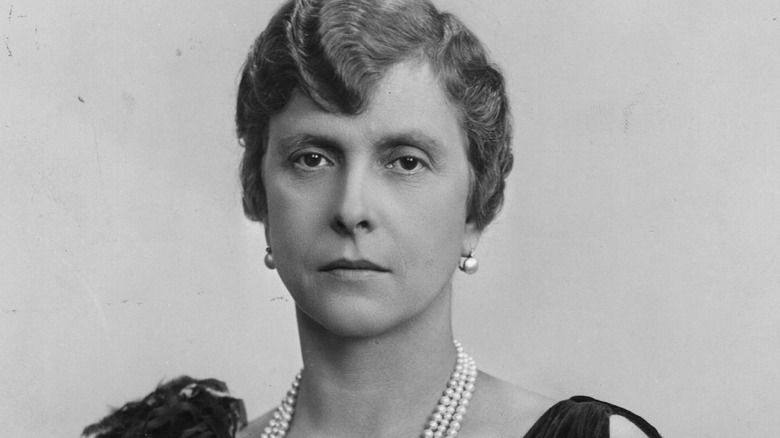 Evening Standard/Getty Images
Prince Philip's mother, Princess Alice of Battenberg, was widely regarded as eccentric. Having ditched the royal lifestyle to become a nun, she spent her latter years penniless and advocating for the poor. Prior to that, she saved a Jewish family from perishing in the Holocaust by hiding them at her home in Athens. For her efforts, she was honored in Israel with a Righteous Among the Nations award. Evy Cohen, a descendant of those saved by Alice, told The Guardian, "Clearly I wouldn't be alive, I wouldn't be here, I wouldn't be born if it hadn't been for her." Despite these remarkable achievements, Alice struggled in one major area throughout the course of her life: forging a tenable bond with her son.
Philip spent most of his childhood separated from his mother, who was diagnosed with schizophrenia and subsequently institutionalized when Philip was a young boy. After a lengthy period of estrangement, the mother and son were reunited at the latter's 1947 wedding to Queen Elizabeth II. Although the wedding didn't appear to mend the pair's relationship in the immediate aftermath, Philip did end up reconciling with his mom years later and invited her to stay at Buckingham Palace before she died in 1969. 
Following Alice's death, Philip became the first royal to visit Israel, where he paid tribute to his mom's heroism in the face of Nazi persecution.
The queen's cousin and wedding guest remains one of the most controversial royals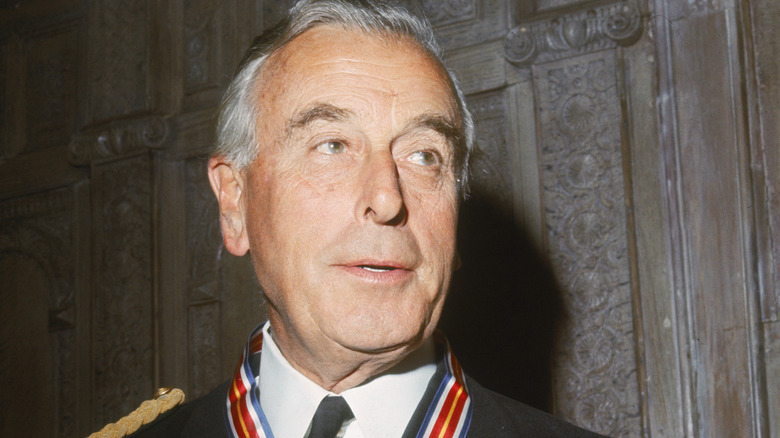 Keystone/Getty Images
The brother of Princess Alice of Battenberg and uncle of Prince Philip, Lord Louis Mountbatten, Earl of Burma, was not a welcome addition to Philip and Elizabeth's wedding day. According to the book "Prince Philip Revealed," Louis had plotted to set his nephew up with the then Princess Elizabeth so that the Mountbatten name would gain prominence and notoriety within the royal family. Accordingly, he contacted the British press and heavily promoted his nephew's engagement.
However, Philip felt uncomfortable with his uncle's constant interference in his relationship with Elizabeth. Though the earl's plan was successful, with Louis attending the couple's 1947 wedding, Philip warned his uncle to leave Elizabeth alone. "I am not being rude but it is apparent that you like the idea of being General Manager of this little show," Philip reportedly told Louis, "and I am rather afraid that she [Princess Elizabeth] might not take to the idea quite as docile as I do."
Louis' devious plot to further the Mountbatten name is reflective of his allegedly nefarious nature. There have long been claims that he was a pedophile who abused boys procured from Kincora Boys' Home in Belfast. "You don't forget who abused you. Trust me. You block it out but you don't forget," one of his survivors, Arthur Smyth, told the Belfast Telegraph. As of this writing, Smyth is pursuing legal action against the children's home for allegedly permitting the earl's abuse.
If you or someone you know may be the victim of child abuse, please contact the Childhelp National Child Abuse Hotline at 1-800-4-A-Child (1-800-422-4453) or contact their live chat services.
King Constantine's appearance at Charles and Diana's wedding angered Greek republicans
Wpa Pool/Getty Images
In 1973, Greece voted to abolish the monarchy. Six years earlier, King Constantine II fled the country after backing a military coup, leading to widespread protests and backlash. Thereafter, he went into exile in the U.K., settling in London and remaining friendly with the British royal family. The Hellenic state may have ousted the monarchy, but that didn't stop the deposed royals from retaining their regal titles.
Accordingly, this caused controversy on Charles and Diana's wedding day in 1981. Constantine was close with Charles and he was, naturally, welcomed to the erstwhile Prince of Wales' big day. His invitation to the much-hyped wedding angered the then-president of Greece, Konstantinos Karamanlis, who refused to attend the ceremony out of protest. "The President of Greece did not attend because former King Constantine of Greece, a cousin and friend of Prince Charles, was invited to the wedding with the title of 'King,'" historian Carolyn Harris told History.
Constantine's decision to retain the title of king may have angered Republicans, but the former monarch eventually accepted that his kingly status was merely nominal. "I don't have to be in Greece as head of state. I am quite happy to be there as a private citizen," he told The Telegraph. "Forget the past, we are a republic now. Let's get on with the future."
Margaret Thatcher attended Charles and Diana's wedding despite feuding with the royals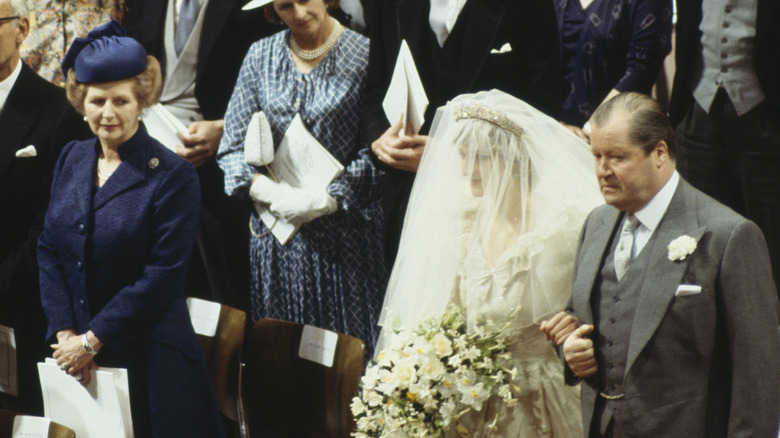 Serge Lemoine/Getty Images
The lady's not for turning? Well, Margaret Thatcher's appearance at Charles and Diana's wedding was certainly enough to turn heads. Though prime ministers typically do attend royal weddings, Thatcher may be seen as a controversial addition to the 1981 ceremony, largely due to allegations that she didn't get along with the royals.
In 1986, Buckingham Palace insiders told The Times that Queen Elizabeth opposed the prime minister's policies, regarding them as "often ... uncaring, confrontational and socially divisive." When asked about the alleged feud between her and Queen Elizabeth, Thatcher merely repeated the mantra, "I intend to follow the well-established policy of my predecessors and not answer questions directly or indirectly about the monarch."
It wasn't just Elizabeth who allegedly had beef with the Iron Lady. According to the book "Charles — The Man Who Will Be King," the then Prince of Wales invited Thatcher to Kensington Palace in hopes they could discuss his latest outreach program. But Thatcher repeatedly declined the invite. "She believed that this would obviously provide her opponents with the valuable point that the Prince of Wales, although supposed to be politically neutral, was in fact opposed to Thatcher and her uncaring policies," wrote author Howard Hodgson. Similarly, she allegedly harbored animosity towards Princess Diana, whom she reportedly branded "a self-obsessed fashion model who was only concerned about her own media image."
Camilla attended Charles and Diana's wedding dressed in gray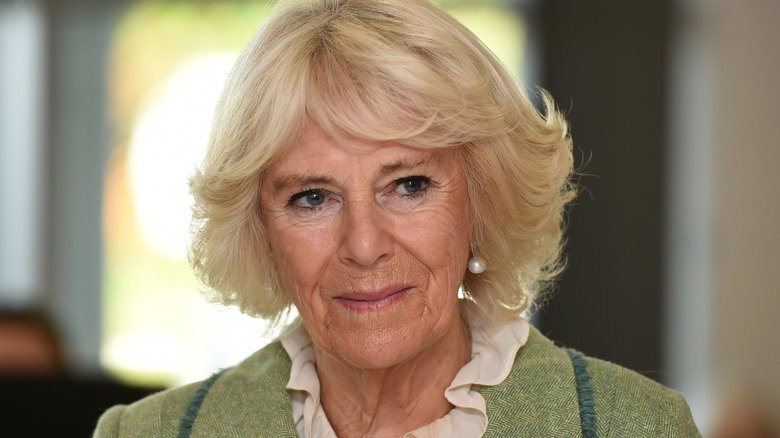 Finnbarr Webster/Getty Images
The affair between King Charles III and Camilla, Queen Consort, reportedly began in 1972– almost a decade before the former tied the knot with Princess Diana. Subsequently, it comes as a surprise that Camilla actually attended Charles' first wedding.
Camilla's appearance at her lover's wedding was seen as controversial and shady. The queen consort allegedly conspired to set Charles and Diana up, as she believed Dianna would be easy to manipulate and the lovers would thus be able to continue their affair. "[Camilla] initially encouraged the relationship between Charles and Diana because she thought Diana was gormless," Camilla's brother-in-law, Richard Parker Bowles, explained, per Tina Brown's book, "The Diana Chronicles." "She never saw Diana as a threat."
Seeing Camilla at the ceremony was incredibly painful for the bride-to-be. "Walking down the aisle, I spotted Camilla, pale gray, veiled pillbox hat, saw it all, her son Tom standing on a chair. To this day you know — vivid memory," Diana recalled, as quoted in "Diana: Her True Story — In Her Own Words." In an interview with Express, wedding expert Zoe Burke argued that Camilla deliberately wore the gray outfit to express her disapproval of Charles and Di's nuptials. "If the love of your life who you were not permitted to marry invited you to their wedding to someone else, you may well be tempted to stage a quiet rebellion," she surmised.
Mario Testino attended Prince William and Princess Catherine's wedding — and took their engagement photos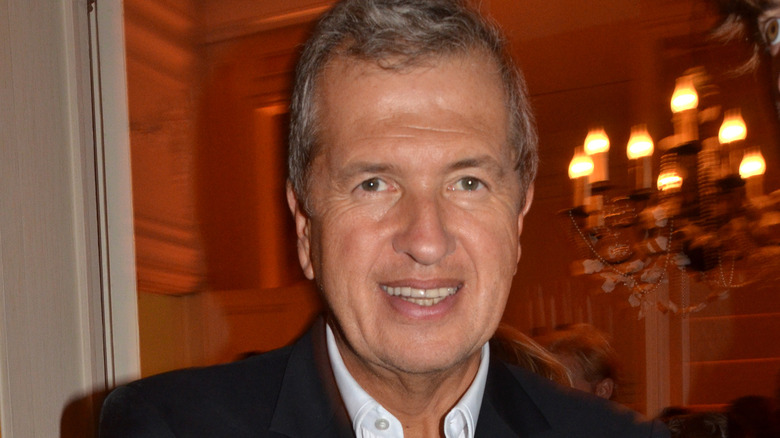 Foc Kan/Getty Images
When Mario Testino took Prince William and Princess Catherine's iconic engagement photos in 2010, few could have predicted the scandal that would engulf the acclaimed photographer just a few years later. Testino once counted the royal pair among his friends, having also attended their wedding in 2011. But in the wake of the MeToo movement, his reputation would be tarnished. 
In a 2018 New York Times exposé, the photographer was accused of sexual harassment and assault by 13 men, many of whom were models who posed for him. The allegations, which spanned almost three decades, include coercive behavior, groping, and aggressive advances. "Sexual harassment was a constant reality," Roman Barrett, Testino's former assistant, told the outlet. "He misbehaved in hotel rooms, the backs of cars and on first-class flights. Then things would go back to normal, and that made you feel gaslighted." Another colleague, Thomas Hargreave, accused the photographer of making light of his problematic behavior, allegedly treating molestation as a joke. "But it wasn't funny," Hargreave reflected. "And the guys being placed in these situations wouldn't know how to react. They would look at me, like, 'What's going on? How do I deal with this?' It was terrible." 
Testino has denied all of the allegations. Although his alleged problematic behavior was not public knowledge at the time of William and Catherine's wedding, his presence at such a prominent ceremony certainly raises eyebrows in hindsight.
The controversial King Mswati III was a guest at Prince William's wedding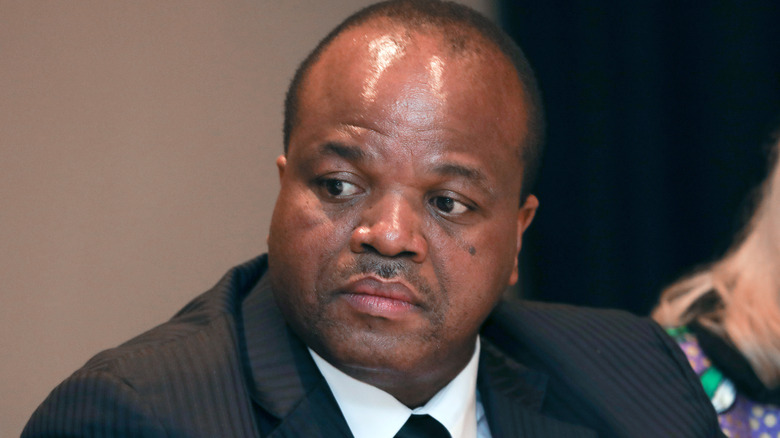 Bloomberg/Getty Images
Overseas noble families typically attend royal weddings. Accordingly, King Mswati III, the head of the Swazi royal family, was invited to Prince William and Princess Catherine's nuptials in 2011. A highly contentious figure, King Mswati's presence at the ceremony caused a furor.
In the lead-up to the wedding, there were protests against Mswati's trip to the U.K., with critics accusing the royal of using public money to fund his luxury London vacation while the people of Eswatini lived in poverty. "It is astonishing that the Palace, presumably with advice from the British government, have invited the king of Swaziland to the royal wedding. ... Whilst the king and his entourage party in luxury in London, the people of Swaziland are being pushed deeper into poverty and those who speak out face arrest and even torture," Tony Dykes of Action for Southern Africa told The Guardian. At the time, the king was worth a whopping $200 million, whereas 80% of the Eswatini population faced unemployment.
Also that year, Mswati was accused of abusing and imprisoning his 12th wife, Nothando Dube. "The king brought me here at the tender age of 16," she told Mail & Guardian, "and not only promised to look after me but to also look out for me.. .. I feel he is totally disinterested in me, hence the imprisonment. I am being abused emotionally and I have suffered brutally."
Joe Allbritton's appearance at Prince William's wedding caused controversy
It seems that the 2011 royal wedding had no shortage of problematic guests. Another controversial attendee was banking tycoon Joe Allbritton. His invite came courtesy of King Charles III, who, along with his mother, was a friend of the contentious banker. That was one RSVP that led to outrage, namely due to Allbritton's dodgy deals and close association with Augusto Pinochet.
As head of Riggs Bank, Allbritton was a confidant of the Chilean dictator, whom he both praised and allegedly aided in storing dirty money. "We attach great importance to our relationship with you and the Chilean Military and look forward to expanding our cooperation in the future," he enthused in a letter to the dictator, as reported by The New Republic. What makes this alleged shadiness all the more eye-popping is the fact that Charles accepted a £190,000 (around $235,000) donation from Allbritton. Considering his sketchy business dealings, the source of those funds is dubious at best.
Though Allbritton denied hoarding Pinochet's money, a senate hearing found that he engaged in suspicious activity. "Million-dollar cash deposits, offshore shell corporations, suspicious wire transfers, alterations of account names — all the classic signs of money laundering and foreign corruption made their appearance at Riggs Bank," Senator Carl Levin declared at the hearing, according to The Washington Post. Subsequently, he was fined $25 million and $16 million in 2004 and 2005, respectively, with a judge branding Riggs "a greedy corporate henchman of dictators and their corrupt regimes."
Prince Harry's ex Cressida Bonas attended his wedding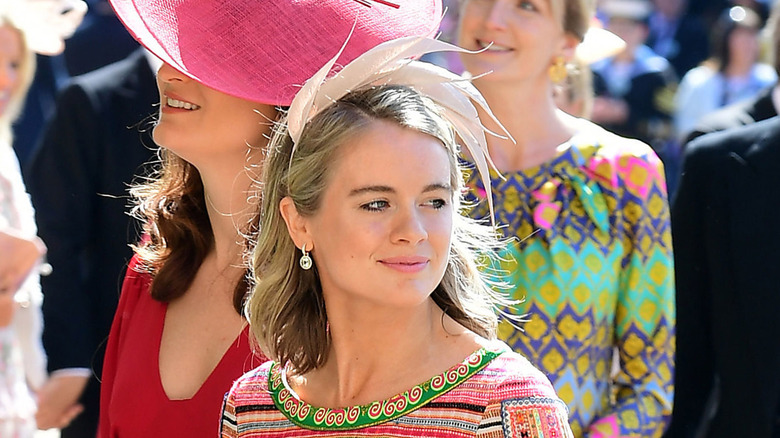 Wpa Pool/Getty Images
Long before he fell head over heels in love with Meghan Markle after swiping through her Insta pics, Prince Harry was in a relationship with model and aristocratic "it" girl Cressida Bonas. The distinguished duo dated from 2012 to 2014. The couple reportedly split due to excessive media intrusion into their love life. When Harry and Meghan wed eight years later, the prince invited Bonas to his wedding. 
Bumping into an ex at a wedding is undoubtedly a cringeworthy prospect that most of us would rather avoid — not least when said ex is the groom. In an interview with The Times, Bonas was asked whether she wished Harry and Meghan well, but she declined to comment. "I hope you understand," she later clarified. "I get it all the time. I'd just rather not go into it."
However, in a column for The Spectator, she revealed that attending her ex's wedding was of little concern to her. Her biggest worry, though? Hats. "Friends are starting to get married, which means the dilemma of British wedding attire. Hats," she wrote. She went on to explain that she found hats hard to pull off, adding, "Last weekend I attended the royal wedding. The invitation clearly stated that guests must wear hats. Yikes." If millinery was the biggest barrier Bonas faced when attending her former flame's wedding, then hats off to her.
Harry fought to have Sarah Ferguson at his wedding despite much pushback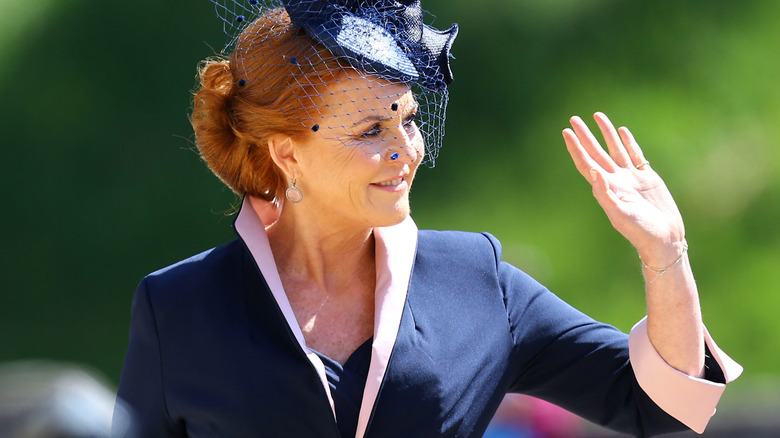 Wpa Pool/Getty Images
Her ex-husband may be the royal pariah now, but it was once Sarah Ferguson who was the black sheep of The Firm. Fergie's various controversies throughout the years — including being snapped having her toes sucked by her lover and admitting to accepting a loan from Jeffrey Epstein — have contributed to her less-than-favorable public image. As such, she hasn't exactly been a welcome guest at the royal weddings of yore (she wasn't invited to Wills and Kate's wedding in 2011). But ever the rebel prince, Harry added Ferguson to his and Meghan Markle's wedding guest list.
Such a bold decision was not without controversy, of course. King Charles was reportedly adamant that he did not want Fergie at the ceremony. "With every wedding there is an issue over who to invite, and this time it's very much been the 'awkward aunt' problem," an insider alleged to the Daily Mail. "It has thrown up a massive headache for the two palaces." But Harry fought back. "He absolutely, 100 per cent wants her there and has told palace officials that in no uncertain terms," the source added.
Since then, Fergie has defended Harry and Meghan amid the monumental public backlash they have faced. "I have been judged all my life, and I have no judgment on the Sussexes," she told People regarding the couple's decision to relocate to North America.
Charles' alleged lover Tiggy Pettifer was at Harry's wedding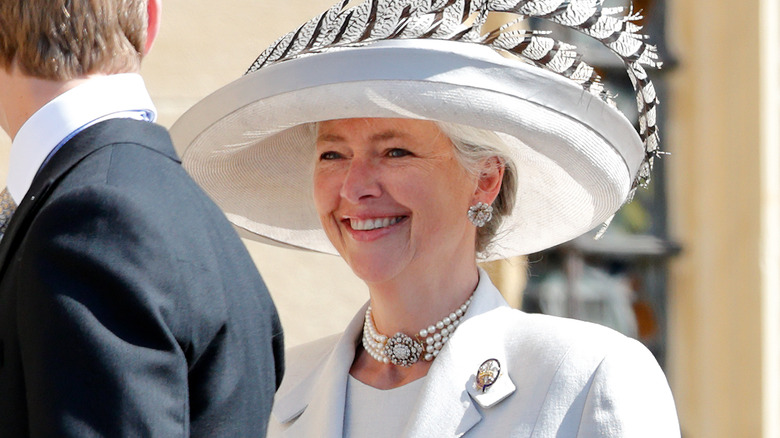 Max Mumby/indigo/Getty Images
Although King Charles' marriage to Diana was clouded by his affair with Camilla, the queen consort wasn't the only lady rumored to have caught the gaze of Charles' wandering eye. He also allegedly had an affair with his children's nanny, Tiggy Pettifer. In 1996, People reported that Diana feared Pettifer was attempting to usurp her as the mother of Princes William and Harry. The animosity between Diana and Pettifer was allegedly exacerbated by the queen supposedly favoring Pettifer over Diana, leading some to believe that the then Princess of Wales fabricated unsavory stories about her rival. "The Queen was absolutely furious and totally in sympathy with Tiggy," a source said at the time. 
There's even a conspiracy theory that Charles plotted to have Diana killed so that he could be with his lover. "This particular phase in my life is the most dangerous — my husband is planning an accident in my car," Diana supposedly wrote in a note, per the Daily Mail. "Brake failure and serious head injury in order to make the path clear for him to marry Tiggy." However, such claims are wholly unsubstantiated.
Considering these controversies, not to mention Harry's close relationship with his mom, it came as a surprise that the prince chose to invite his former nanny to his wedding. Nevertheless, Pettifer was present at the big day, suggesting that any potential bad blood has since dissipated.
Richard Liu was invited to Princess Eugenie's wedding despite troubling accusations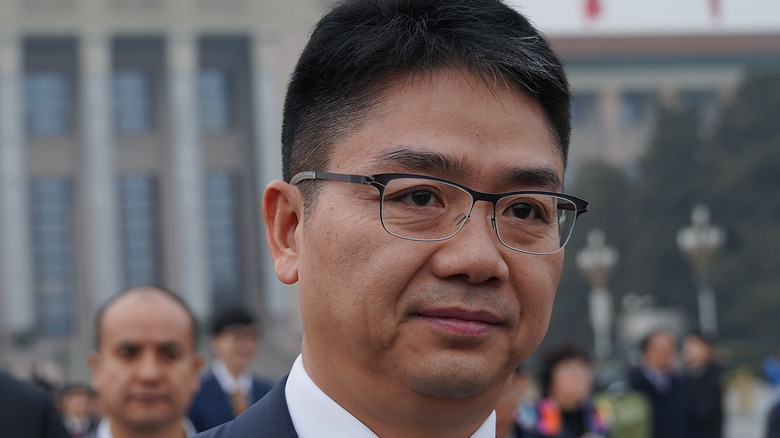 Lintao Zhang/Getty Images
Unlike some of the other controversial guests on this rundown, Richard Liu was accused of sexual assault prior to being invited to a royal wedding. Prince Andrew invited tech billionaire Liu to his daughter Eugenie's 2018 wedding less than two months after he was accused of raping a young woman. He denies any wrongdoing.
The invite led to outrage from those in his native China. "I'd like to know why the royal family let them into the wedding. He has a case against him," lamented a Douban social media user wrote, as shared by The Independent. Liu, who is twice the age of his alleged victim, was accused of forcibly intoxicating and then assaulting Liu Jingyao during a visit to the University of Minnesota in 2018, though there was insufficient evidence for a criminal trial, according to CNN. Accordingly, she sued him the following year, and the case was settled out of court in 2022.
In what was hailed as a pivotal moment for China's MeToo movement — Jingyao was commended for demanding accountability from allegedly predatory businessmen. "In these four years, she fought for feminists to give the biggest (platform) to discuss what is rape culture and what is power sexual assault," declared MeToo campaigner Zhou Xiaoxuan. "Jingyao's resistance four years ago was an extremely rare show of courage — it is not uncommon for business bosses to prey on young girls, but she is the first person to stand up."
If you or anyone you know has been a victim of sexual assault, help is available. Visit the Rape, Abuse & Incest National Network website or contact RAINN's National Helpline at 1-800-656-HOPE (4673).
A gun smuggler attended Princess Eugenie's wedding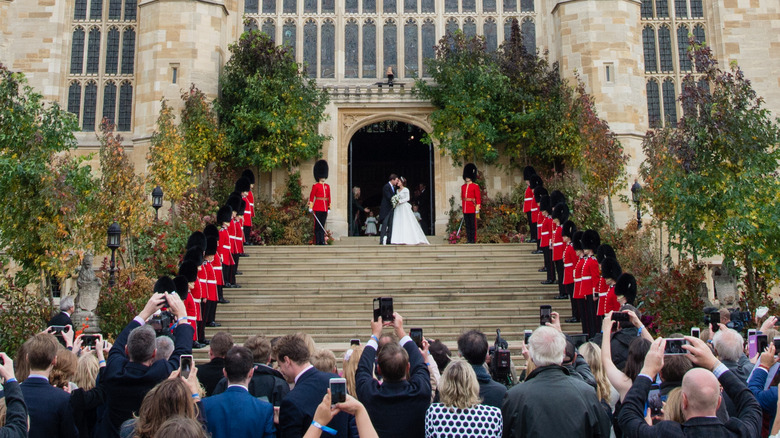 Pool/samir Hussein/Getty Images
We have to hand it to Prince Andrew for drawing up one of the most controversial wedding guest lists of all time. In addition to inviting Richard Liu to Eugenie's wedding, he also handed an invite to Tarek Kaituni, a Libyan gun smuggler with whom the Duke of York has long been involved in allegedly dubious deals. According to an investigation by the Daily Mail, Kaituni was a confidant of Colonel Gaddafi, and he was able to facilitate meetings between the contentious dictator and Prince Andrew when the royal was the British trade envoy (Andrew reportedly met with Gaddafi on more than one occasion). 
Caught in a sting by undercover reporters in 2011, Kaituni boasted of his links to Andrew. "I can maybe influence him to be there for the opening," he said regarding his plan to pay Andrew to attend the launch of a Libyan golf resort. "Maybe he will do it for me."
Although Andrew has claimed that Kaituni was merely an acquaintance, they did appear to have a number of private meetings and remained close after his daughter's wedding. In 2019, Kaituni attended the birthday party of Andrew's ex-wife, Sarah Ferguson, and introduced the prince to fraudster Selman Turk, who gifted him over $1 million, The Telegraph reported. What's more, he paid hundreds of thousands to Fergie and over $30,000 to Eugenie, raising questions as to whether Kaituni and Turk were more than mere acquaintances.
Prince Andrew attended Beatrice's wedding despite a major backlash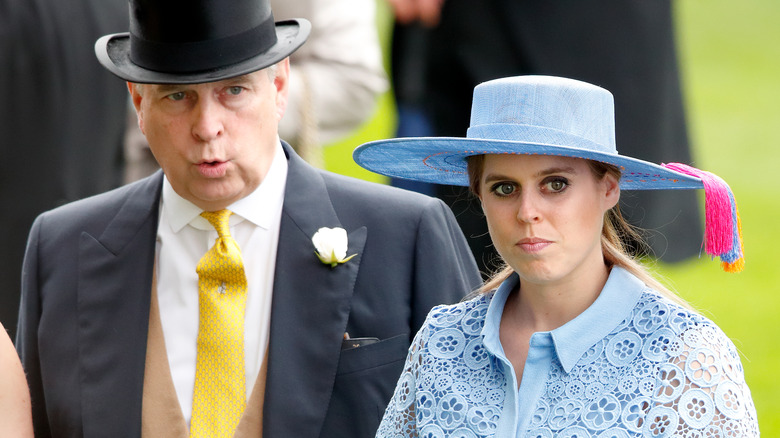 Max Mumby/indigo/Getty Images
A father walking his daughter down the aisle wouldn't usually be cause for contention, but most gals don't have Prince Andrew for a dad. Unfortunately for Princess Beatrice, the announcement of her nuptials coincided with increasing public condemnation of her father. 
In September 2019, Beatrice became engaged to property tycoon Edoardo Mapelli Mozzi. Just two months after the announcement, Andrew was stripped of royal duties. The decision came in the wake of his infamous BBC Newsnight interview, in which he denied abusing Jeffrey Epstein's trafficking victim Virginia Giuffre because, as he said, he is incapable of sweating and was at a Pizza Express restaurant on the night in question.
Subsequently, there was speculation as to whether Andrew would even be permitted to attend his daughter's wedding. "Beatrice's wedding will be collateral damage," tweeted royal writer Marlene Koenig. "I will not be surprised if she has a rather quiet wedding, out of the public eye, with a few photos, no live coverage. This will be better than an announcement that they have decided to postpone marriage." Eventually, Beatrice and Mozzi tied the knot in the summer of 2020, and Andrew walked his daughter down the aisle despite immense public backlash. However, likely in response to the controversy, he was not in any of the official wedding photos. "It's a sign of how far Prince Andrew has fallen," royal expert Dickie Arbiter told The Mirror.