Caroline Manzo Will Come Back To RHONJ On One Condition
John Lamparski/Getty Images
"Real Housewives of New Jersey" alum Caroline Manzo may have exited the reality series after Season 5, but fans have been eager for her to return. Since her days as a Bravo Housewife, Manzo has distanced herself from her former castmates. Unfortunately, this even includes her sister, Dina Cantin.
Cantin and Manzo have kept mostly quiet about their feud, aside from confirming that they do not speak. However, Teresa Giudice and Manzo have exchanged words publicly about their disdain for one another. In the early seasons of "RHONJ," the extravagant ladies were close, showcasing their luxuries together and challenging anyone who dared come between their friendship, such as villain Danielle Staub.
Sadly, the ladies union would go south after Giudice accused Manzo of alerting the IRS about her finances, which resulted in Giudice and her former husband, Joe Giudice, going to prison for 15 and 41 months, respectively. Despite the drama between these two New Jersey originals, Manzo says Giudice is surprisingly the reason she'd return to the series.
Caroline Manzo will return to 'RHONJ' to confront her former friend, Teresa Giudice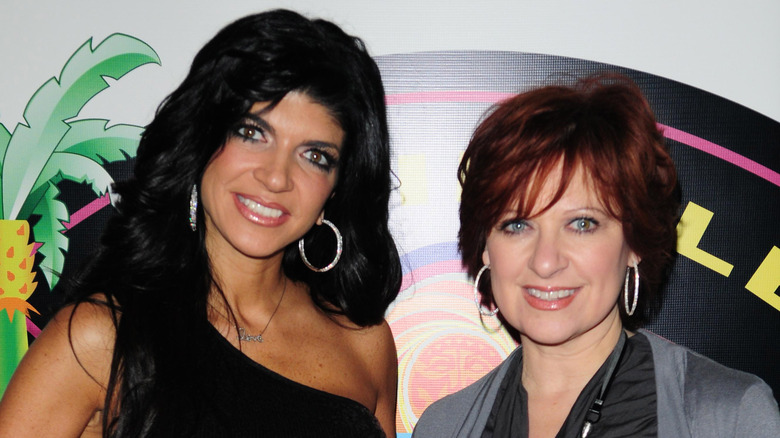 Vallery Jean/Getty Images
When author Caroline Manzo walked away from the Bravo franchise, she was not interested in rekindling her reality television glory days. That included her relationships with former friends and acquaintances from the series. However, in a shocking twist, Manzo said last year that she would take her place back on "Real Housewives of New Jersey" under one condition. When speaking during the May 18, 2022, episode of son Albie's podcast, Manzo said she'd make an appearance only to confront Teresa Giudice face to face.
"I'm just gonna put it out there 'cause I just don't give a f**k, alright? You know what? I would get great pleasure, fans, community, to go in and just knock the s**t out of Teresa verbally and just put her in her place," Manzo admitted during the taping of "Dear Albie," when Albie read a letter from a listener asking if she'd ever go back to the show.
Manzo went on to add that she was tired of Giudice continuously saying that she was the one who reported her luxurious lifestyle to the federal government. Manzo has denied these claims several times and would love the opportunity to set the record straight. It looks like she may never get that chance, also revealing during that sit-down with her son that Bravo was not willing to give her fair pay to return to the series.
Carolina Manzo recently vowed never to return to the Real Housewives franchise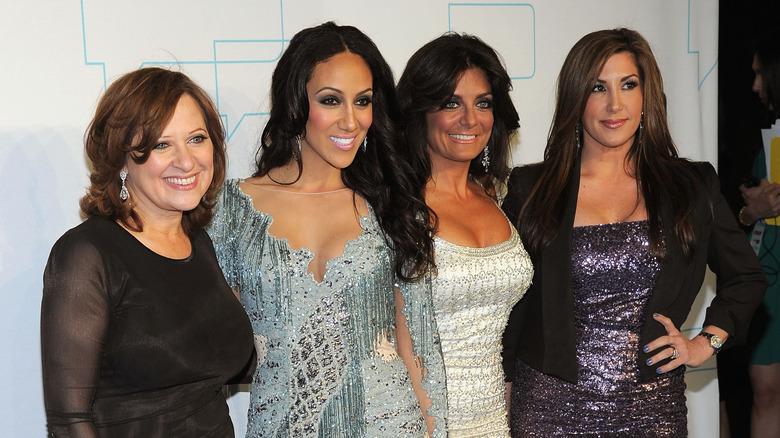 Larry Busacca/bravo/Getty Images
Fans were excited to learn that Manzo had joined the cast of "Real Housewives Ultimate Girls Trip," the Peacock series that brings Housewives from multiple franchises together for a vacation. Things took a turn when Manzo was allegedly the victim of inappropriate behavior at the hands of fellow "Ultimate Girls Trip" star Brandi Glanville. While filming, multiple sources reported that Glanville kissed Manzo several times without her consent. Both women exited the show early, and a sexual misconduct investigation was launched. For this reason, Manzo revealed on the "Two T's in a Pod" show that she would never return to Bravo after the traumatic incident.
Life after Bravo looks pretty promising for Manzo. She has her YouTube cooking show, "Food, Love, and Chaos," which sports over 30,000 subscribers and has attracted thousands of views on the videos. It's unknown if she'll ever get that face-off with Giudice, though it would make for great TV.