The Truth About Teresa Giudice And Caroline Manzo's Relationship
D Dipasupil/Getty Images
When Bravo fans think of the biggest blowout fights on "The Real Housewives of New Jersey," many conflicts come to mind (via TV Insider). Top contenders include Margaret Josephs tossing Marty Caffrey in the pool, Joe Gorga and Joe Giudice's fistfight in Season 5, and Teresa Giudice's infamous table flip in the Season 1 finale. 
While many of the most memorable tussles involved screaming matches and physical altercations, the feud that brewed between Giudice and former RHONJ star Caroline Manzo was much more insidious (via Distractify).
Both women appeared on the very first season of "RHONJ" and initially had a good relationship. Giudice was very close with Manzo's sister Dina Manzo and sister-in-law Jaqueline Laurita. However, their relationship soured when Giudice's cousin Kathy Wakile and sister-in-law Melissa Gorga became housewives, too, reportedly leaving the 49-year-old Manzo feeling jealous. The "Manzo'd with Children" star eventually left the series at the end of Season 5 but continued to feud with Giudice over the years. Now, Manzo is finally sharing her perspective on why her relationship with Giudice unraveled (via Showbiz CheatSheet).
Caroline Manzo was reluctant to befriend Teresa Giudice in the first place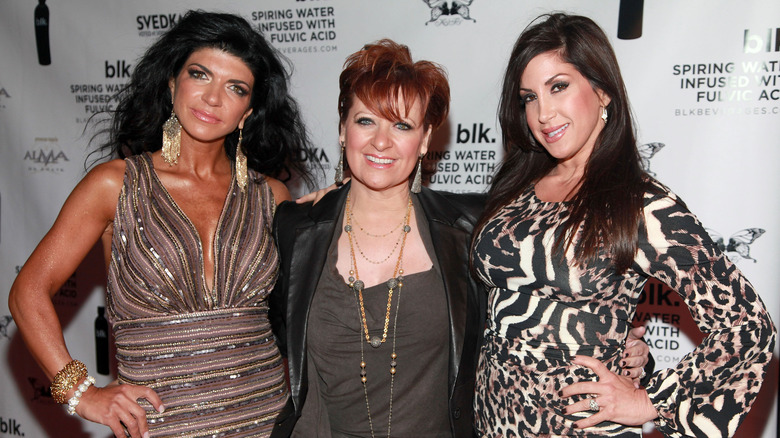 Astrid Stawiarz/Getty Images
Caroline Manzo revealed during an interview with Bravo that she believes Teresa Giudice let the fame of "The Real Housewives of New Jersey" get to her head (via Showbiz CheatSheet). Manzo also shared that she was never as close to Giudice as the series made it seem. She explained that the pair's age gap of 10 years kept her from forming an initial bond with Giudice, though Giudice's close friendships with Manzo's sisters pushed the pair to become acquaintances. 
While their friendship lasted for a few years, it began to change when Giudice revealed her deeply competitive nature. "When it became a competition for her ... it was always Teresa, Caroline," Manzo recalled. "I was just doing my own thing, I didn't care and until this day I defy anyone who says I was anything but supportive to her." 
Another issue for Manzo was Giudice's refusal to acknowledge reality, she says. Manzo noted that Giudice struggled to take Manzo's advice and didn't appreciate being labeled a "bully." While Giudice recently revealed on "Watch What Happens Live!" that she isn't friends with Manzo at the moment, OG "RHONJ" fans remain hopeful that this dynamic duo will finally put their differences aside (via Bravo).