The Most Effective Way To Apply Spray-On Sunscreen To Keep Your Skin Protected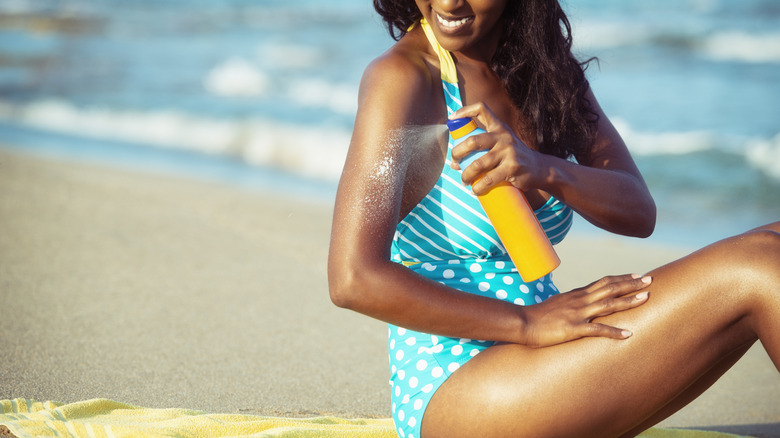 Ruslandashinsky/Getty Images
We may receive a commission on purchases made from links.
Wearing SPF at all times of the year is important, but the summertime brings a laser focus on being protected from the sun. With hot weather comes the heightened risk of sunburn and in worse cases, skin cancer. It's the one time of the year when most people take SPF protection more seriously. Yet, it's annoying to have to constantly apply gloopy sunscreen, making it easy to fall off the wagon.
Thankfully, sunscreen companies heard our cries and have created spray-on sunscreens. The application is more effortless than a traditional sunscreen or sunscreen oil. Spritzing on your SPF is better than dumping it into the palms of your hands and rubbing it in vigorously to get rid of that dreaded white cast. The ease of application makes putting it on every two hours something that can be done in half time compared to more traditional sunscreens.
However, the format isn't without its faults. Although it has uncomplicated things, the straightforward application of lotion sunscreens is lacking from spray-on sunscreens.
How to properly apply spray-on sunscreens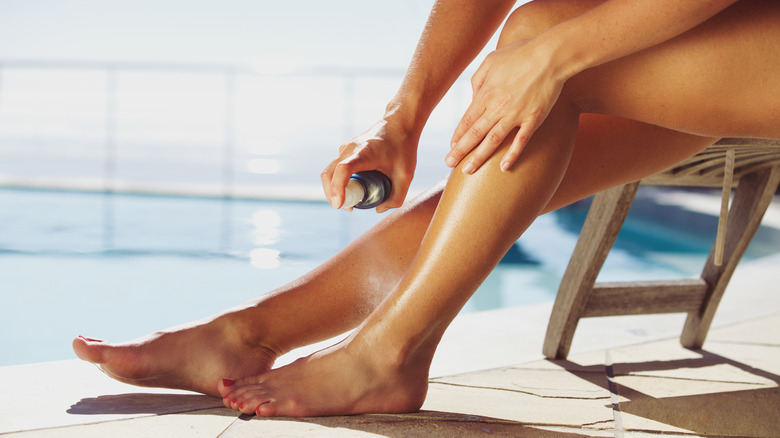 Jacoblund/Getty Images
One of the biggest problems with spray-on sunscreens is knowing how much to apply. The general rule of thumb on how much to apply is one ounce for your entire body – or enough to fill a shot glass. With a lotion SPF, you can eyeball how much to place on each body part by squeezing it into your hands. Unfortunately, that's not possible with a spray-on sunscreen.
The best thing is to spray on your sunscreen until your skin looks wet. Afterward, rub in the sunscreen, ensuring that every inch of the area is protected. If you're worried that you may not be spritzing on enough spray-on sunscreen to get adequate protection, apply a lotion sunscreen before you leave the house. After two hours outside, top up your SPF with a spray-on sunscreen. When spraying it on, hold it close to the skin to ensure that it doesn't blow away in the wind.
SPF is meant to be applied at least every two hours, but if you've been sweating or swimming, you'll still need to reapply after wiping yourself off with a towel. Water-resistant or not, toweling yourself means you're removing sunscreen in the process.
Shop the best spray-on sunscreens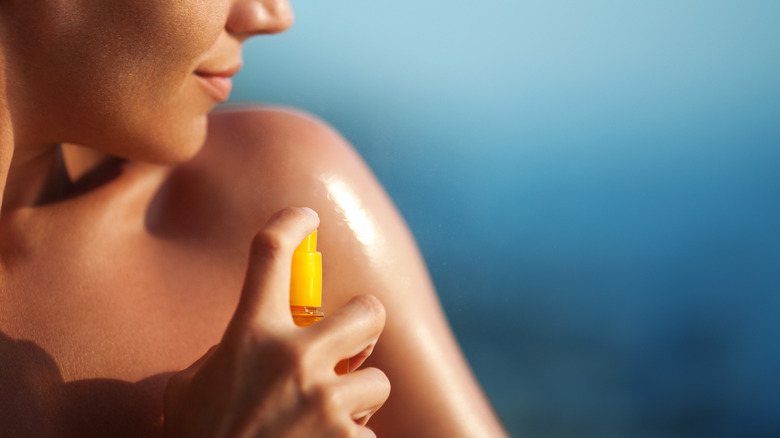 Gilaxia/Getty Images
If you spend most of your time at the beach, Target's Continuous Sunscreen Mist Spray is for you. The average sunscreen is six ounces, meaning they don't last you more than six applications for your entire body. Target's mist on sunscreen is nine ounces for less than $8, which is an absolute steal for frequent SPF wearers.
Wearing makeup on a hot summer day is complicated, especially when it comes to reapplying face sunscreen without ruining your makeup. Thankfully, the Kate Somerville UncompliKated SPF Setting Spray makes the process easier. With an SPF of 50, it gives you broad spectrum protection while setting your makeup. It also delivers a matte finish, so you don't need to worry about looking greasy or sweaty.
The Vacation Classic Spray SPF 30 Sunscreen gives off a classic sunscreen smell of coconuts while delivering UV-ray protection and nourishing ingredients. Formulated with aloe vera, vitamin E, shea oil, and banana extract, it has a continuous spray nozzle that allows you to apply sunscreen from any angle.