Donald Trump Isn't The Star Of His Second Indictment As Twitter Turns Its Attention Mike Pence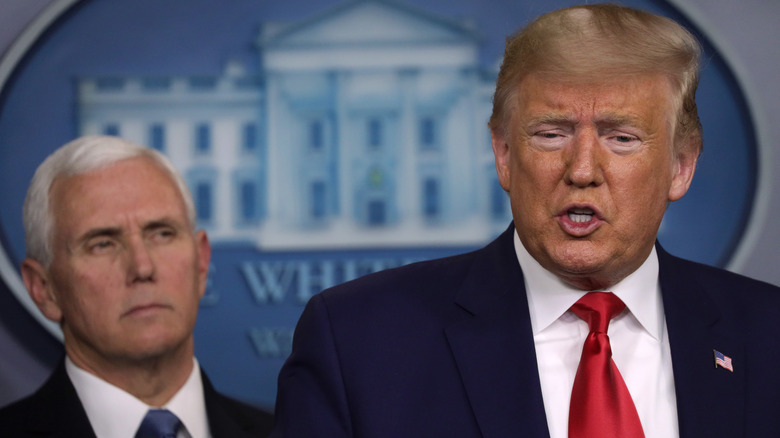 Alex Wong/Getty Images
It happened again. Former president Donald Trump has been indicted for a second time. The first time was in regard to the hush money paid to silence Stormy Daniels (and the subsequent falsifying of business records) ahead of the election; he pled not guilty to 34 felony charges in Manhattan criminal court, per CNN. Now, Trump faces 7 counts, including a violation of the Espionage Act and obstruction of justice in regard to his handling of classified material after he left office, as reported by The New York Times. Those both make for major firsts. The New York indictment was the first time a former president was indicted on criminal charges, and the classified documents indictment marks the first time federal charges have been leveled against a former president. A historic day for sure.
The timing is interesting considering that just yesterday former vice president Mike Pence spoke about the potential indictment of Trump in regard to the documents. Pence is running against Trump to become the Republican nominee for president, and Pence's campaign announcement took a subtle dig at Trump. But at the CNN town hall in Iowa, when asked about the potential for more criminal charges against Trump, Pence told moderator Dana Bash that "indicting a former president in the United States sends a terrible message to the world" and that it "would only fuel further division in the country" (via CNN). 
Trump's indictment coming 24 hours after Pence's hope that he wouldn't be indicted again has Twitter abuzz with its focus on the former vice president.
Twitter pointed out that no one is above the law, including Trump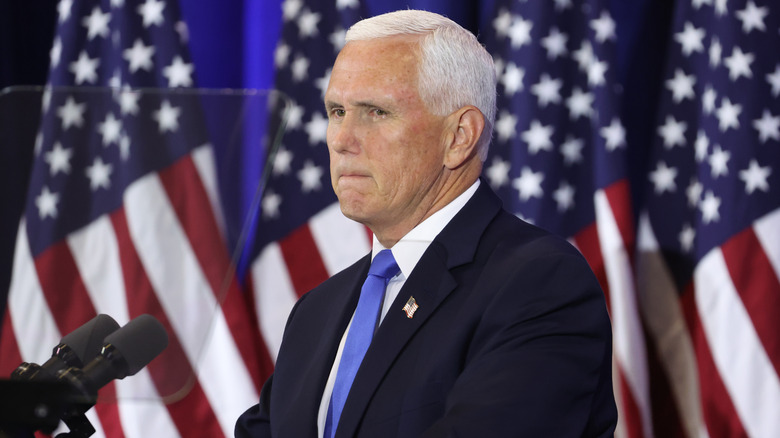 Scott Olson/Getty Images
With the second indictment of Donald Trump, and the first federal charges faced by the former president, Twitter is having a field day. Many people are bringing it back to Mike Pence. One person tweeted, "No sooner did Mike Pence say Trump shouldn't be indicted, than he was." Another brought up Pence's own words from the CNN town hall that no one was above the law. "No one is above the law. That is what Trump said all the time. Even Pence said it last night."
One person noted that, while Pence seemed like he would be upset to see Trump indicted based on his town hall comments, others did not share the sentiment. "Could someone tell Mike Pence that the WORLD IS CHEERING. TRUMP INDICTED," one wrote. And another person tweeted about the seeming contradiction of Pence not wanting the Department of Justice to indict Trump and no one being above the law.
If Trump should end up convicted of the federal criminal charges and Pence is elected president, he'd have the ability to pardon Trump. But when asked at the CNN town hall if he would do so as president, Pence wouldn't give a direct answer. Of course, over on Truth Social, Trump responded to the charges with a declaration of innocence: "THE BIDEN ADMINISTRATION IS TOTALLY CORRUPT. THIS IS ELECTION INTERFERENCE & A CONTINUATION OF THE GREATEST WITCH HUNT OF ALL TIME. MAKE AMERICA GREAT AGAIN!!!"