General Hospital Forgotten Romance: Carly And Jax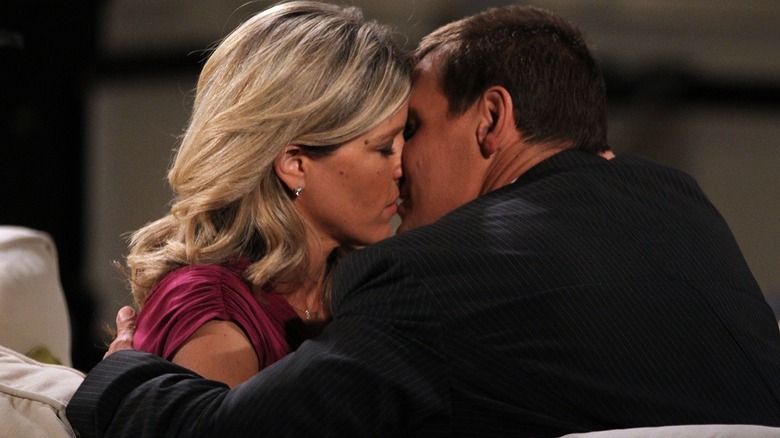 Christopher Polk/Getty Images
As Australian corporate raider Jasper "Jax" Jacks (Ingo Rademacher) settled into life in Port Charles, in 1996, he feuded with mobster Sonny Corinthos (Maurice Benard) and got a good portion of the don's properties condemned. He also helped Carly Corinthos (Laura Wright), ex-wife of Sonny, open a nightclub called Club 101. After embezzling money from it for her fertility treatments, Carly ended up giving her half of the club back to Jax. 
When the Port Charles Hotel burned down, Jax bought it and built a new one, naming it the Metro Court after his love, and Sonny's sister, Courtney Matthews (Alicia Leigh Willis). She and Jax eventually broke up, and when Luke Spencer (Anthony Geary) found out that Jax had messed with her paternity test when she got pregnant by Nikolas Cassadine (then Tyler Christopher), he used that information to force Jax to sell half of the hotel to Carly Corinthos (Laura Wright), who was Luke's niece. 
In 2006, encephalitis broke out in Port Charles, and Courtney succumbed to it, but not before giving birth to Nikolas' child, named John, after Jax's father. Carly had become good friends with Courtney, so she and Jax agreed to raise John together. In caring for John, Jax and Carly got close and felt a romantic connection. Carly not only kept John's paternity a secret but also tampered with a test to ensure Jax appeared to be the dad.
Carly chose to be with Jax instead of Sonny
When John's true paternity was revealed, Nikolas took the child, changing his name to Spencer, so Jax headed back to Australia. Carly loved Jax and followed him, but spotted him with another woman, so she left. Jax subsequently went back to Port Charles to fix things, and soon after making up, they planned to marry. Jax missed the wedding because he was away helping his brother, Jerry Jacks (Sebastian Roche), without Carly's knowledge, and by the time he returned, she'd married Sonny so that the authorities couldn't force her to testify about his criminal activities. 
Sonny and Carly later had sex when they were trapped at the hotel during a hostage situation, but Carly ultimately decided to be with Jax, and they finally got married in 2007. After learning that Jerry orchestrated the hostage takeover, and then dealing with a murderer called the Text Message Killer, Carly announced she was pregnant. When one of Sonny's warehouses blew up, Carly ended up having a miscarriage, and later her son, Michael Corinthos (then Dylan Cash), was shot at another of Sonny's warehouses. 
Jax supported Carly while she was grieving, but left her when he learned about her tryst with Sonny. They planned on divorcing, but after Carly almost died due to a biotoxin that had been unleashed on Port Charles, they renewed their vows in 2009. Soon, Carly got pregnant but had complications because of a blood disease.
They share a daughter named Josslyn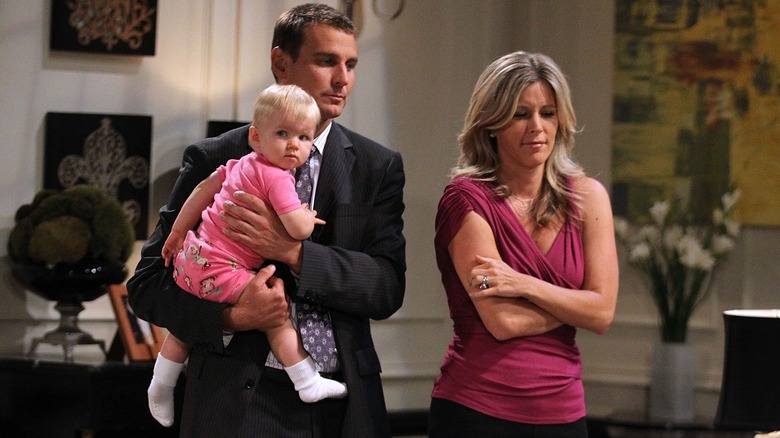 Christopher Polk/Getty Images
Mobster Claudia Zacchara (Sarah Brown) captured Carly while was in labor. She helped deliver the baby and tried to steal it, but Michael showed up and killed her. Jax and Carly named the baby Josslyn, and although he wanted to see Sonny imprisoned, Jax knew it would make Carly hate him. After learning Jax tried to help undercover policeman Dante Falconeri (Dominic Zamprogna) take Sonny down, Jax and Carly discussed divorce. Ultimately, Jax sued for custody of Josslyn, but she ended up with kidney cancer, so he and Carly stopped fighting. 
Joss got a donated kidney, and the battle resumed. After Jax was drugged and made to look like a villain, Carly was given sole custody of Josslyn. Sonny then had Jax's plane sabotaged, which ended up crashing, and he was presumed dead. Really alive, Jax eventually returned to Port Charles only to discover that Carly and mobster Johnny Zacchara (Brandon Barash) had hooked up. The truth also came out that Jax had illegally purchased Nelle Benson's (Chloe Lanier) kidney for Joss and he and Carly ultimately divorced. 
Carly and Sonny reunited, but when she thought he'd slept with Nelle, she slept with Jax to get back at him. In reality, Nelle faked the whole tryst. Because Carly had sex with Jax, Sonny had him deported. However, Carly convinced him that it wasn't good for Josslyn, so Sonny changed things so that Jax could come back again. In 2021, Jax left for Australia and he hasn't been seen since.