The List's Exclusive Survey Uncovers Fans' Favorite Duggar Sister (And It's Not Even Close)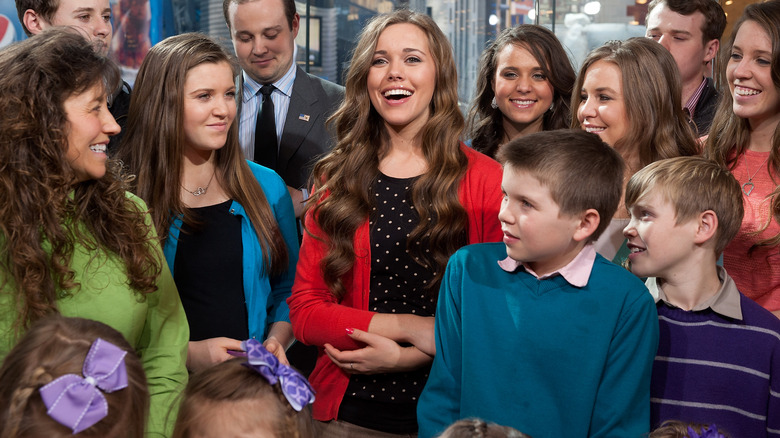 D Dipasupil/Getty Images
With the cancellation of TLC's "19 Kids and Counting" and "Counting On,"  it can be hard to keep up with the Duggars. Jim Bob and Michelle Duggar have nine daughters in their large brood. Out of those, their oldest five, including Jana Duggar, Jill Duggar Dillard, Jessa Duggar Seewald, Jinger Duggar Vuolo, and Joy-Anna Duggar Forsyth, have remained, for better or worse, in the spotlight. 
In a survey, The List asked fans who their favorite Duggar sister is, and one sister won by a landslide. Out of the five, Jessa has the most Instagram followers. Despite this, The List's survey revealed that she was not the top Duggar sister for fans. Out of 3,400 votes, only 14% said that Jessa was their favorite. Taking the lead was Jill, with 45% saying she was their favorite Duggar sister. 
Jinger came in second with 20% of the votes. Jana came in third at 11%, and with just 10%, voters said that Joy-Anna was their least favorite Duggar sister. It's perhaps unsurprising that Jill came in first, given that she has been exceptionally vocal against the Institute in Basic Life Principles (IBLP), the church she and her siblings were raised in.
Jill Duggar Dillard is living her life on her own terms
In late May 2022, Jill Dugger Dillard announced that she had written a memoir about life as a Duggar titled "Counting the Cost." The controversial book received praise from fans who supported her decision to tell her side of the story but pushback from other Duggar family members. Jill has strayed away from her former church by doing things like dyeing her hair, drinking alcohol, and using birth control, leading to a strained relationship with her parents. The mother of three is also featured in the docuseries "Shiny Happy People," where she opened up about the dark side of being part of the IBLP, "19 Kids and Counting," and more. 
So what have the other Duggar sisters been up to since their series has gone off the air?  Jinger Duggar Vuolo left the IBLP in 2017 and published a memoir, "Becoming Free Indeed," in January 2023. Jana Duggar was charged in 2021 with child endangerment over an incident that occurred while she was babysitting. Jessa Duggar Seewald has her hands full raising her four children — Spurgeon, Henry, Ivy, and Fern — with her husband, Ben Seewald. She shares glimpses of her family life on Instagram with over 2.5 million followers. The same can be said for Joy-Anna Duggar Forsyth, who gave birth to her third child in May 2023.