The One Way Princess Charlotte Is Just Like Her Mom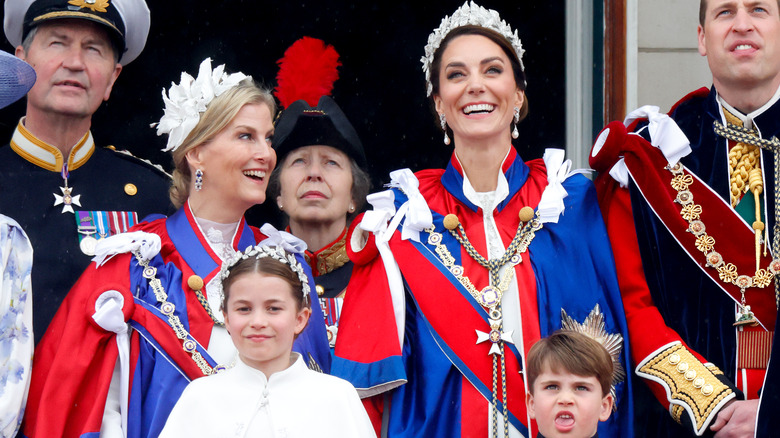 Max Mumby/indigo/Getty Images
It turns out that the saying "like mother, like daughter" rings true even when you're royalty.
Princess Charlotte is set to be the smallest fashion icon in history after making waves with her chic ensemble at the coronation of her grandfather, King Charles III. Donned in an ivory, high-collared dress and a very fashionable floral headpiece, Princess Charlotte's matching outfit with mom Kate Middleton at the coronation was deemed completely adorable by royal fans. Being fashion-forward isn't the only trait the princess shares with her mom. The middle child of William and Catherine, Prince and Princess of Wales, also has quite the competitive streak, and sources are saying it's very similar to Kate's own competitive nature.
According to Nigel Gillingham, President of England's Rugby Football Union, Princess Charlotte doesn't want to settle for second best, a characteristic that is shared by her mother. "Apparently Charlotte is very much in her mold — very competitive as well," Gillingham told People.
This royal mother-daughter duo loves sports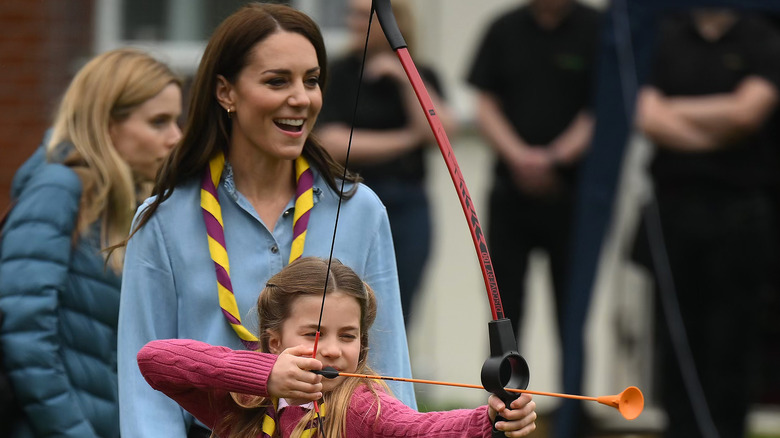 Wpa Pool/Getty Images
On June 7, Kate Middleton took to the field to showcase her rugby skills and stark competitive drive. The royal was at the Maidenhead Rugby Club to support the Shaping Us program. The initiative of the program is to communicate to the world the importance of nurturing your children during their formative years.
She took over the role of patron of the sport from her brother-in-law, Prince Harry, in 2022, and it turned out to be a match made in heaven. The Princess of Wales is very athletic, and she absolutely adores the sport. This was made even more apparent by RFU President Nigel Gillingham, who informed People that Kate often spends time playing rugby and other sports with her three children in the back garden of their home. 
As the middle child and only girl of the three, we imagine Princess Charlotte has to show brothers Prince George and Prince Louis who's boss from time to time. According to Hello! Magazine, both Prince William and Kate have praised all their children's athletic abilities, with Prince William noting his daughter is a football star in the making.
Princess Charlotte shares this endearing habit with her mom
It's obvious that this mother-daughter duo is totally in sync. Kate Middleton and Princess Charlotte's best style moments are when the two are charming the crowd together. The princess' love of sports seems to come from Kate, who often participates in sporting events herself and will often bring her children along. But it isn't just a passion for sports that Kate and her daughter share; Princess Charlotte seems to have also started emulating a familiar gesture from her mom.
Keen fans noticed that the young princess has a habit of flipping her hair over her shoulder when it falls around her face. It's adorable to watch because it's pretty clear she's picked up the habit from someone else in her life. We're getting the same vibe as a child attempting to put on lipstick after watching their mother do the same thing, so you probably already know who she picked up this gesture from. 
In this short TikTok compilation video, a user pointed out two times when Princess Charlotte was walking with her family and gave her hair a toss over the shoulder. The final clip reveals Kate doing the same hair flip, cementing the fact that Princess Charlotte is most likely copying her mom.