Every Way Kate Middleton And Princess Charlotte Matched At The Coronation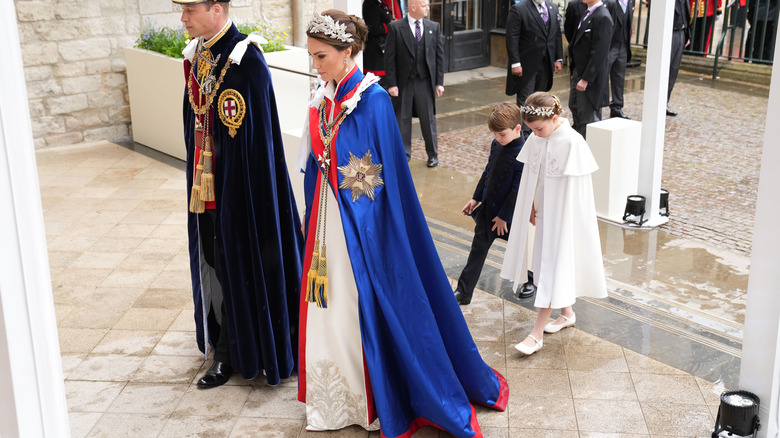 Wpa Pool/Getty Images
Catherine, Princess of Wales, is known for her impeccable style, and as a parent, she's been passing on her skills to Princess Charlotte of Wales. Over the last eight years, the mother-daughter duo has sported some iconic style moments. On some occasions, they've subtly complemented each other, such as when Kate wore a pink outfit to harmonize with Charlotte's pink dress at 2017's Trooping the Colour. In 2019, Kate followed a similar strategy by wearing a forest green hat that coordinated with Charlotte's coat for that year's Christmas Day service. 
Sometimes Kate uses color as a unifying thematic element. For Easter 2022, Kate and Charlotte wore sky blue, but Kate wore a solid color, while Charlotte's dress featured a floral print. In 2023, Kate followed a similar strategy, albeit with different shades. She wore a brilliant sapphire blue coat dress, while Charlotte's print dress was a more teal color. Other times, Kate and Charlotte have matched more strongly, such as in the carol service at Westminster Abbey in 2022, where mother and daughter wore burgundy wool coat dresses. And now, on the day of King Charles' coronation, the pair have taken their style up a notch with matching ensembles that fit the pageantry and splendor of the historic day.
Kate and Charlotte wore matching headpieces and gowns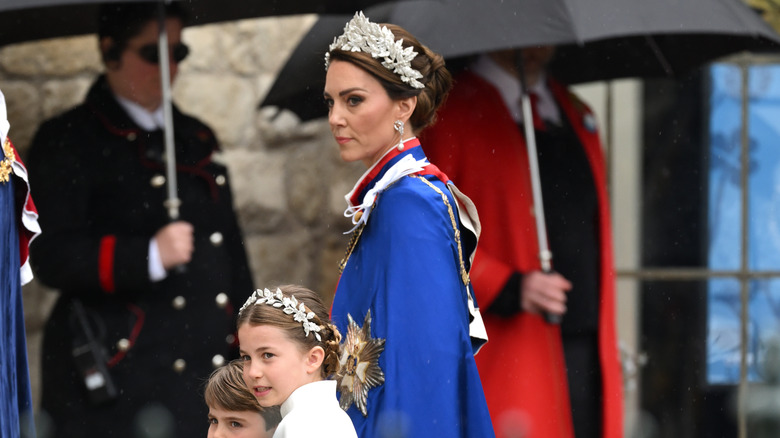 Karwai Tang/Getty Images
For King Charles' coronation, Catherine, Princess of Wales, and Princess Charlotte wore ensembles created by Alexander McQueen. The designer has now made two breathtaking gowns for Kate — her iconic wedding dress and coronation gown. In the tradition of previous coronations, the princess wore a lavishly embroidered ivory dress that featured the national flowers of the U.K.'s four countries. For Charlotte, McQueen created an ivory dress with a coordinating cape embroidered with the same silver roses, thistles, daffodils, and shamrocks as her mother's gown. 
Instead of tiaras, Kate and Charlotte also wore matching headpieces in a second McQueen creation in partnership with milliner Jess Collett. These pieces were made of silver thread crafted into a stunning 3D embroidered design. While Charlotte's smaller headpiece features a single row of flowers and leaves, her mother's version is more elaborate, with a double row. The design was a historic nod to the headpieces Queen Elizabeth's ladies-in-waiting wore in 1953. The mother and daughter also matched with their updo hairstyles. As a slight variation, Charlotte's included elaborate braids around the back, while Kate's was a sleeker chignon. 
Kate and Charlotte's matching extends from clothing to behavior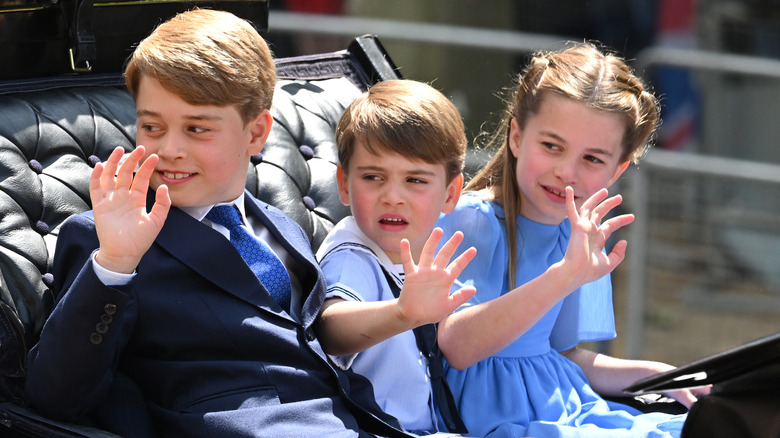 Karwai Tang/Getty Images
For Catherine, Princess of Wales, color-coordinated clothing is more than a style choice. "Wearing the same hue, [the Wales] are showing they are coming together as a family, representing themselves as a cohesive unit," Karen Haller, a behavioral color psychologist, told MyLondon.
Kate and Charlotte have a close bond, and Charlotte's been learning from her mom from an early age. "Mummy definitely has a shadow," a source told Us Weekly in 2017. "Wherever Kate goes, so does Charlotte. It's adorable." Now Princess Charlotte is following in her mother's footsteps by helping Kate look out for her siblings, particularly her younger brother, Prince Louis. As the family entered St. George's Chapel for Louis' first Easter service in 2023, Charlotte looked back to see how he was doing. "[Charlotte's] constant glances and smiles of approval for Louis here show she is like a wing-woman to her mum when it comes to keeping an eye on the youngest Wales child," Judi James, a body language expert, explained to Daily Express. 
Charlotte also demonstrated Kate's influence by gently correcting her brothers. During Queen Elizabeth's Platinum Jubilee, Charlotte halted Louis' exuberant waving in the carriage by diplomatically putting his hand in his lap. She reminded Prince George to remove his hand from the royal balcony with a subtle tap. For the coronation, Charlotte helped her mother by holding Louis' hand as she and her younger brother followed Prince William and Kate into Westminster Abbey.