Prince Archie Received A Bike For His Birthday (But Not Everyone's Rolling With The News)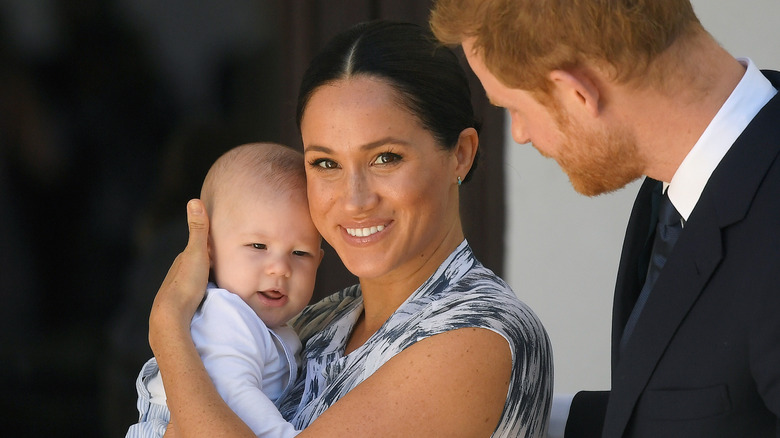 Pool/Getty Images
Officially, he's known as Prince Archie of Sussex, sixth in line to the British throne. To his family and friends, he's just Archie, a cheerful California preschooler who brings fresh fruit to classmates' birthday parties. Prince Harry and Meghan Markle, Duke and Duchess of Sussex, are teaching Archie the valuable lessons he'll need throughout his life. Among them is the importance of manners — "We always tell him, 'Manners make the man. Manners, manners, manners, manners, manners,'" Meghan told The Cut in a 2022 interview. Recently, they set a good example by sending a thank-you note for a birthday gift. But as we know, Harry and Meghan can barely raise a finger without causing a social media commotion.
Young Archie turned 4 on May 6, which in itself created drama because it coincided with King Charles III's coronation. Harry did his best to accommodate both sides of his family by attending his father's ceremony, then immediately jetting back to Montecito to celebrate his son's birthday. Among the gifts Archie received was a bike with training wheels, courtesy of the local business Mad Dogs & Englishmen Bike Shop. The store's co-owner Jennifer Blevins told People that it was a spur-of-the-moment decision on her partner's part, and he delivered the bike to the family's mansion himself. (He had to pass a background check before he could drop it off.) "We really hope [Archie] enjoys it," the shop wrote on Instagram. "His little sis can ride as well when she gets a bit bigger."
Harry and Meghan got slammed for accepting a birthday bike
On June 6, the Mad Dogs & Englishmen Bike Shop proudly displayed a thank-you note they received from the office of Prince Harry and Meghan Markle. (True, it was a month after the fact, but Harry's been a bit busy lately with his phone hacking trial.) "The bike has brought much joy, and is much appreciated by the family," their rep said of the "lovely surprise." 
Some followers on Twitter have called the shop's gesture thoughtful — "Wow! How cool is that? So happy for #PrinceArchie," said one — but others are less impressed. "Why aren't they buying their own bikes for kids? Why aren't they supporting local businesses with all their millions?" a critic tweeted. "I wouldn't accept a free bike if I had millions, that's ridiculous." Another said, "I thought Royals could not accept gifts. This shop will benefit from the PR they are getting — smart owner."
Some have also pointed out that Prince George, the oldest son of William, Prince of Wales, has also gotten his share of freebies for his own birthdays, including a bike from a former Olympic athlete. Once again, it seems a double standard may exist when it comes to public opinion of the king's two sons.
Sussex fans raised over $100K to in honor of his birthday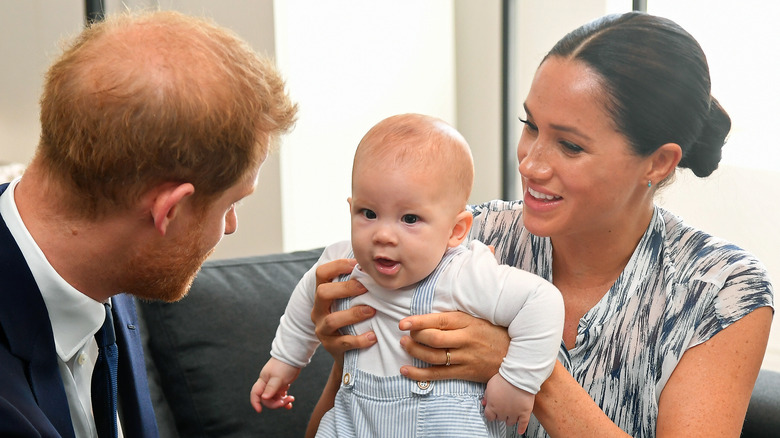 Pool/samir Hussein/Getty Images
There were some party poopers who tried to rain on Prince Archie's parade, but there were many others who were eager to help the prince have the best birthday possible. To make his day even more special, dedicated fans belonging to the Sussex Community Events group decided they would do something that not only celebrated Prince Archie and Princess Lilibet, it would also benefit other children.
Sussex Community Events hosted a fundraiser to raise money for new community playgrounds in honor of the royal siblings. They chose KABOOM!, a charity group that builds kids' playgrounds, as the recipient of the donations. The fundraiser blew up in popularity. The original goal was set at $20,000 but has so far exceeded that amount to reach over $130,000 in donations.
Prince Harry and Meghan Markle partnered with KABOOM! in 2022 after the deadly shooting in Uvalde, Texas (via PR Newswire). Their charity program, Archewell, worked together with KABOOM! to build a playground at DeLeon Park as a way to promote healing.