What Meghan Markle And Prince Harry Are Teaching Archie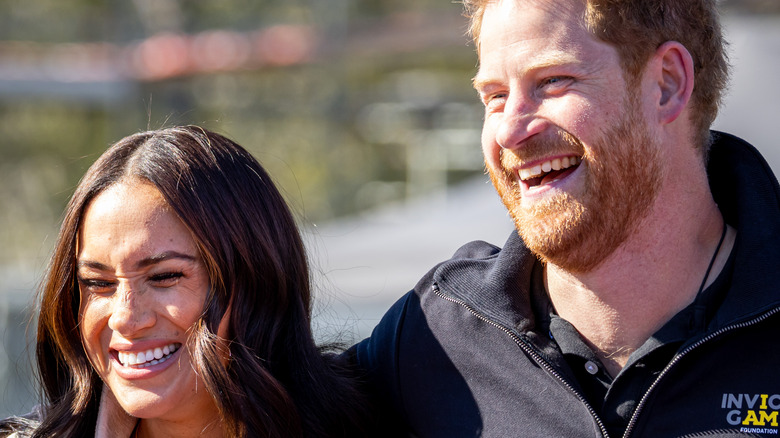 Patrick Van Katwijk/Getty Images
Prince Harry and Meghan Markle, the Duke and Duchess of Sussex, are devoted parents to their two children, son Archie and daughter Lilibet. In fact, their two little ones have been a big part of the couple's dedication to making the world a better place. "Otherwise what is the point of bringing kids into this world? It is a responsibility I feel as a parent you probably feel as a parent as well," Harry told Hoda Kotb on NBC's "Today." "And we can't fix everything. We know that. But what we can do is be there for each other."
For the most part, Harry and Meghan have kept their kids out of the spotlight. Although Archie and Lilibet were with their parents during the family's recent visit to the U.K. for Queen Elizabeth's Platinum Jubilee, the kids were not seen during the festivities, possibly because Harry and Meghan were excluded from standing on the royal balcony during Trooping the Colour. But Harry has revealed some tidbits about his son's personality, explaining that Archie shares a special trait with him. "My cheeky thing? Yeah, I think so," the prince said. "I always try and keep that. The cheekiness is something that keeps you alive. There is just so much to be happy about in the outside world, but there is also so much to worry about."
While the duke and duchess undoubtedly love their son's playful side, they are also making sure to teach him one important lesson.
Harry and Meghan are teaching Archie the importance of good manners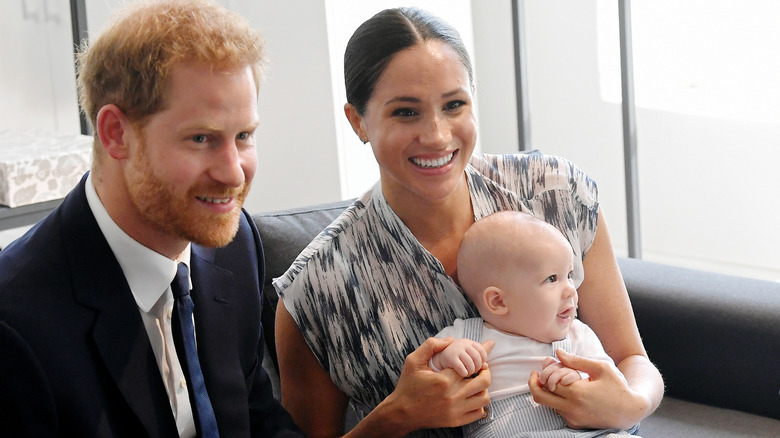 Pool/Getty Images
Prince Harry and Meghan Markle, the Duke and Duchess of Sussex, are making sure their son, Archie, understands that manners are important. "We always tell him: 'Manners make the man. Manners, manners, manners, manners, manners,'" Meghan told The Cut.
In fact, Harry and Meghan are committed to giving their children a normal upbringing. According to Hello! Magazine, they relocated to California to give their children privacy and chose not to give Archie and his sister, Lilibet, royal titles so that they could grow up as private citizens. And the family is enjoying participating in regular activities, including showing up to a birthday party for one of Archie's classmates — although some of the guests were definitely surprised to see them.
"I was in a bouncy castle, and I saw this 1-year-old inside. I was like, 'Where's your mom?' And this mom on the outside goes, 'Oh, hi! I'm here. I wasn't sure if I should come in,'" Meghan said with a laugh. "I was like, 'Do you need your child? Of course you can come in.'"
Prince Harry also wants his family to be safe in the UK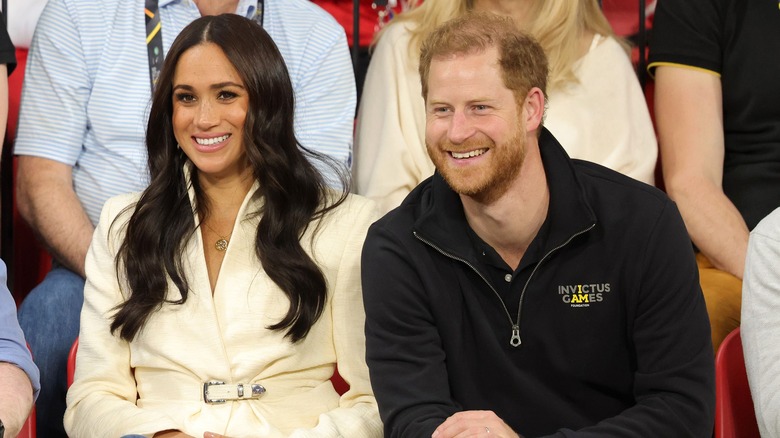 Chris Jackson/Getty Images
While Prince Harry and Meghan Markle, the Duke and Duchess of Sussex, seem happy with their life in California, that doesn't mean Harry has left the U.K. behind. In fact, he is engaged in a lawsuit with the British Home Office and Metropolitan Police, who will not allow the couple to pay for their own police protection when visiting Great Britain. Harry and Meghan lost their publicly funded U.K. police protection when they stepped down from their royal duties in 2020, per Newsweek. 
"The goal for Prince Harry has been simple — to ensure the safety of himself and his family while in the UK so his children can know his home country," a statement from Harry's legal team said, per USA Today. "The UK will always be Prince Harry's home and a country he wants his wife and children to be safe in."
There was speculation that the lack of police protection could be why the duke and duchess attended just two events at Queen Elizabeth's Platinum Jubilee.