Did Brad Pitt Really Cheat On Jennifer Aniston With Angelina Jolie? Revisiting The Rumors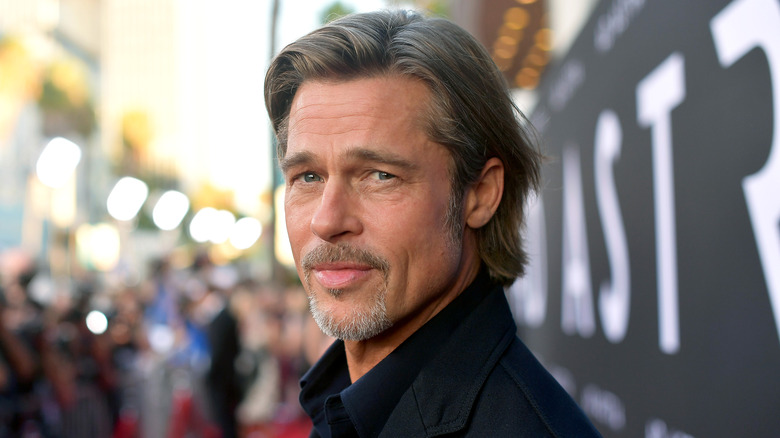 Matt Winkelmeyer/Getty Images
Brad Pitt and Jennifer Aniston were once one of Hollywood's most beloved couples, but rumors of Pitt's infidelity later surfaced and seemingly played a part in the couple's eventual divorce. The "Friends" star and her A-list beau first met in 1994. However, it wasn't until four years later that they began dating. The two connected following Pitt's split with Gwyneth Paltrow and Aniston's breakup with actor Tate Donovan. The duo quickly became one of the most talked-about celebrity couples of their time and fans couldn't get enough of the pairing. In 1999, Aniston and Pitt announced their engagement and by the summer of 2000 they tied the knot.
The couple seemed to have it all. Their careers were huge successes, they were one of the most beautiful couples to ever walk a red carpet, and they seemed happy in love. Pitt even guest-starred on an episode of "Friends" in 2001. The couple went into business together, launching their own production company called Plan B Entertainment.
But sadly, in 2005, the couple announced their split after a firestorm of media stories suggesting that Pitt had cheated on Aniston with his "Mr. and Mrs. Smith" co-star, Angelina Jolie. The couple filed for divorce and Pitt quickly moved on to a romance with Jolie, fanning the flames of the infidelity speculation.
Brad Pitt and Jennifer Aniston divorced in 2005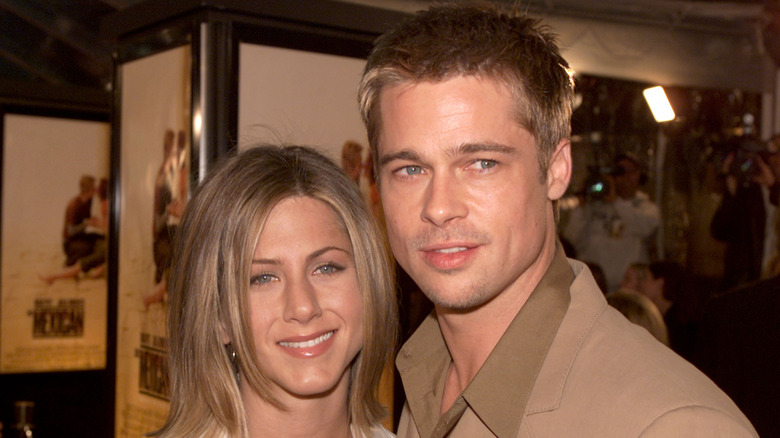 Kevin Winter/Getty Images
Upon announcing their split, Brad Pitt and Jennifer Aniston released a joint statement, debunking the tabloid rumors that the actor had cheated on his estranged wife. "For those who follow these sorts of things, we would like to explain that our separation is not the result of any of the speculation reported by the tabloid media. This decision is the result of much thoughtful consideration," the actors said in their statement (via Marie Claire.) However, the speculation wouldn't stop, especially after Pitt began dating Angelina Jolie, with the pair seeming to move very quickly.
Pitt and Aniston's divorce was finalized in 2005 and the following year, he welcomed his first biological child with Jolie, a daughter named Shiloh. The pair went on to welcome twins Vivienne and Knox, and shared adopted children Maddox, Pax, and Zahara. Pitt and Jolie got married in 2014, and Aniston later married Justin Theroux. Both marriages eventually ended in divorce.
In 2007, Pitt again refuted the claims that he was unfaithful to Aniston during an interview on "Larry King Live," per the New Zealand Herald. When King suggested that Pitt and Jolie became romantically involved while working together when Pitt was still married to Aniston, the actor denied the rumors. "That came after, Larry. That came after," he said of his relationship with Jolie.
Brad Pitt and Jennifer Aniston are now friends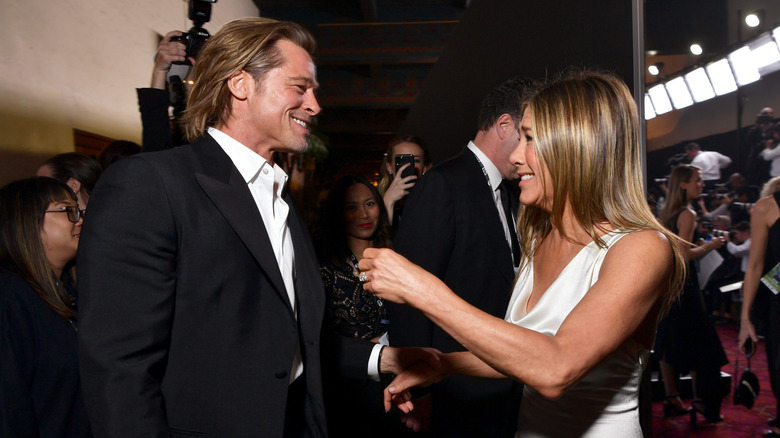 Emma Mcintyre/Getty Images
Fans were floored in 2019 when Brad Pitt showed up at Jennifer Aniston's 50th birthday party. However, Aniston's ex-boyfriend John Mayer also attended the bash, as well as Pitt's former fiance Gwyneth Paltrow. In January 2020, Aniston and Pitt were photographed together for the first time since their split when they both attended the SAG Awards. The pair bumped into each other backstage at the ceremony, where they both took home awards: Pitt for the film "Once Upon a Time...in Hollywood," and Aniston for her work on the TV series "The Morning Show." The two were seen smiling and laughing during their brief public reunion. "Jen was happy for Brad. They congratulated each other and that was it," a source told People after the event.
Later that year, Pitt and Aniston proved there was no bad blood between them again when they both signed on to do a virtual table read of the iconic film "Fast Times at Ridgemont High" for charity. The pair even took the roles of love interests. "Brad and I are buddies, we're friends," Aniston said of the table read (via InStyle.) "And we speak and there's no oddness at all. We had fun, and it was for a great cause," she added.
Despite their messy history and the cheating rumors, Pitt and Aniston have found a way to move past it all and remain friendly with each other nearly 20 years after their divorce.