How Hallmark's Skyler Samuels Turned Herself Into Aurora Teagarden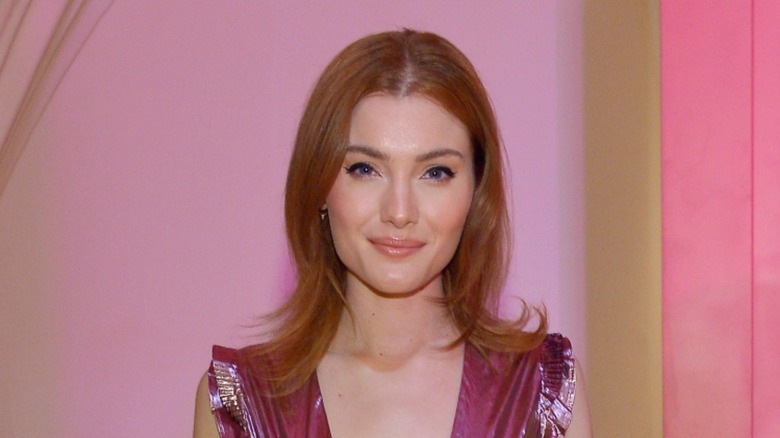 Donato Sardella/Getty
Hallmark Movies & Mysteries is releasing a prequel to the "Aurora Teagarden Mysteries" series, minus Candace Cameron Bure. Instead of Bure reprising the role, a younger Aurora will be played by Skyler Samuels. The prequel is titled "Aurora Teagarden Mysteries: Something New" and follows Aurora as a grad student in her hometown of Lawrenceton. Aurora works as a waitress and a teacher's assistant, getting her true crime fix as a crime fiction TA and by discussing true crime with her friends Sally and Arthur. (In the previous movies in the "Aurora Teagarden" series, they call their group the Real Murders Club.) When Sally's fiancé is accused of murder, Aurora and Arthur have to put their crime-solving skills to the test and find the real killer.
The new actors playing younger Arthur and Sally are Evan Roderick and Kayla Heller, respectively. Marilu Henner starred as Aurora's mother Aida in the original series and she will be returning for the prequel. The journey to Aurora's younger adult years is due to Bure leaving the Hallmark Channel for the Great American Family network.
Samuels calls the new movie a 'reimagining' of Aurora Teagarden
Skyler Samuels does not consider "Aurora Teagarden Mysteries: Something New" a prequel necessarily. In an interview with Decider, she said she considers it a, "[R]eimagining of this really fun, quirky character. [...] To go back in time and discover how she became that person felt like a really fun opportunity to play and explore a whole new side of a character that people really love." Samuels raved about the cinematic elements of the movie and shouted out director Jess Harmon and director of photography Will McKnight for their contributions to the series' aesthetic revamp.
While speaking to Decider, Samuels compared Aurora's adventure in "Something New" to a superhero origin story. In this film, Aurora does not have crime-solving experience under her belt and is new to that world. Her struggling through that experience and solving a case for the first time makes way for comedic beats, more than what was featured in the original "Aurora Teagarden Mysteries" movies. Samuels also said the jargon in the scripts surrounding crimes and mysteries helped her get into the character of Aurora.
Samuels liked the challenge of learning to play Aurora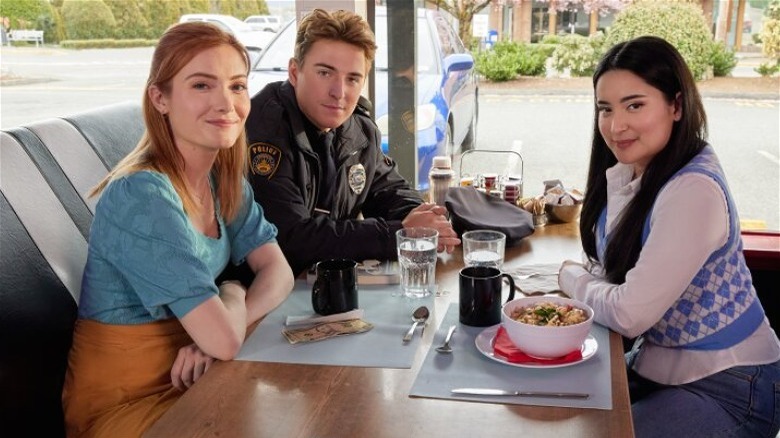 Sven Boecker/Hallmark Media
Another way Skyler Samuels got into character was by watching the original "Aurora Teagarden Mysteries" movies to see Aurora's personality and traits. While speaking with Entertainment Tonight, Samuels said, "I sort of reverse-engineered who I imagined she might be in her early to mid-20s — a less polished version of the Aurora the audience knows and loves. [...] But seeing the little seeds of who she becomes in these early days." Samuels also remarked that with this film, they can explore the background of Aurora and Arthur's relationship, since the original movies hint at how the two of them used to have a romantic connection.
Samuels said "Something New" was a fun movie to make and that she enjoyed the challenge of playing an already-beloved character like Aurora. She told Digital Journal, "I was able to bring to life elements of a character that people already know but infusing new elements to that character. I think the new Aurora will feel new to the audience."
Since the original series starring Candace Cameron Bure started in 2015 and "Something New" takes place back in 2008, there is a possibility for Samuels to star in more "Aurora Teagarden Mysteries" prequels in the future. Samuels said she hopes to do so. "Aurora Teagarden Mysteries: Something New" premieres June 9, 2023 on Hallmark Movies & Mysteries.