The 'Naked Nail Summer' Trend Might Be Just What You Need To Revitalize Your Manicure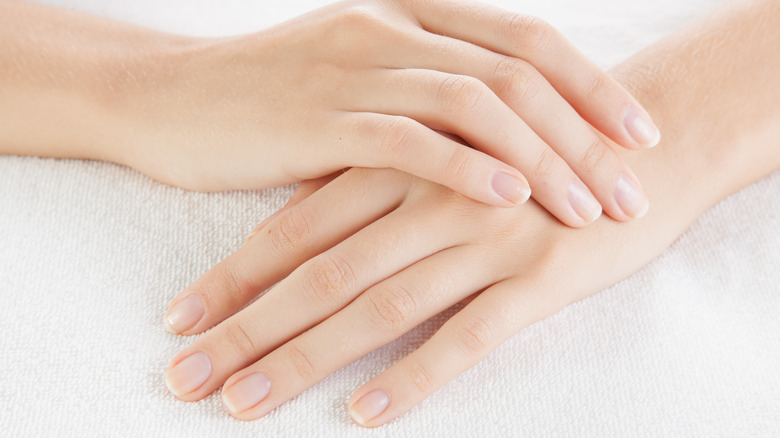 Yuriyzhuravov/Getty Images
You've been in a manicure rut and are tired of the beating that your wallet and nails are taking to keep up with the latest looks. It's time to wander over to TikTok and check out the newest nail craze that might be right up your alley: "Naked nails summer." Unlike the hyperrealistic manicure that involves creating gel nails that mimic your natural nails, the naked nails summer trend is all about letting your digits get a much-needed break from the endless salon cycle. 
Essentially, you will remove the polish and let your natural nails reign supreme on your hands. For color lovers, this might be a tricky style to follow, but getting rid of the polish can have some significant benefits for the health of our nail beds. It also prepares them to bear the hot new styles that hit in the fall. Get ready for summer by going naked (just with your nails!). Happily, your favorite influencers on TikTok prove just how good your nails can look by going bare.
What does 'naked nail summer' mean for you?
Getting a manicure on your nails every 2-4 weeks can really take its toll on your nails and your time. Therefore, TikToker @sydneyv.nichols has declared it naked nail summer, and several top influencers, like Tinx and Paige Lorenz, are following her lead. Fellow content creator Alix Earle also hopped on the bandwagon by commenting on the initial post: "IVE been saying this." For those game to try this look on for size, it simply means letting your nails go polish free this summer. 
Rather than slathering them with color or getting frequent manicures, focus instead on the health of your nails and cuticles. Much like cycling your nails, removing everything will give your nails a much-needed moment to work on repairing past damage. As Sydney advised, "Unless it was a special occasion, like a work meeting or a wedding... rock naked nails." However, that doesn't mean you should completely forget about your nails.
In an unexpected show of support, the brand Essie pointed out the importance of reinforcing your nails with strengtheners and also applying cuticle oil to provide additional benefits for your naked nails. You should also use lots of moisturizer on your nails, when applying it to your hands, and trim them regularly. This might be a trend you want to dive into with both feet too, considering the benefits to your nails.
Naked nails could revitalize your next manicure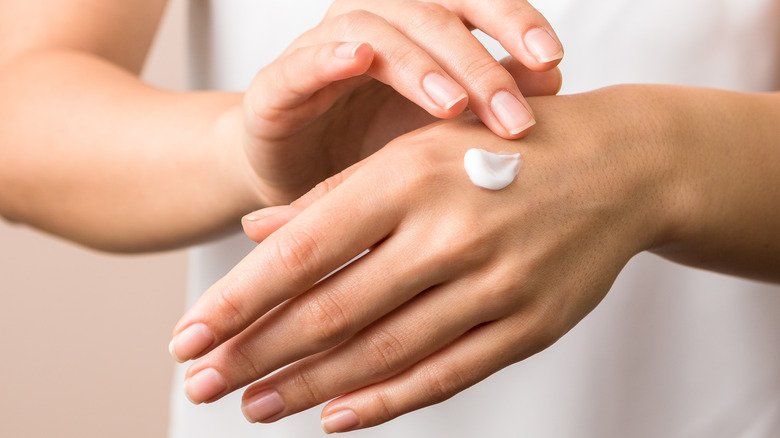 Andrei David Stock/Shutterstock
A manicure can be hard on your nails due to the removal process and harsh chemicals used during it. But according to Harvard University, even just putting traditional nail polish on can lead to discoloration, and gel and powder dip polish may cause issues with the nail plate itself. Therefore, it makes sense that a natural nail revolution will provide you with a few distinct benefits.
One of the first things you'll start to notice when you go without nail polish for a few weeks is that the color of your natural nail will begin to revitalize and take on a more lustrous appearance. At the same time, those harsh patches that have cropped up due to stripping off the layers start to smooth out. These changes are actually making your nails stronger because they are no longer exposed to harsh chemicals, according to dermatologist and nail specialist Dana Stern. 
As she told Prevention, "With frequent exposure, the nail can become more prone to peeling, splitting, and general surface irregularities." So, it's time to get your nails looking and feeling healthy again by taking the summer off gel and acrylics and, if you're really serious, nail polish altogether. Focus on strengthing and revitalizing your nails so they're ready for next season's trends. You might even find that naked nails are your new favorite look in the process.