Brittany Cartwright Talks Her Latest Collab And A Potential Vanderpump Rules Return - Exclusive Interview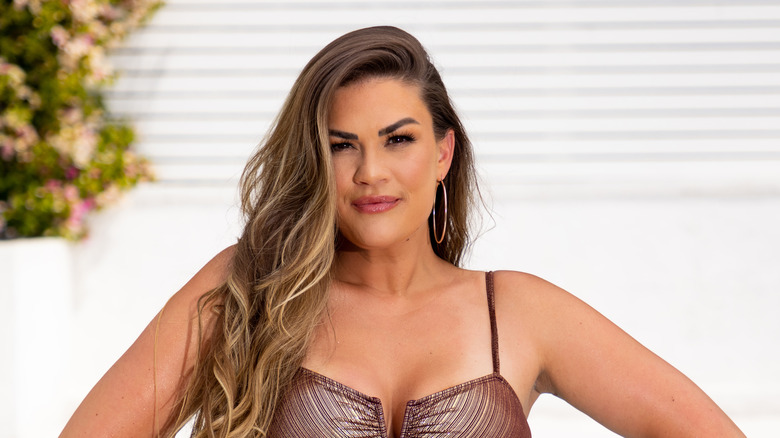 @france.and.jesse
In the wake of Scandoval, the entire "Vanderpump Rules" cast has found itself at the center of one of the show's most shocking storylines. Although Brittany Cartwright and Jax Taylor stepped away from the reality show in December 2020, they've remained fan-favorite cast members, with many hoping the couple might return in future seasons. As well as welcoming their first baby, son Cruz, Cartwright and Taylor have been busy working on their podcast, "When Reality Hits with Jax and Brittany." And now, Cartwright is turning her talents to modeling with BeMe: The Cupshe Birthday Collection.
In honor of swimwear brand Cupshe's 8th birthday, Cartwright has joined forces with "Selling Sunset" star Heather Rae El Moussa and model Chanel Iman to launch an incredible collection of swimwear and beachwear. "This collaboration features styles that will make every woman feel confident, comfortable, and empowered when wearing them," Cartwright said in a press release. "From the swimsuits to the cover-ups, women of all shapes and sizes will feel beautiful in the sexy, flirty and sophisticated styles we've created."
The List sat down with Brittany Cartwright to discuss her collaboration with Cupshe and her reaction to all of the "Vanderpump Rules" drama.
Modeling for Cupshe's new collection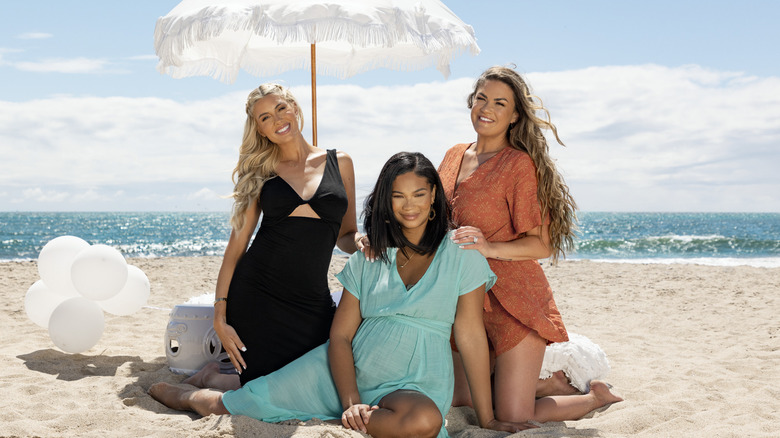 @france.and.jesse
You're collaborating with Cupshe on their BeMe Birthday Collection. What drew you to the project?
I love Cupshe so much because I feel like they empower women of all different body types. I've always been a fan of the brand, and I love how well they fit me and support me, because as a woman who has large breasts, it can be hard to find well-fitting bathing suits. I love the support, and I love that I can still feel sexy, because I'm all about one-pieces after having my baby. You still feel really good, and that's something I appreciate about Cupshe.
Do you have a favorite product from the new line?
I love all of them, but my two top favorites are definitely ... There's this gold metallic-y one that's really shiny [the Shine Line V-Wire Ruched Cheeky One Piece Swimsuit]. It's a one-piece; it's got a cute little gathering right around the top, so it snugs your body and gives you a good shape. And there is this hot-pink one [the Mini Zebra Texture Cutout Cheeky One Piece Swimsuit] that I love. It's such a pretty pop of color, and it's got cutouts on the side so you still feel sexy. Those are definitely my two favorite ones. 
This collaboration has seen you working with "Selling Sunset" star Heather El Moussa and model Chanel Iman. What was it like partnering with them on the collection?
They were so amazing. Everybody was so nice. We felt so comfortable. I was intimidated because they're so beautiful, but everybody was so kind, and we had such an amazing time. Chanel — she's an amazing model, so I was like, "Oh my gosh, I'm going to be modeling with a real model." But she was so amazing, and her pregnant belly was so adorable. Everybody was so nice. We loved to talk about our kids and our different experiences, and it was a really comfortable, fun set. It's been so much fun. I've absolutely loved it. I'm so excited for this to come out, for people to see what we've done, because it's going to be so good.
Raising son Cruz with Jax Taylor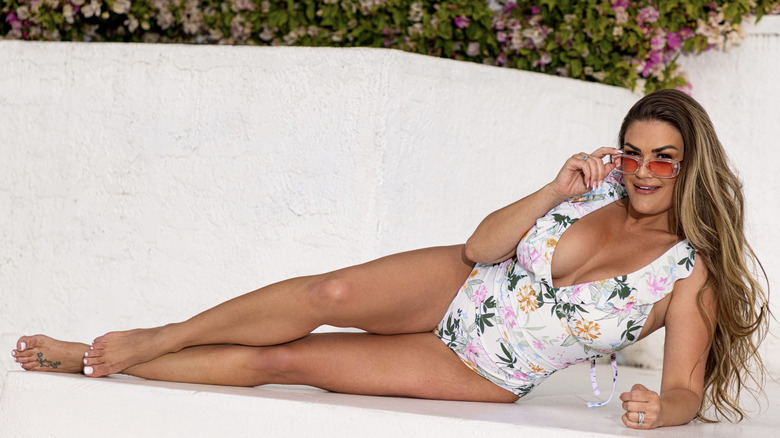 @france.and.jesse
What do you look for when you're shopping for swimwear? And how would you describe your style in general?
Now that I've had Cruz, I definitely like things that are more covering on the bottom because I still have slight stretch marks and some looser skin. Everybody has their own insecurities about different things. I enjoy high-waisted stuff or one-pieces, and I'm still all about the low cut; that's never going to change. I feel like everybody knows that. I love low cut. I love showing off legs. But one thing that's changed after I had the baby [is] the fits that I like to wear more in my bathing suits, and that's what makes me feel more comfortable. 
Being able to still feel confident and look good on the beach and everything — that's really important to me, and I think it'll be good for other women as well. I know there's so many people like me who love more coverage on the lower area of their stomach but still want to feel sexy too, so that's something that I look for. ... I still want to be comfortable whenever I go out to the beach or anything like that, so I appreciate that I'm able to find stuff like that with Cupshe.
You mentioned your son, Cruz. How do you juggle all of these work projects with raising your family?
He's the best little thing in the whole wide world. Jax is such an amazing father too, so I can trust that he is fine whenever I'm away doing something, because Jax is so good. He's so hands-on. He's just as much with the baby as I am. He's changing all the diapers; he's doing all the stuff, so that's amazing. We finally have a babysitter now too who can help every now and then, but we take Cruz with us all over the place as well, so he's our little sidekick.
Reacting to the Vanderpump Rules drama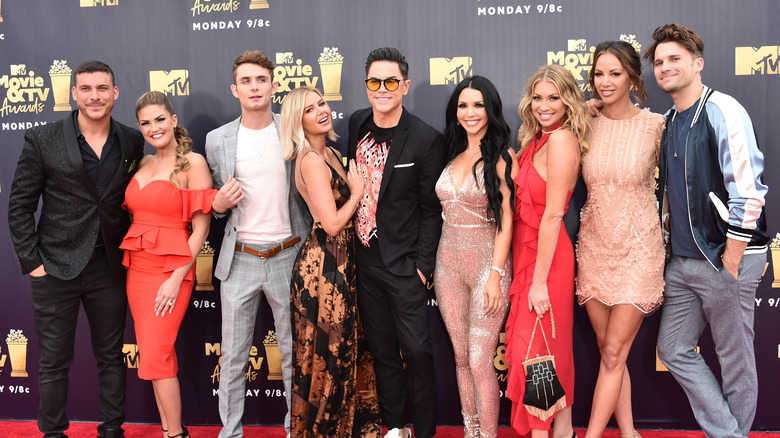 Alberto E. Rodriguez/Getty Images
This season of "Vanderpump Rules" has been a sensation. Were you shocked by Scandoval, and have you reached out to the cast since it all broke?
Yeah, I was completely shocked, especially that [Tom Sandoval had an affair] with Raquel [Leviss], the whole cheating and everything. I was so shocked about that. It's so hard to have to see your friends go through this as well.
I've been with Ariana [Madix] many times since this has happened. Scheana [Shay] and Lala [Kent] are some of my very, very best friends. We always have our babies together, so we keep in touch almost every single day. I've definitely been hanging out with them, talking to them, checking in on Ariana a lot. She is doing so much better, and I feel like she's in such a good place, and I feel like a weight has been lifted off of her shoulders. She doesn't have to worry about that drama or anything anymore that Tom Sandoval used to bring to her life. I know it's been so crazy and it went so big, but I think at the end, it's going to be a better thing for her that she gets to move on.
Who are you closest to in the "Vanderpump Rules" cast?
Probably Scheana and Lala, because we get the babies together so much and they're amazing friends to me. We've been so close for a long time, and I love those girls, and I love their kids too, so they're like my little nieces. I love them so much. It's so much fun to be able to have these playdates and do different things with our kids, and we're going to have these memories for the rest of our lives. We have a goal to get them together at least once a week, whenever we can. I'm traveling a lot right now, so I won't be back in town for a while, but as soon as I get back, I'm sure we'll be right at my house swimming or something like that.
On a potential return to Vanderpump Rules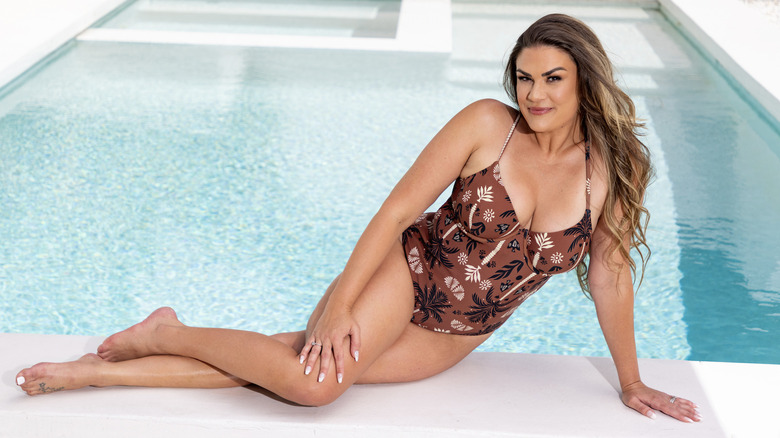 @france.and.jesse
Everyone's been wondering if you might return to "Vanderpump Rules" for Season 11. Are you hoping to return to reality TV?

We're definitely ready now. There was a long time that we needed that break for many reasons. It can get very stressful, but I think we're ready now. We did the Peacock show ["Watch with the Cast"], we're getting back into things, and it's feeling really good. I feel like we've had a lot of support and a lot of people that are saying they want us to come back, so fingers crossed.
Jeffrey Dean Morgan recently said that he misses Jax and wants him to return to "Vanderpump Rules," which is a really big endorsement.
And I freaking love him, so ... 
Is there another reality show that you're following that you love? Or any other reality shows you'd like to join?
I wouldn't want to join it, but Jax [and I] like "90 Day Fiancé." Obviously, I'm married, so there's no joining that show, but ... they are so funny. I've met a lot of those cast members, so I think that show is hilarious.
Is there anything else you want people to know about your collaboration with Cupshe?
I can't wait for people to see it. I can't wait for people to try it. I hope that women feel empowered and feel beautiful in them like I did. I love, like I said before, that it's for all different types of women, all different shapes and sizes. That is something that we need more of because not everybody's going to want to be in these little string bikinis that don't fit their bodies correctly. It's important to have so many different options and still feel beautiful and confident. I'm really excited about this collab, and I hope that everybody loves it too.
This interview has been lightly edited for clarity.
Shop BeMe: The Cupshe Birthday Collection now.