A Stiletto Wing Puts A Graceful Twist On Your Eyeliner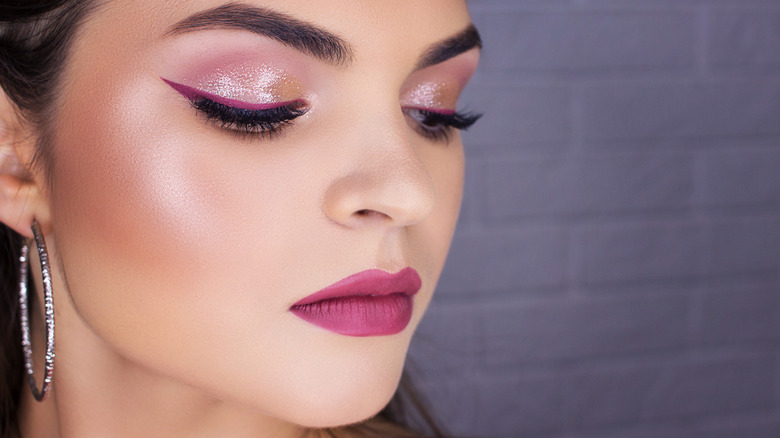 Roman Kyryliuk/Shutterstock
The classic winged eyeliner look has a sultriness and beauty to it that's truly unparalleled. Perhaps this is why the cat eye has remained a mainstay in makeup since Cleopatra and even further beyond. Today, celebrities like Ariana Grande and Adele have made it a part of their signature looks, and for good reason. Your lashes appear thicker, your eyes draw the attention you set out to get, and your entire face is enhanced when you know how to get a winged eyeliner look just right. The fact that there are eyeliner tricks that lift and flatter every face shape is a plus. 
Experts will tell you that practice makes perfect, but setting out to attempt a classic winged eyeliner look can be nerve-racking even for those who've been doing it for years. Symmetry is everything, and you certainly don't want to have to wipe off any mistakes — and with it, the perfectly applied concealer. If you're like most cat eye fans, this simple challenge wouldn't stand in your way. By now you might have even experimented with a few different versions of the winged eyeliner. 
If you're looking for a more understated take on this eye makeup, you may want to try the thinner version of the timeless look, also called the stiletto wing. Here's how you can do it.  
Less is more with the stiletto wing
As beauty blogger Yesenia Mariee shared in a YouTube video, drawing a thin winged eyeliner is all about precision. She recommended starting in the middle and going "smaller than you want to" as you bring the felt tip to your lids. "Start smaller than you anticipate your wing to be just because it can get out of hand," she explained. Mariee also shared that she likes to use her free hand to stretch her eye area out a little from the top so that the thin line can go on more smoothly. The amount of product on your brush matters too. Less is more with this look. 
Once you have the base of your stiletto wing, go ahead and fill in the corners as you would normally with a classic wing look. Finally, using a careful hand, pull the line out a little further. Don't keep working on the area by filling it in. Leave the line as is and you're done.  
Beauty influencer Smitha Deepak had a makeup tip for the perfect winged eyeliner on TikTok. Deepak actually starts with the lower lid and draws a thin line out right from the end of her eye upward before connecting the line to her lash line from above. Filling out the triangle shape comes next, after which you fill the rest of the lash line as you want. 
The right tools for the job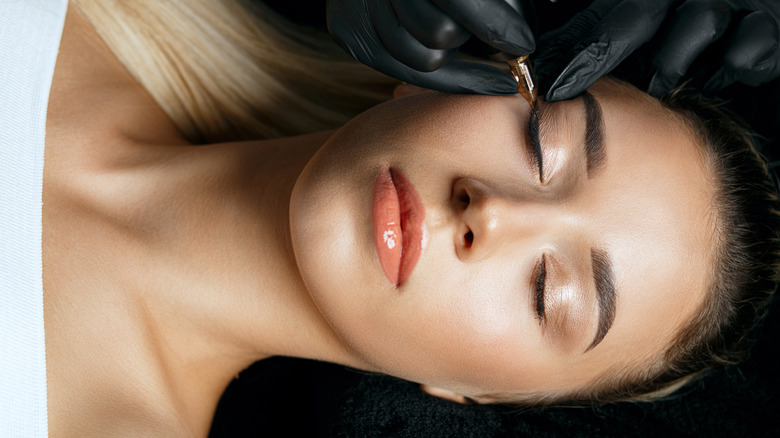 Viktoriya Pavliuk/Shutterstock
Getting the perfect stiletto wing is as much about precision as it is about using the right makeup tools. Mariee recommended using a liquid liner that has a thin pliable eyeliner brush. If you're used to doing your makeup with a felt tip, just make sure that it's been used a few times so the end is softer to the touch. This makes the application process a lot easier, and you'll also avoid accidentally going on too thick which is the opposite of what you want with the stiletto wing. 
Deepak shared that she prefers to use brushes meant for nail art when she does a thin winged eyeliner look. "I like to use the smaller tips for more intricate work and the longer ones for longer lines and strokes," she explained.
The e.l.f H2O Proof Eyeliner Pen, with its fine tip, is perfect for the job, and so is the Stay All Day Waterproof Liquid Eye Line by Stila. Makeup artist Alexandria Gilleo told Marie Claire, "I personally love a liquid liner in a pen because I find it to be extremely precise and holds the most longevity in a makeup application. A liquid pen allows you to create a sharp and thin line." If you are not a fan of the pen, the e.l.f Precision Liquid Eyeliner is a great choice for when you want to experiment with the graceful stiletto wing.