Prince Andrew Not Budging From Royal Lodge Amid Home Repairs As Eviction Fears Grow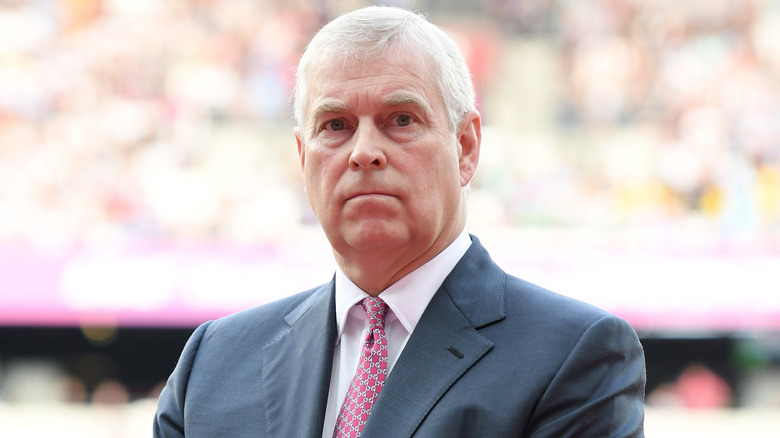 Karwai Tang/Getty Images
King Charles III reportedly wants his little brother to leave ASAP, but Prince Andrew has been refusing to move out of his lavish royal home — the Royal Lodge in Windsor Great Park — for months now. A few miles south of Windsor Castle, the Royal Lodge has been Andrew's home for 20 years. Sarah "Fergie" Ferguson and Andrew still share the home years after their divorce, which seems like it could be awkward for the ordinary person. But the ordinary person doesn't have a 30-room house with seven bedrooms to choose from on a 98-acre estate. The Royal Lodge is a part of the Crown Estate, and before Andrew, Queen Elizabeth II's mother called the mansion her home.
It makes sense that Andrew would want to stay there. After all, he does have a 75-year lease signed upon moving in after the Queen Mother's death, per The Telegraph. Part of the agreement involves footing the bill for any repairs, and Andrew's scheduled and paid for roof repairs that will take months to complete. Anyone who has dealt with home renovations knows that when such a big project is going on, you don't want to be in your house if you can help it. Who wants to live in a building site if they don't have to? But Andrew isn't going to move out of Royal Lodge during the repairs because he's scared that if he does, he won't be able to come back again (via the Daily Mail).
Prince Andrew may not be able to afford to keep his royal residence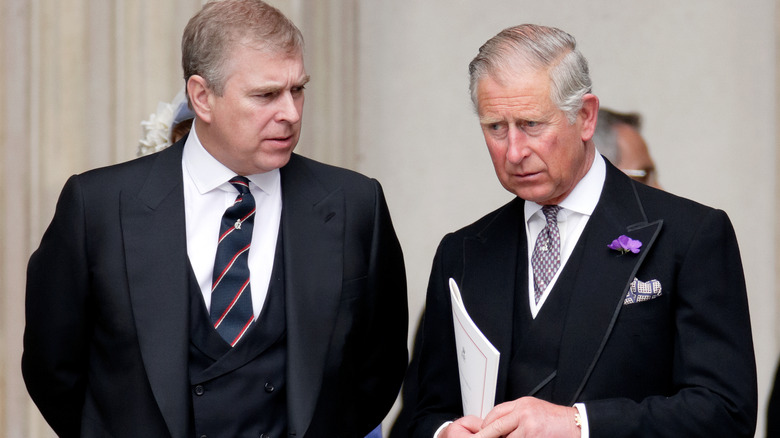 Max Mumby/indigo/Getty Images
It seems like the Duke of York is staying put in the Royal Lodge despite what his older brother wants him to do, even putting up with the noise and disturbance of renovations to help avoid a potential eviction. And while King Charles might prefer if his brother moved out sooner rather than later, he may not have the power to actually do anything about it. Since Prince Andrew himself signed the lease with the Crown Estate, according to The Times, he would have to agree to leave his home willingly.
But even if the duke is allowed to stay in Royal Lodge, it's possible that he won't be able to keep paying for renovations and the upkeep of the property for much longer. Andrew received around £249,000 a year from Queen Elizabeth via the Duchy of Lancaster, a private estate owned by the monarch, as confirmed by the Daily Mail. But the UK's new ruler is reportedly cutting that amount, and it could leave Andrew without the cash flow to keep Royal Lodge in good shape, potentially forcing him to leave.
Charles reportedly wants Andrew to move into the smaller Frogmore Cottage. Previous tenants of that royal residence include Andrew's daughter, Princess Eugenie, and most famously, Prince Harry, Duke of Sussex, and Meghan Markle, Duchess of Sussex. Apparently, the king would like William, Prince of Wales, and Catherine, Princess of Wales to move into the Royal Lodge if/when Andrew leaves.