All 8 Of Elizabeth Taylor's Wedding Dresses, Ranked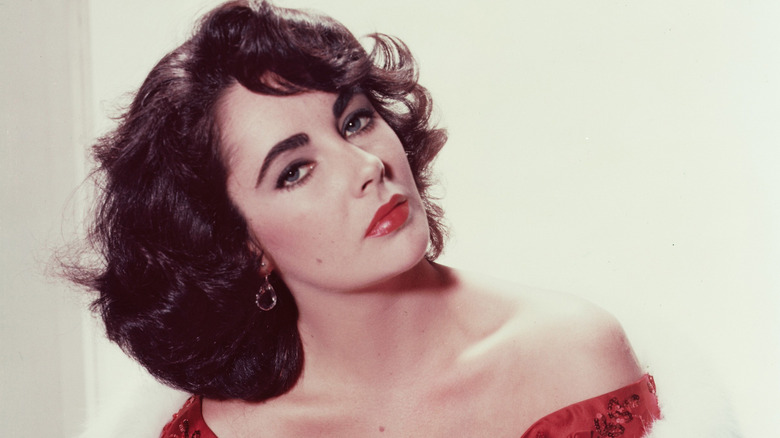 Silver Screen Collection/Getty Images
Back in the golden age of Hollywood, Elizabeth Taylor was the epitome of glamour. After starring in hits like "National Velvet" and "Little Women" as a child, she became an elegant star in the '50s with roles in "Father of the Bride," "A Place in the Sun," and "Cat on a Hot Tin Roof."
But Taylor's glittering film career wasn't her only claim to fame — the actor also frequently made headlines thanks to her turbulent love life. It's not that Taylor never settled down — rather, she settled down eight separate times. That's right — Elizabeth Taylor had eight different weddings. And, naturally, as a Hollywood star, she had a gorgeous wedding dress for each occasion. 
Whether it was a classic fairytale wedding gown, an understated skirt suit, or a dramatic wild child gown, Taylor certainly knew how to make a statement on her wedding days. Let's take a look at each of Elizabeth Taylor's wedding dresses over the years.
8. Taylor's second wedding: Michael Wilding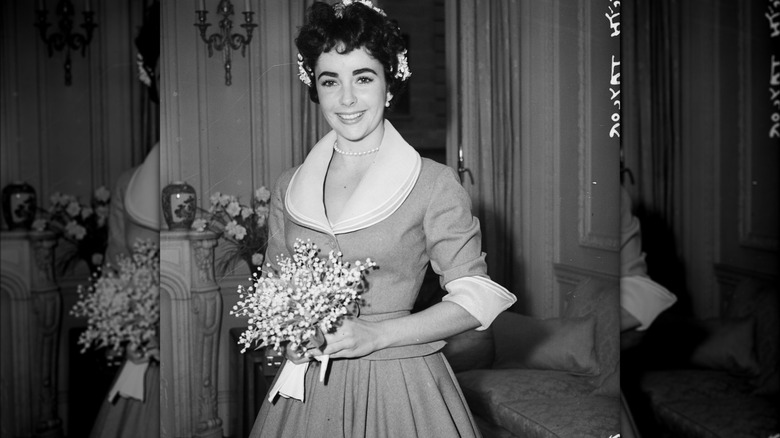 Fred Mott/Getty Images
A year after her divorce from Conrad "Nicky" Hilton, Elizabeth Taylor tied the knot with Michael Wilding, a British actor who was roughly 20 years older. The pair married in London and were greeted by a huge crowd of fans waiting outside. They had two children and were together for five years before Taylor filed for divorce in 1956. According to a biography by Kate Andersen Brower, Taylor didn't have much in common with Wilding and she allegedly had an affair with Frank Sinatra during this marriage.
Taylor decided not to wear another extravagant white gown for her second wedding. Instead, she opted for a more understated suit-style dress with a rounded white collar, matching turned-up sleeves, and an A-line skirt. Though her second dress was very different from her first, both were designed by MGM's Helen Rose. Taylor paired the simple gown with a delicate pearl necklace, a floral headpiece, and a tasteful bouquet of matching flowers.
7. Taylor's third wedding: Michael Todd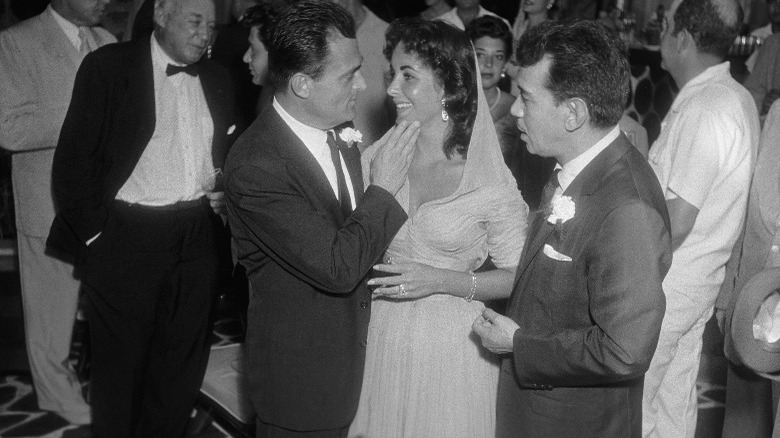 Bettmann/Getty Images
Elizabeth Taylor married her third husband, film producer Mike Todd, in 1957, shortly after her divorce from Michael Wilding. The pair married in Mexico in an intimate beachside civil ceremony that was performed by the mayor of Acapulco. Tragically, Todd was killed just one year after their wedding in 1958 when his private plane, The Lucky Liz, crashed with him on board. 
For this ceremony, Taylor returned to the traditional bridal color, opting for a white silk-chiffon gown that featured a hood for the ceremony. The elegant dress featured a ruched look that gathered in the center of the chest in a wide V-neck. This dress also featured a straighter skirt than her previous two wedding gowns. She paired the dress with elegant drop earrings, a bracelet, and, of course, her brand new engagement ring, which was so large, she famously called it her "ice skating rink."
6. Taylor's seventh wedding: Senator John Warner
In 1976, Elizabeth Taylor married Senator John Warner, a Republican who had previously served in the Navy. Their wedding took place at Warner's farm in Virginia — in fact, the pair tied the knot standing outside in a field of cows. For the winter wedding, Taylor stayed warm in a violet cashmere dress, a long fur-lined coat, knee-high boots, and a turban that covered her hair. Although the look was more seasonally appropriate than it was bridal, she did carry a large bouquet for the occasion.
"He knows he wasn't the love of my life. And I know I wasn't the love of his life," Taylor once told The New York Times about her marriage to Warner. "But we loved each other. We got along wonderfully until he decided to be a politician. And then he married the Senate."⁠ However, according to a biography by Kate Andersen Brower (via AP News) her marriage to Warner was an unhappy one during which she allegedly had an overeating and drinking problem. The pair parted ways in 1982.
5. Taylor's eighth wedding: Larry Fortensky
Elizabeth Taylor's eighth and final wedding took place in 1991 when she wed Larry Fortensky, a construction worker at Michael Jackson's Neverland ranch. "Her friends in Hollywood were either gay or they were rich playboys who wanted young glamour girls," Fortensky's sister later told the Daily Mail. "It was hard for her to find a guy. Larry was a regular guy and that's what she loved." Of the wedding itself, Fortensky said, "She wanted to do it. I didn't get involved at all. I just had to turn up." The couple divorced after five years of marriage.
For her final wedding, Taylor returned to tradition with a classic bridal gown. The off-white lace dress was designed by Valentino and featured a drop-shoulder V-neckline, a voluminous skirt, and a lace finish. At the time, the rights to all photos from the wedding were sold exclusively to People Magazine for $1 million. Taylor then directed these earnings toward the newly-minted Elizabeth Taylor Aids Foundation.
4. Taylor's fourth wedding: Eddie Fisher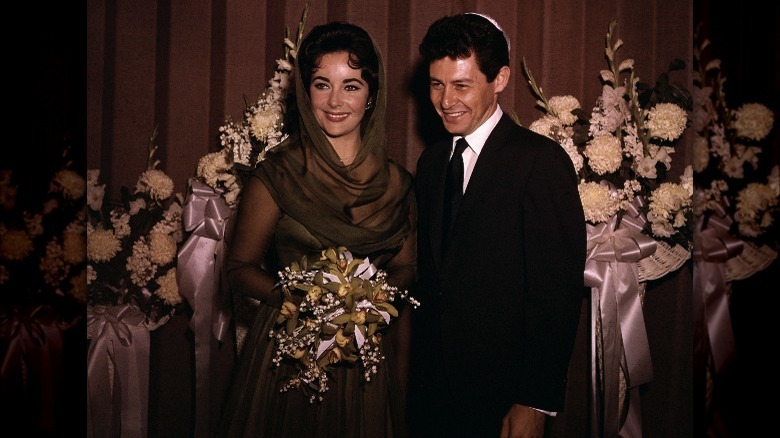 Bettmann/Getty Images
Elizabeth Taylor's fourth marriage was to singer Eddie Fisher, who was her previous husband Michael Todd's best friend (and best man). Fisher had previously been married to the actor Debbie Reynolds, who was also Taylor's best friend. As Reynolds told NPR in 2013, "Eddie [Fisher], you know, left with Elizabeth [Taylor] many, many years ago. We were married about five years — I think it was — when he decided to take a hike, and with Elizabeth." Fisher and Taylor married in a Jewish ceremony in 1959.
In spite of all of the drama that surrounded her relationship with Fisher, Taylor's wedding dress was nothing short of sublime. The dark olive sheer gown featured a knee-length layered chiffon skirt and a matching hood. She carried a bouquet of white flowers and wore a bracelet that had been a gift from Fisher and took the place of an engagement ring.
3. Taylor's sixth wedding: Richard Burton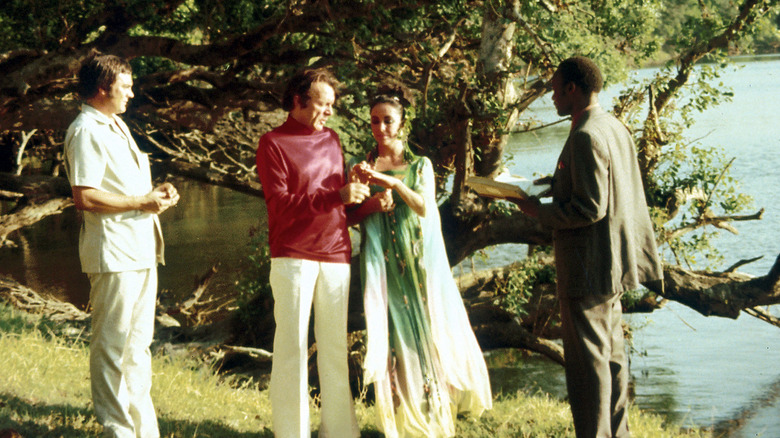 Apic/Getty Images
Elizabeth Taylor and Richard Burton first married in 1964, but the pair divorced in 1974 after reports that their relationship had become filled with fights. However, they tied the knot for a second time after a brief break in 1975. This second wedding took place while they were on holiday in Botswana, South Africa. It was a small affair with only a couple of witnesses. Even though they gave their relationship another try, they ended up divorcing again just one year later. Taylor later said, "We had a good marriage. Something went wrong, but we're still good friends. I know I did everything in my power to make the marriage work," (via BBC).
Because the couple had such a small second wedding, this dress was one of the star's least extravagant. Alongside Burton, who wore a simple pair of white trousers and a red sweater, Taylor wore a flowing green maxi dress that faded into a pink and white gradient around the skirt and the ends of the sleeves. With its long, flowing cape, feathers, and beading details, this was a real flower-child-inspired dress. The dress was designed by Gina Fratini and featured a silk bodice and chiffon sleeves and was sold for over $60,000 in 2011.
2. Taylor's first wedding: Conrad Hilton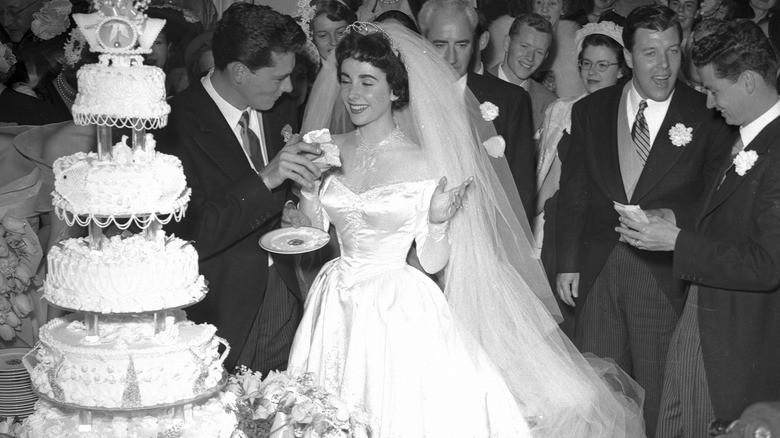 Bettmann/Getty Images
Elizabeth Taylor's first marriage was to Conrad Hilton Jr., who went by the name "Nicky" and was the son of the famous hotel mogul. The pair wed in 1950, but according to some sources, it was something of a sham marriage. "It's very clear that that marriage to Nicky Hilton was one the studio wanted and manipulated into happening, and Elizabeth went along very happily because Nicky Hilton seemed like a great guy," said her biographer William J. Mann in the documentary "Elizabeth Taylor: A Tribute" (via Daily Express). The pair divorced less than one year later when Taylor was still only 18. He was "indifferent to me and used abusive language," Taylor said at the divorce hearing (via Entertainment Weekly).
While the marriage itself might have left a lot to be desired, Taylor's stunning wedding dress certainly didn't. The gorgeous white satin gown featured a fitted waist, a princess-like voluminous skirt, and a drop-shoulder neckline with gold beading details. The look was completed with a dramatic veil held in place with a tiny tiara. The dress was designed by MGM costume designer Helen Rose and was a gift from the studio. The film studio hired over 15 full-time employees to work on the dress for up to three months before the wedding. The dress was later sold at an auction for over £120,000 in 2013 — that's roughly £158,000 or $197,000 by today's standards.
1. Taylor's fifth wedding: Richard Burton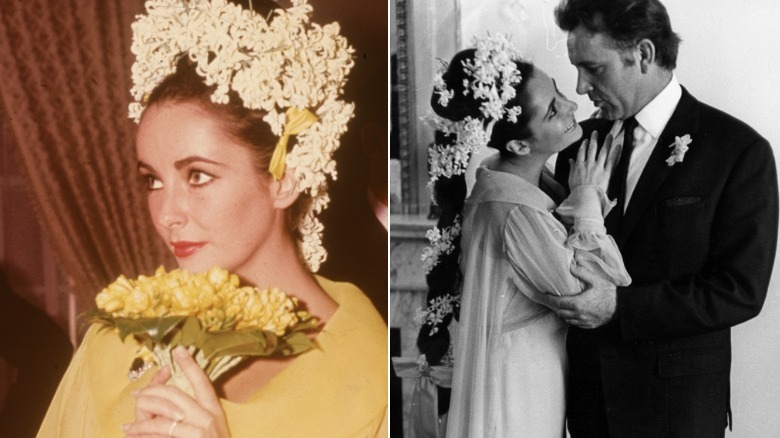 William Lovelace/Getty & Hulton Archive/Getty Images
Richard Burton was one of Elizabeth Taylor's most famous husbands. Taylor first tied the knot with the Welsh actor in 1964 only nine days after her divorce from Eddie Fisher. The pair had begun an affair while filming "Cleopatra" and became famous for their passionate, up-and-down relationship, which was allegedly filled with everything from wild extravagance to profound love to passionate fights.
Taylor's extravagant, artistic look on her wedding day mirrored her turbulent relationship with Burton. She wore a bright yellow chiffon gown with a rounded neck, an empire waistline, and a draping cape at the back. She wore her hair in a long dramatic braid, covered in pale wildflowers, a look created by stylist Alexandre de Paris. The iconic dress was designed by Irene Sharaff, who also designed the costumes for "Cleopatra." The dress was later put on auction for up to $60,000.