General Hospital's Réal Andrews Previews Taggert's 'Unravelling' As Paternity Drama Hits Home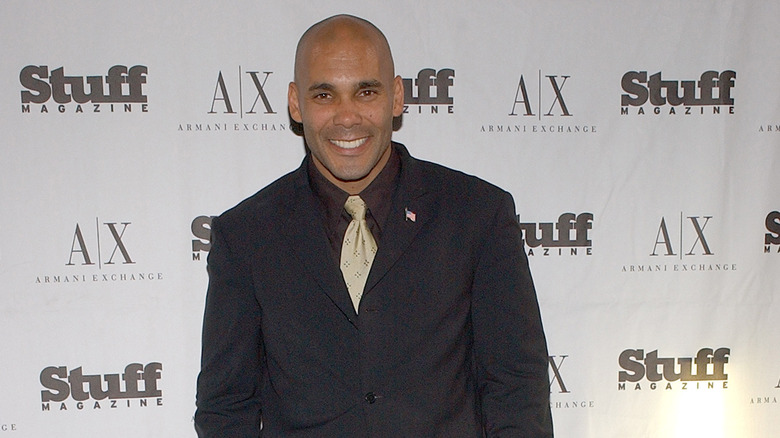 Dimitrios Kambouris/Getty Images
For Marcus Taggert, it was a devastating moment when he learned that Curtis Ashford (Donnell Turner) was the biological father of his daughter, Trina Robinson (Tabyana Ali), on "General Hospital." For his portrayer, Réal Andrews, it was a chance to shine and show off his acting prowess as Taggert unleashed his emotions in a gut-wrenching scene after the DNA test results were revealed. Although both Taggert and Trina swore to each other that no matter what the results stated, they would always be father and daughter, the startling news is definitely going to change things for everyone. 
The scandal surrounding Trina's paternity stems from the fact that her mother, Portia Robinson (Brook Kerr), had an affair with Curtis when she was married to Taggert and never bothered to find out which man was the father of her unborn child. Many "GH" fans don't trust Trina's paternity test results and have speculated that mobster Selina Wu (Lydia Look) may have tampered with them in Curtis' favor. Curtis has allowed Ms. Wu to operate a sketchy poker game in the back room of his club, the Savoy, and she proposed the notion that she could rig the DNA results. 
Whether or not the test has been altered, Taggert is headed for a world of hurt as Andrews recently expounded upon.
Taggert may spiral out of control
Soap Opera Digest, by way of Michael Fairman TV, has revealed that Taggert will end up drowning his sorrows in alcohol due to what he perceives as having lost his daughter. He'll also commiserate with his former DEA partner and current police commissioner of Port Charles, Jordan Ashford (Tanisha Harper) — who is also Curtis' ex-wife. Andrews talked to SOD about how Taggert will process what has happened, citing the character's stoicism, stating, "He's always been that tough guy that doesn't really show emotions. But here, you're going to see 27 years of pent-up emotions come unraveled." 
Taggert has rarely been one to make light of things, and now we are going to see an even darker side of him as he turns to liquor for solace. Andrews remarked, "[Taggert's] spiraling and the alcohol is obviously a part of it. And when he's talking about what he's going through, he's triggered, you know?" 
"His whole past is unraveling in front of him," he continued, noting the fact that Taggert's previous marriage to Portia Robinson fell apart, and the character needs to take ownership for his part in that. After recording the upcoming scenes of Taggert struggling with the whole scenario, Andrews received a standing ovation from the crew.  "I was so humbled," he said. "It was very touching."