Britney Spears Once Had A Bone To Pick With Alyssa Milano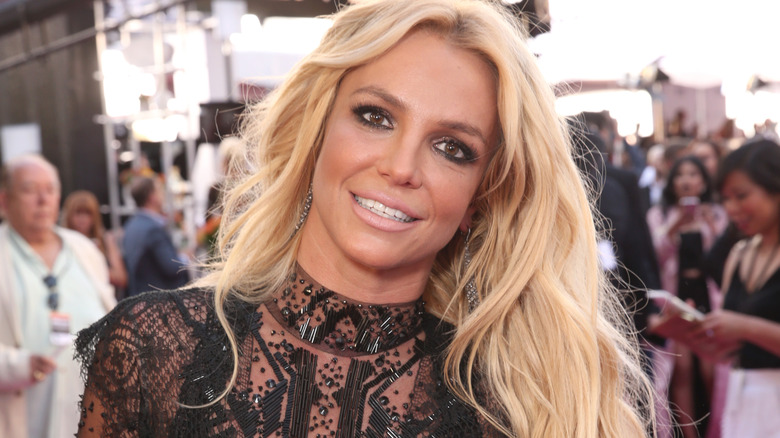 Todd Williamson/Getty Images
Britney Spears has been free from her conservatorship since November 2021 after spending 13 years under her father's thumb. Spears couldn't drive a car without permission and has often talked about the tight leash kept on her while her dad, Jamie Spears, moved her money and controlled her schedule. Even though her conservatorship ended, according to Rolling Stone, the "Baby One More Time" singer has said that she will "probably never perform again." Spears fans have struggled with this news, mainly because they want to support her and truly believe that she deserves to do whatever it is that she wants after becoming free from her conservatorship, but also want her to release new music. She is, after all, an idol to so many.
And while Spears did release "Hold Me Closer" with Elton John in 2022, the only performances that fans get these days are from the videos that the pop star shares on Instagram. Unfortunately, some of Spears' recent social media activity has caused concern among fans and has been highly criticized. Conspiracy theorists claim that it's not really her posting and others fear that she's unwell. One of the latter included "Charmed" star Alyssa Milano — and Spears wasn't too thrilled about it.
Britney Spears called Alyssa Milano out on social media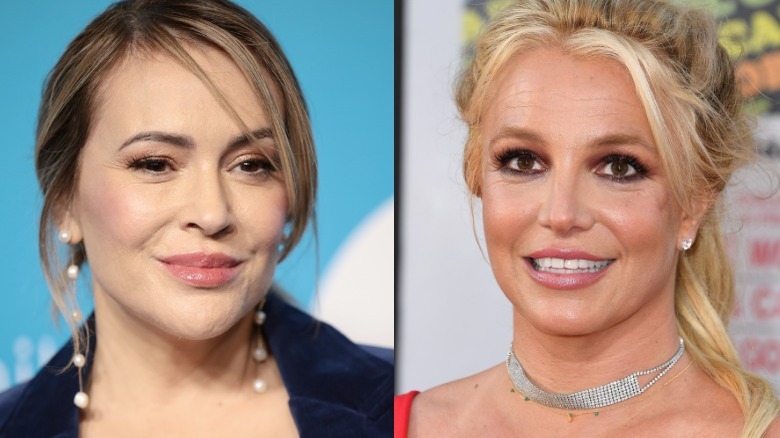 Dimitrios Kambouris & Steve Granitz/Getty
In December 2022, Alyssa Milano took to Twitter with her concerns about Britney Spears saying, "Someone please go check on Britney Spears." Spears got wind of the message and took a screenshot of it to share on her Instagram stories with a response. "It saddens me to see things about me from people who don't know me!!! This definitely feels like a form of bullying!!!" Spears wrote, according to Parade. "Ladies, we are supposed to be rooting for one another not pulling one another down!!!" she added. Milano's comment came about a month before some fans became concerned for Spears and decided to call the police when she deleted her Instagram account. Police did a wellness check just to be safe — and everything was fine.
Meanwhile, Milano didn't respond to Spears' reaction to her tweet, but in February, TMZ reported that the actor did reach out to Spears to apologize after the fact, though she never deleted the tweet. A rep for Milano told the outlet that she sent Spears a "private message" in an attempt to apologize and make things right. While Milano's rep claims that she "expressed support" for Spears in her note, Spears never publicly mentioned it — and neither did Milano. The two women were never friends nor actually hung out together. It's unknown how Spears feels about Milano in the aftermath. 
Britney Spears isn't shy when it comes to defending herself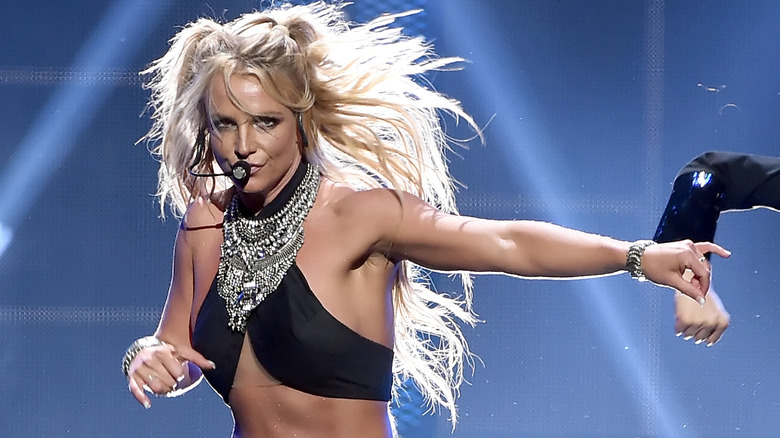 Kevin Winter/Getty Images
Say what you want about Britney Spears' social media activity, but there's one thing that isn't up for debate: Spears will speak up for herself if and when she needs to. For example, in more recent news, the Daily Mail published an article in which they made bold claims, including a quote from Spears' ex-husband Kevin Federline which implies that he is afraid that she is on meth. Federline took to his own Instagram to say that the outlet published "lies" but it was Spears' Instagram comments that were heard loud and clear.
"The fact that people are claiming things that are not true is so sad ... This may not even be them saying such things because it doesn't make any sense to me for them to be saying that," Spears captioned an Instagram post in response to the article. "The news is so low ... l've always felt like the news bullies me ... It's sad because everyone sits back as if that's ok to make up lies to that extent ... Why am I told I have to sit back and rise above ??? When they all go so low ??? Hopefully it is just the news being hateful and Kevin nor Preston said any of those things," she added.