Why Kate Middleton Sees Prince Louis As An Underdog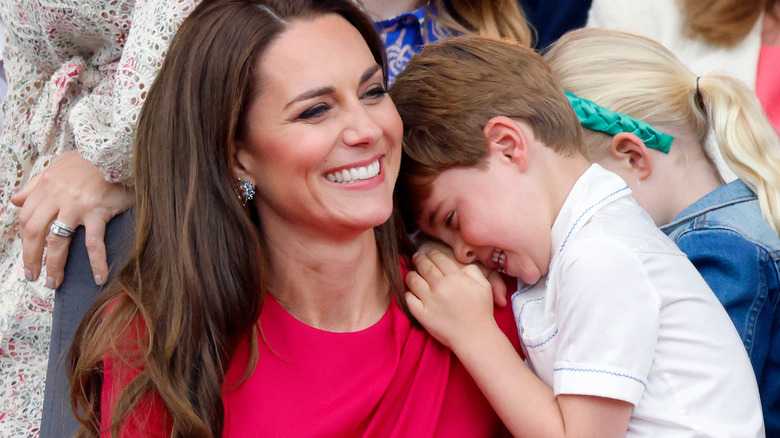 Max Mumby/indigo/Getty Images
We may receive a commission on purchases made from links.
William and Catherine Middleton, the Prince and Princess of Wales, have three kids and they're an adorable bunch. The oldest, George, is the heir apparent. That's an awful lot of pressure for a child — while most kids are learning long division, George is learning his royal duties.
Princess Charlotte doesn't get off easy, either; she's third in line, and is expected to step up should anything happen to her big brother. There are also lots of eyes on her as the "stand-out star" of the royal family. Judi James, a body language expert, told the Mirror that, despite George's age and place in the line of succession, Charlotte is the true leader of the group, with James noting that at the concert celebrating her grandfather's coronation, "She snapped into duty as royal prefect as soon as she sat down, waving her bangle and her flag at her brother George to show him how he should use them."
While we're sure part of this is due to Charlotte's assertive personality, there's no doubt that this role puts a lot of pressure on her. That leaves Louis, the youngest of the bunch. It seems like his siblings have taken on most of the pressure, leaving Louis with a little less weight on his shoulders. The most he's known for right now are his funny faces, which were a welcome distraction from all of the drama surrounding King Charles' coronation. This has led to him being referred to as an "underdog."
He's the baby of the family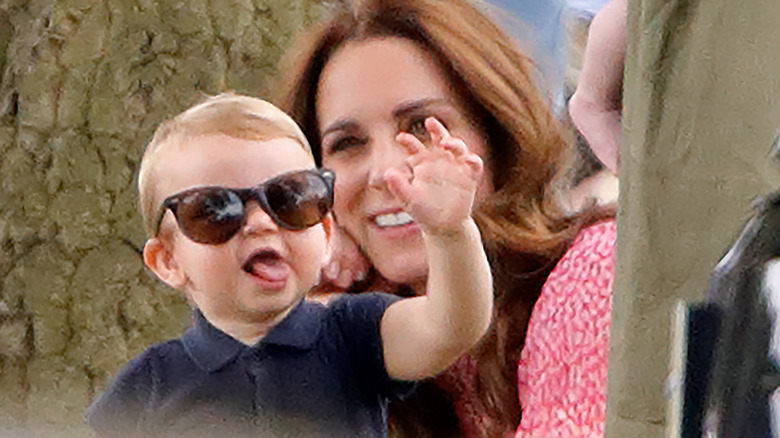 Max Mumby/indigo/Getty Images
With their lavish balls and coronations, it can be hard to remember that royals are people too! Why should Kate Middleton, Princess of Wales, be any different?
Often, by the time your third child is born, people become a bit more lax in their parenting style. Emma Kenny, a TV psychologist, told OK! magazine (via Express), "By the third child, you're much more adept and confident as a parent and that really shows. You've got this little boy whose older brother will one day be King, so he's never going to be anything but the underdog and I think Kate, more than anybody, will be aware of that."
This might sound a bit harsh, but it comes with its perks: he has more room to be himself and is likely given more leniency than his siblings are. Louis may be the youngest, but he's not lacking for attention; Kate calls him sweet nicknames like "Lou Bugs."
Prince Louis is far down the line of succession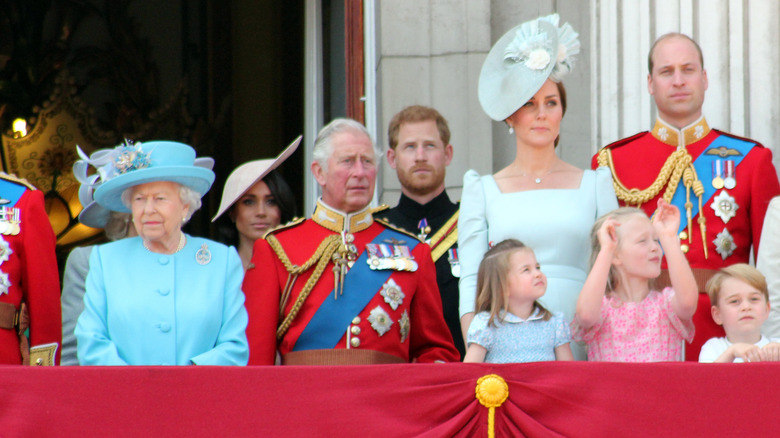 Lorna Roberts/Shutterstock
When it comes to royalty, monarchs and their heirs tend to get the most attention. But there are many princes and princesses who will never rule. Known as "spares," they hold a less prominent position than their heir apparent siblings. 
The role of the royal spare has been historically difficult, long before Prince Harry, Duke of Sussex, wrote his best-selling memoir, aptly titled "Spare." Queen Elizabeth II's younger sister, Princess Margaret, was reportedly envious of at least some of the perks of her elder sibling's position, often claiming that her extroverted and fun-loving personality made her better equipped for the throne. Sally Bedell Smith, in her book "Elizabeth the Queen," wrote that "she would always remain resentful that her older sister received a better education" (via Vanity Fair).
Princess Margaret was able to find her own way, though. Harry has since forged his own path, too, becoming a household name in his own right, exposing the unfair inner workings of the British monarchy, and marrying for love. We don't know what the future holds for Louis, and what he'll choose to do, but with his mother's sympathy for his situation and clear affection for him, we have a feeling that he'll turn out alright.