Cone And Pyramid Heels Aren't The Look For Summer 2023, But There's An Equally Comfortable Alternative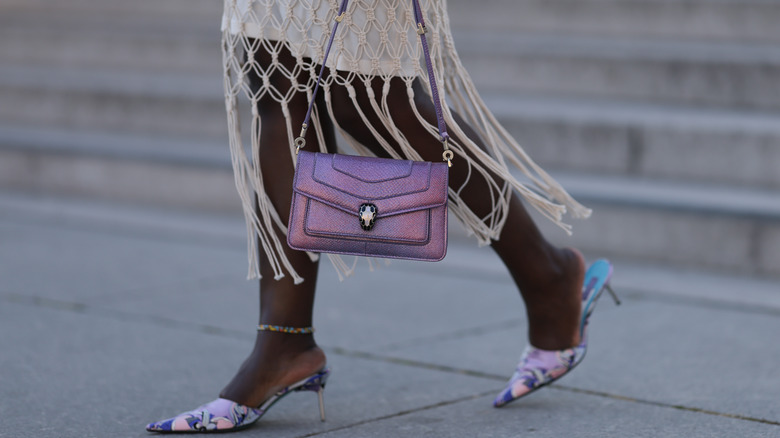 Jeremy Moeller/Getty Images
The fashion world has seen the rise and fall of many wardrobe empires, proving that trends come and go and that the battle for the timeless title is ongoing. We've seen this in the UGG boot, a flat, comfier alternative to heels, and Crocs, which also fluctuate between style and fashion faux pas. Heels have so many different variations that it's easy to see what's in style and what's not. It's just one of the few mistakes everyone makes when wearing high heels: opting for old styles with equally outdated comfort and capsule ability. However, one thing remains certain: heels like the block, kitten, wedge, and platform variety are all at the forefront to be a classic, comfortable option that provides a limitless amount of styling options.
An interesting facet of choosing the right heel involves the style and structure of the heel itself. Gone are the days of cork-like wedges suited only for that summer wedding. Now, heels are being transformed into their accessory, separate from the very shoe it supports. Many block and chunky heels are made with materials like acrylic to better support the foot, while also offering a unique, geometric shape. Still, the best way to choose what shoe is right for you is to try them out for yourself. 
Kitten and block heels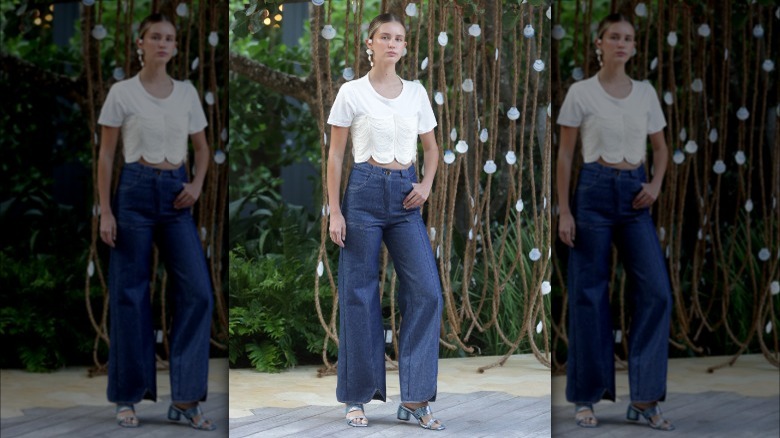 John Parra/Getty Images
First things first, when choosing between the next comfy, in-style shoe, it's good to note how to style the shoe, or what style fits your wardrobe the most. For instance, the block heel is practically perfect for all-day feel-good activities like walking, shopping, or long hours on your feet. Plus, this heel effortlessly enhances any pair of denim jeans (try a wide, straight, or raw-edge style to start). This style also goes great with a classic office look, like trousers or an oversized blazer.
Another casual option for everyday wear is the kitten heel. According to EGO Daily, the heel was first made popular in the 1950s. The name itself derives from the fifties slang word, "kittens," aka, teenage girls who weren't ready for the transition into stilettos. Because they are "training heels," they are easily one of the most walkable heel options, as well as the comfiest. Currently, the Kitten heel ranges in a plethora of styles, from pastels to sleek blacks, or avant-garde designs like butterfly straps and feathers, all thanks to its resurgence in the 1990s. Kitten heels are also either open-toed or closed-toed, perfect to pair for the office with slacks, or a brunch date with a slip dress or maxi denim skirt.
It's all about height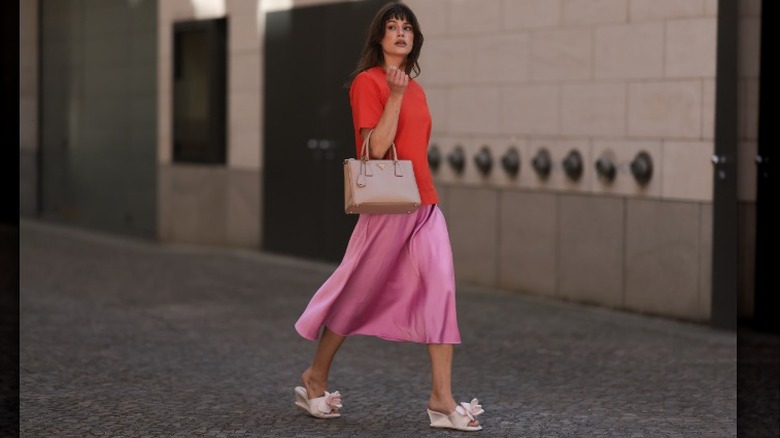 Jeremy Moeller/Getty Images
Perfect for party season, if you're looking to find your next dancing shoe, then the wedge heel is a fantastic alternative to pyramid heels and other out-of-trend designs. The wedge is being seen in a plethora of designs featuring traditional silhouettes like strappy heels, to leather boots. They also have a multitude of style options that supply extra comfort and uniqueness, like large strap buckles, sling-back straps, or pointed toes. The wedge made a comeback from other trends because of its ability to offer stability, comfort, and height, as Xpress Mag suggests. You can also wear wedges with a handful of closet pieces, like maxi skirts, sundresses, or even a pair of skinny jeans. 
Related to the wedge in style is the platform heel, which derives from the Y2K fashion movement. It branches out from the wedge by incorporating chunkier soles in addition to the extreme difference in height. Most popularly, platforms are seen in footwear like boots and even loafers, both of which offer comfort along with style to any wardrobe. It's this versatility where we see a shift in popularity from other heels like the pyramid. The wedge and the platform heel offer a wide array of styles for someone to choose from, while not sacrificing trendiness or comfort. This adaptability may just be the real reason women wear heels, after all: they provide a boost of confidence, and personality, to anyone's style.