Valerie Bertinelli Offers Firm (And Funny) Answer When Asked If She Plans To Start Dating Again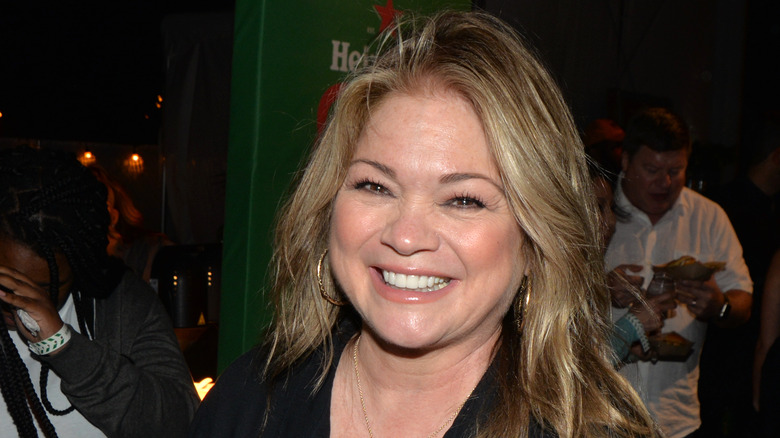 Manny Hernandez/Getty Images
Valerie Bertinelli always keeps it real. From being open about her relationship with Eddie Van Halen to getting real about body image struggles, we can always trust the star to share her wisdom and personal experiences that are all too relatable. On June 12, the Emmy winner took to Twitter to share two very simple words about where her personal life is headed, and we're not surprised by her unadulterated honesty.
In May of 2022, the then 62-year-old filed for divorce from her husband of 11 years, Tom Vitale. Prior to her marriage to Vitale, from 1981 to 2007, Bertinelli was famously married to musical frontman, Eddie Van Halen. The pair have one child together named Wolf. In 2020, Van Halen passed away after a lung cancer diagnosis. In her memoir, "Enough Already: Learning to Love the Way I Am Today," Bertinelli described Van Halen as her "soulmate." It was clear that this pair had a lot of love for each other long after their split. "'I love you' are the last words Ed says to Wolfie and me, and they are the last words we say to him before he stops breathing," she wrote, per People.
After suffering the loss of a loved one and going through a divorce all in a period of just two years, it's no surprise that plenty of folks wonder whether the star is getting back into the dating game. Yet, Bertinelli wasn't shy about setting that record straight.
Valerie Bertinelli has a musically blunt answer to dating rumors
Valerie Bertinelli has shared a video on Twitter that surely stopped anyone who was wondering about her love life in their tracks. The video was re-posted from the star's TikTok account, @realwolfiesmom. The video shows a smile creeping up on Bertinelli's face as the viral song, "Two Moons" by BoyWithUke plays in the background. White text on the screen reads, "When someone asks if I'll start dating again soon ..." She closes her eyes and shakes her head, and mouths along with the song's lyrics that say, "yeah — f*** no." So, if you were one of the many people wondering if the star is ready to date again, you've got your answer. 
It's clear that Bertinelli was poking fun at folks who may be jumping at asking her about getting into the dating game quickly after her divorce. Bertinelli is active on TikTok, sharing tidbits about her weight loss and mental health journeys. Since the star is always so candid about what's really going on in her life, it's no surprise that she's pulling no punches when it comes to answering this tough question. Still, we're impressed that she managed to make her stance so clear simply by lip-syncing two words. So, if you're as big of a fan of Bertinelli's down-to-earth vibe as we are, you can follow her on TikTok; just don't ask her on a date.