Inside Sarah Ferguson's Relationship With Camilla Parker Bowles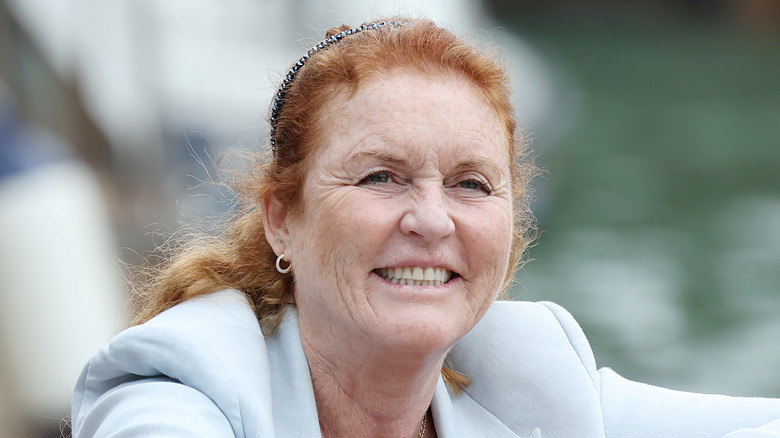 Pascal Le Segretain/Getty Images
Marrying into the British royal family certainly is not for the faint of heart. Going from regular citizen to royal means giving up any chance at a normal life and can be an incredibly isolating experience. It may seem like an unfathomable amount of pressure to take on, but at least there are a handful of other people who know those unique ups and downs all too well. The royal wives often bond together, building solid friendships based on their shared unusual lives. That being said, it isn't unusual for rumors of a feud to pop up every now and then. Camilla, Queen Consort, and Sarah, Duchess of York, have known each other for decades, but what is their relationship really like?
Sarah Ferguson was a firm friend of Princess Diana, which undoubtedly impacted her dynamic with Camilla. Even though Diana died almost three decades ago in 1997, those emotions might be tough to set to one side. With reports of a raging fight in 2018 between Fergie and Camilla followed by further rumblings in the royal court of a rift between King Charles III and his ex-sister-in-law, where do the pair really stand? Does Ferguson really respect the queen consort like she told the press, or is it all a well-built construct designed to throw off the media? The real answer may be more tangled than we realize, but for now, here's what we know about Fergie and Camilla's friendship.
Sarah Ferguson was on Princess Diana's side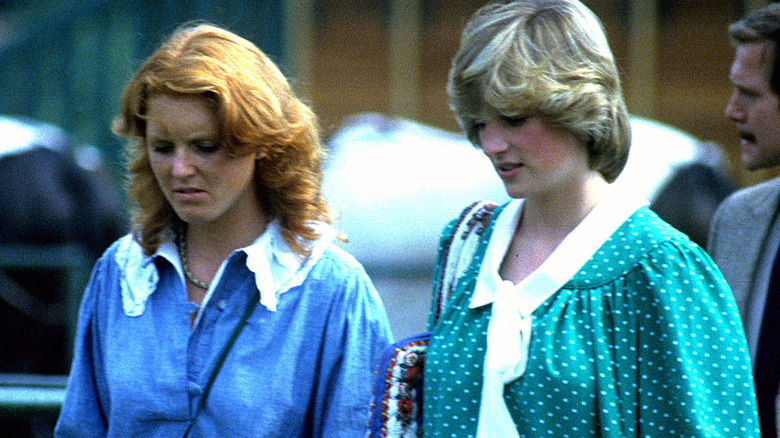 Tom Wargacki/Getty Images
To fully understand the complexities behind Sarah, Duchess of York, and Camilla, Queen Consort's relationship, it is necessary to dig into Sarah Ferguson's history with King Charles III's first wife. Fergie was close to Princess Diana and that bond began back when they were teenagers. "We were best friends from when she was 14 and I was 15," Sarah Ferguson once said in People. "Diana and I both had our own mental health issues, and she and I used to talk ... we were positioned as saint and sinner [in the press]. And the most important thing was to remain robust together, and we did, no matter what anyone wrote."
Ferguson and Diana grew up and married to senior members of the royal family, Diana to the future King Charles III and Ferguson to his brother, Prince Andrew. Both had complicated relationships with the press, and they were able to lean on each other for support. When Diana became privy to Charles' affair with Camilla, Ferguson would have likely been one of the people Diana turned to for help. As anyone with a friend in this kind of position knows, it's difficult to simply shake off sour feelings towards the mistress in a normal situation, let alone in a situation that ended so tragically. As we'll discuss later, this reportedly remained an issue for decades, causing friction between Ferguson and Camilla.
Sarah and Camilla were treated very differently by Queen Elizabeth II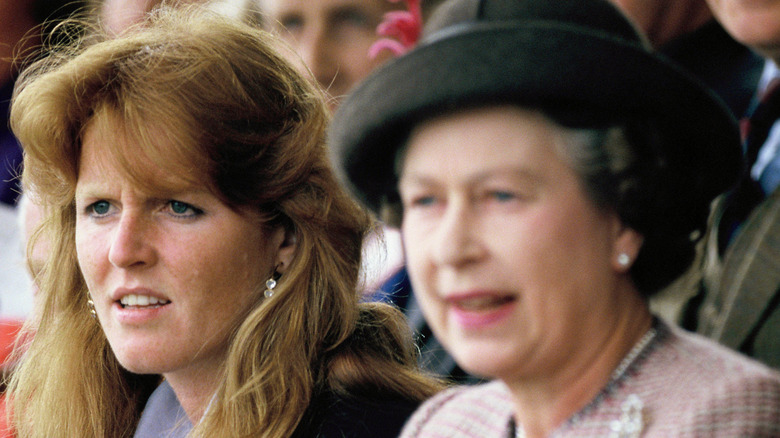 Georges De Keerle/Getty Images
Although Sarah, Duchess of York, Camilla, Queen Consort, and King Charles III had all known each other since childhood thanks to their aristocratic upbringings, Camilla and Sarah Ferguson were never firm friends. In fact, their introductions into the royal family didn't coincide at all. By the time Camilla was appearing at events by Charles' side in 1999, Ferguson had already been divorced from Prince Andrew for quite some time. Queen Elizabeth II was not accepting of Camilla, while Fergie was welcomed into the royal fold immediately, but it gets a little more complex when we come to the root of the matter.
Camilla and Charles were first romantically linked back in the '70s before either of them had been married. However, she wasn't deemed a suitable match for Charles because she had previous boyfriends. As whoever married Charles was to be the future queen, they had to be thought of as innocent and so the two went their separate ways. Years later, Ferguson came along and despite having had previous boyfriends, the senior royals welcomed her with open arms and allowed her to marry Andrew. Ferguson remained close to Elizabeth, and was the only royal ex to attend the late monarch's funeral in 2022. It begs the question, did Camilla ever notice this double standard, and if she did, it's not a stretch to say it could have impacted her feelings toward Ferguson.
The legendary Balmoral fight of 2018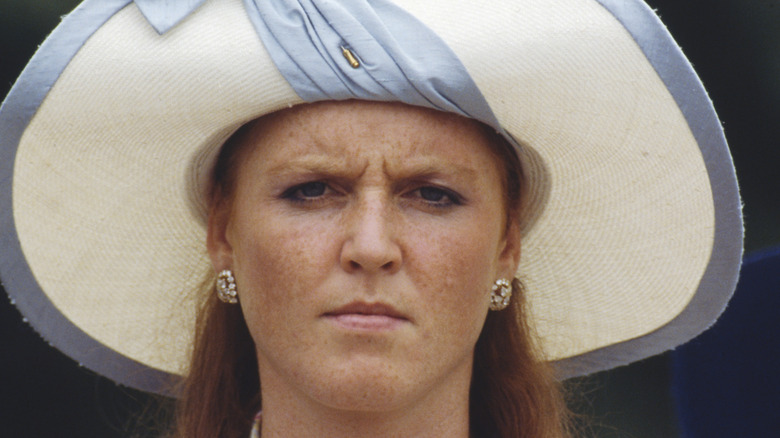 Georges De Keerle/Getty Images
After her split from Prince Andrew, Sarah, Duchess of York continued to live in their marital home, Royal Lodge, a residence she still holds today. However, despite being on good terms with her ex-husband, Sarah Ferguson was no longer a fixture at many formal and informal royal gatherings once the ink was dry on the divorce papers. Interestingly, this changed somewhat when in 2018, Queen Elizabeth II invited Ferguson to visit Balmoral during the summer ... but it apparently wasn't a peaceful and idyllic excursion. According to New Idea (via Express), Fergie and Camilla reportedly got down to brass tacks and had a huge fight, with Ferguson finally confronting Camilla over how she treated Princess Diana.
The palace source reportedly revealed that the serene Scottish peace was shattered when the two women came to it: "Fergie and Camilla came to blows at Balmoral last week, it was an enormous row that absolutely no one saw coming. It seems that Fergie has never really confronted Camilla over the pain and heartache she caused Diana over her affair with Charles. Fergie and Diana were close friends and she saw first-hand the anxiety and depression that the affair brought to her and it's always churned away inside Fergie." The same unnamed source told the publication that it all happened during after-dinner drinks. In true royal fashion, no one from the camp has ever confirmed or denied the report.
Camilla didn't go to Princess Eugenie's wedding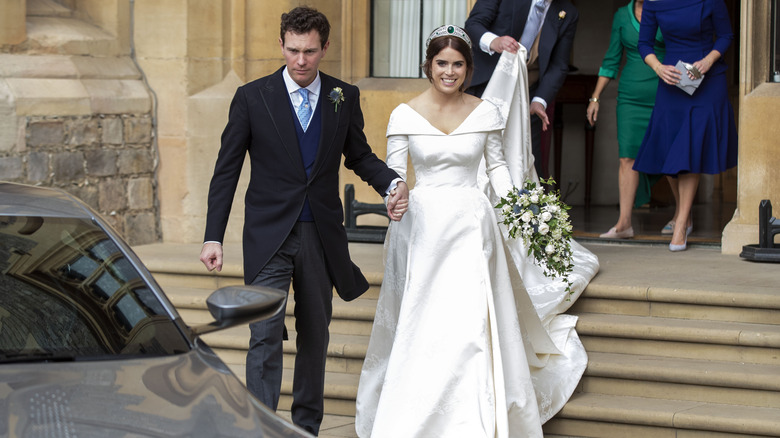 Wpa Pool/Getty Images
Regardless of whether it's a senior royal or not, a royal wedding is still a royal wedding. The public likes to know every detail, from the guest list to the wedding cake. For Sarah, Duchess of York and Prince Andrew's daughter, Princess Eugenie, her moment in the spotlight came just months after her mother's alleged battle with Camilla, Queen Consort in 2018. Many noticed that King Charles III turned up to the nuptials at St George's Chapel in Windsor alone, with his wife nowhere in sight. Every other senior royal, from Princess Catherine to Prince Harry was in attendance.
The absence was blamed on a scheduling conflict, with Camilla attending a school visit that day. Royal commentator Victoria Arbiter took to Twitter to give her thoughts on it, writing, "I know it seems odd that Camilla's missing Eugenie's wedding but it doesn't indicate any malice or ill-feeling. Royals don't like to disappoint. Given she'd already committed to attending a school event it's duty first." When pressed on the situation by the Daily Mail, Sarah Ferguson denied any hard feelings, despite the rumor mill: "I think it's wonderful she kept to her engagement, especially as it was with children. She's a wonderful lady and was a great friend of my mum." This gracious response to what many saw as a snub was a classy move from the duchess who has always been kind about Camilla to the media, regardless of the situation.
King Charles III supposedly thinks Sarah Ferguson has embarrassed the family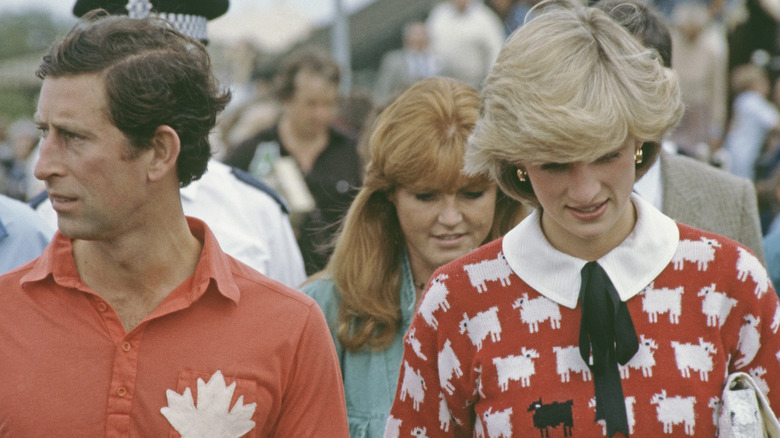 Princess Diana Archive/Getty Images
King Charles III and Camilla, Queen Consort, have come as a package deal for many years now, ever since going public with their romance in the late '90s. It hasn't been an easy road for them, with both the media and the public often favoring Princess Diana over Camilla. As we've already discussed, the couple had to face some animosity from inside the firm as well. While Sarah Ferguson may not have always been thrilled about Camilla, Charles hasn't exactly championed Fergie, either.
According to The Sun, Charles apparently has a lot of grievances when it comes to Prince Andrew's ex. "Charles is not OK with Fergie," a royal source told the publication in 2019. "He can't stand her in reality. He thinks she's brought embarrassment to the royal family in the past and his relationship with his brother has been strained as a result. They don't get on personally. There's so much baggage because he feels she sided with Diana over Camilla all those years ago." Regardless of how Camilla personally feels about Fergie, Charles' strong feelings would most likely create friction between them because of how close the king and queen are. They have remained fiercely loyal to one another ever since becoming a public couple, so if the source is anything to go by, Camilla and Fergie may not be best friends any time soon.
Sarah Ferguson's Sandringham invitation hinted at a new chapter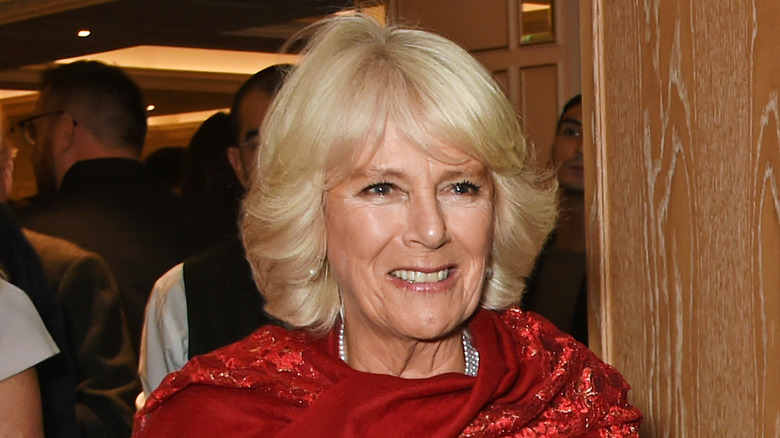 David M. Benett/Getty Images
Needless to say, observers may think that Camilla, Queen Consort, and Sarah, Duchess of York, have a tenuous relationship at best, but what really goes on behind closed doors remains unknown. There did appear to be a glimmer of hope in 2022, when Sarah Ferguson was cordially invited to spend Christmas at Sandringham with the rest of the royal crew. Ever since her divorce from Prince Andrew, Ferguson has stayed behind while her former husband took their daughters, Princess Eugenie and Princess Beatrice, to enjoy the festivities without her.
This change of events could have been down to Camilla, according to a source who told the Daily Mail, "Camilla likes Sarah. They're both gentry. They share a love of horses and Fergie will be smart enough to play the game with Camilla and realize she is the power behind the King. That she must be nice to them and support them ... There's a feeling that, no matter what Sarah's personal faults — and she can be like Marmite in that respect — she has been a good mother to the girls and loyal to Andrew." While Prince Philip and Queen Elizabeth II both stuck to traditional royal protocol, it's believed that King Charles III and Camilla want to be more relaxed, which may explain Ferguson's inclusion after so many years left out in the cold. If there was any lingering animosity between the pair, this gesture may have dissolved it.
Sarah Ferguson was fine with not being invited to the coronation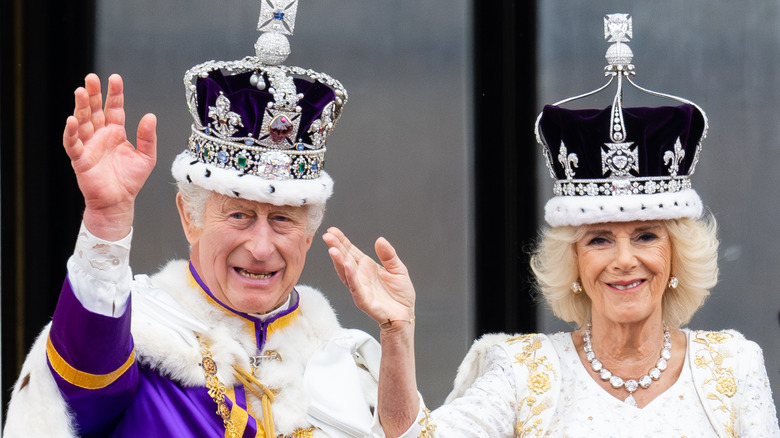 Samir Hussein/Getty Images
Christmas is one thing, but Sarah, Duchess of York, still wasn't invited to the biggest event of all: the coronation. 2,200 invitations were sent out to official representatives from over 203 countries and around 100 heads of state, as well as friends and family of the new monarchs. Prince Andrew, Princess Eugenie, and Princess Beatrice all attended ... but Sarah Ferguson was left off the list. Many royal watchers wondered if this was down to royal protocol, or was some sort of personal snub. Whatever the case, Fergie doesn't seem too miffed about it.
When she appeared on ITV's "Loose Women" (via Hello!) in April 2023, Ferguson didn't come across as bitter. "I personally will be having a little tea room and coronation chicken sandwich and putting out the bunting, that's what I'm going to be doing. Because that would make me very happy," she told the panel. "I also love to watch it on the telly because you hear a lot on the telly. The commentators are always good and then everyone, all the family come back, because remember I am divorced from him [Prince Andrew] so I don't expect ... you can't have it both ways, you can't be divorced and then say, 'I want this...' [You're in] or you're out." Ferguson followed up the sentiment by sharing photos to her Instagram page of a formal coronation tea she set up for the residents of a care home close to her house.
Sarah Ferguson said she admires Camilla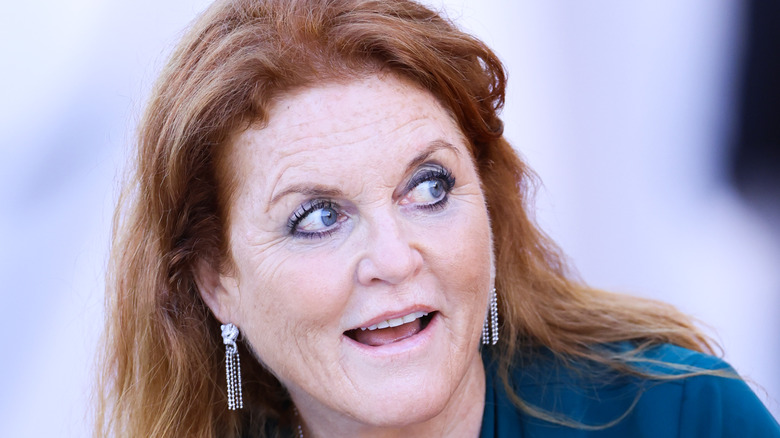 Jacopo Raule/Getty Images
If there have ever been sour grapes left to be squashed between Sarah, Duchess of York, and Camilla, Queen Consort, then recent interviews may have taken care of them. Despite their past differences, Sarah Ferguson has shown public support for the new monarchs, telling OK! magazine in April 2023, "I have known both the King and the Queen Consort since I was a child. I think if you look at the King's track record in areas like the environment, where he was decades ahead of his time, and the Prince's Trust, it's clear what an extraordinary man he is and how fortunate we are to have him on the throne. I also admire the way the Queen Consort has worked tirelessly in areas like literacy and domestic violence."
That's very high praise, but will Camilla ever return the favor? As an ex-royal, Fergie has much more freedom with her words and has spoken about other members of the family openly in the press, appearing on TV shows and giving exclusive interviews. Camilla, on the other hand, is as high up in the firm as it gets. Camilla has always followed the example set by Queen Elizabeth II, choosing to not address any speculation or rumors. While this likely isn't the last we shall hear of the new king and queen from Ferguson, hell might freeze over before we ever hear a word on the subject directly from her majesty.