Why Shannen Doherty Chose To Never Have Children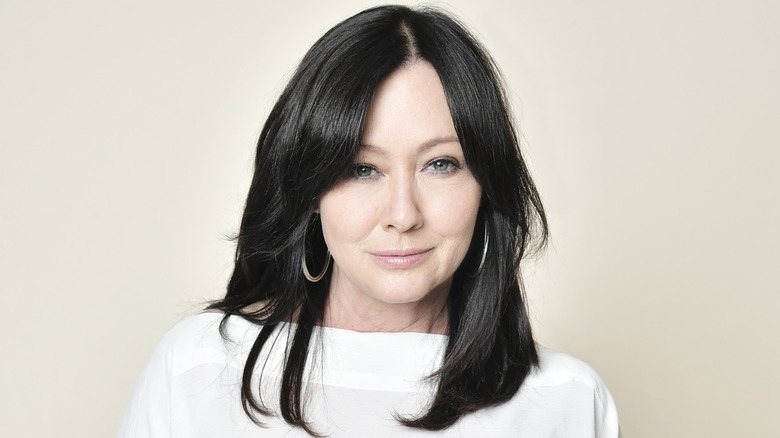 Neilson Barnard/Getty Images
Shannen Doherty became a household name when she was cast as Brenda Walsh on the hit 1990s teen drama "Beverly Hills, 90210" alongside other famed actors such as Luke Perry, Brian Austin Green, Tori Spelling, Jennie Garth, and Jason Priestley. The actor has enjoyed a long career in Hollywood starring in projects such as "Heathers," "Charmed," and "Little House on the Prairie." However, one role she never took on was motherhood. Sadly, the '90s icon was forced to battle cancer instead.
Doherty first revealed her breast cancer diagnosis in 2015 and confirmed that she had a single mastectomy. The following year she shaved her head upon losing her hair during treatment. That same year, the actor publicly revealed that her cancer had spread, but that she was still fighting. "I had breast cancer that spread to the lymph nodes, and from one of my surgeries we discovered that some of the cancer cells might have actually gone out of the lymph nodes," Doherty told Entertainment Tonight at the time. "So for that reason, we are doing chemo, and then after chemo, I'll do radiation."
In 2017, Doherty shared the amazing news that her cancer had gone into remission. Upon living in remission for two years, the actor opened up about her personal life even more, revealing the heartbreaking reason that she never had children.
Shannen Doherty speaks out about not having children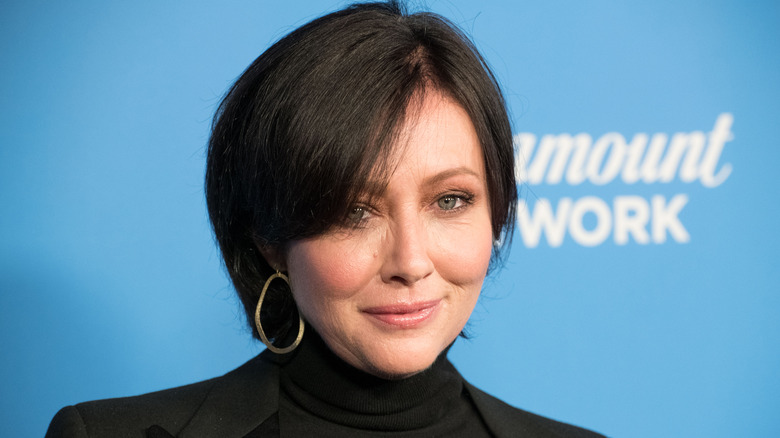 Earl Gibson Iii/Getty Images
In 2019, Shannen Doherty spoke candidly about her medical struggles while speaking to Health about how having cancer had changed her body and her life (via Yahoo!) The actor admitted that her illness and treatment put her body into menopause, made her age more rapidly, and left her with scars that she struggles to look at. Sadly, the illness also dashed any dreams that Doherty had of becoming a mother. "It's not possible [for me to get pregnant] because I can't get out of menopause," she said. "That would require estrogen, and I'm choosing not to take hormone pills — I can't risk those levels coming up," she admitted.
Of course, there are other ways to become a parent, and Doherty claimed that she and her then-husband Kurt Iswarienko had considered the alternatives. However, the cancer also forced her to think about the future and ponder if it would be fair to have a child. "We're having conversations about an egg donor, maybe adoption. But there's fear there," she said at the time. "Am I going to last five years? Ten years? I certainly wouldn't want my 10-year-old burying a mother. I've always wanted a kid. But maybe I'm supposed to mother in a different way," Doherty admitted.
Sadly, things changed again for Doherty when her fears were realized and her cancer returned around the same time she and her husband filed for divorce.
Shannen Doherty's cancer returned in 2020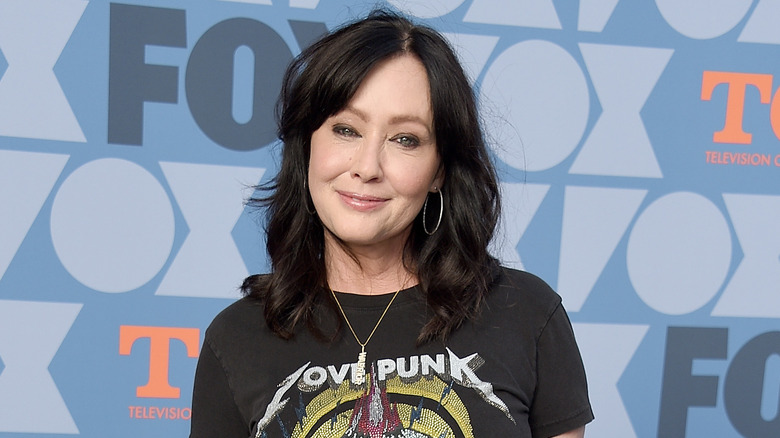 Gregg Deguire/Getty Images
Shannen Doherty announced in 2020 that her cancer had returned. The actor appeared on "Good Morning America" and revealed that news, adding that this time her cancer had been classified as stage four. "I don't think I've processed it. It's a bitter pill to swallow in a lot of ways," she said during the interview. In April 2023, Doherty filed for divorce from Kurt Iswarienko after 11 years of marriage. "Divorce is the last thing Shannen wanted," Doherty's rep told People. "Unfortunately, she felt she was left with no other option." Just weeks later, Doherty shared more heartbreaking news, telling fans via Instagram that her cancer had spread to her brain.
"On January 5th, my ct scan showed Mets in my brain. Yesterday's video was showing the process of getting fitted for the mask which you wear during radiation to your brain. January 12, the first round of radiation took place. My fear is obvious. I am extremely claustrophobic and there was a lot going on in my life. I am fortunate as I have great doctors like Dr. Amin Mirahdi and the amazing techs at Cedar Sinai. But that fear.... The turmoil..... the timing of it all.... This is what cancer can look like," Doherty captioned a video of herself having a procedure.
Doherty is still fighting and fans have rallied around her, sending her all their well wishes during this difficult time.