The Truth About Shannen Doherty's Husband, Kurt Iswarienko
Angela Weiss/Getty Images
Shannen Doherty has been married not once, not twice, but three times — not that her first two marriages lasted very long. She wed George Hamilton's son Ashley Hamilton in 1994, but they split just five months later (via Today). The "Beverly Hills, 90210" star also said "I do" to poker player Rick Salomon, but their union was annulled after nine months (via NY Daily News). Then, there was Kurt Iswarienko, and he was different.
The "Charmed" actress married the photographer in 2011 (via People). Iswarienko also works in Hollywood as a photographer and in the electrical department for films (via IMDb). Although you didn't know it, you saw his work on "Pirates of the Caribbean," "Clockstoppers," and "The Pandora Project," among other projects.
According to AmoMama, Iswarienko met the "Heathers" star in 2008, but at the time, he was married to another actress, Taryn Band. The outlet states the photographer divorced Band, and he and Doherty dated.
Cancer helped strengthen Shannen Doherty's relationship with Kurt Iswarienko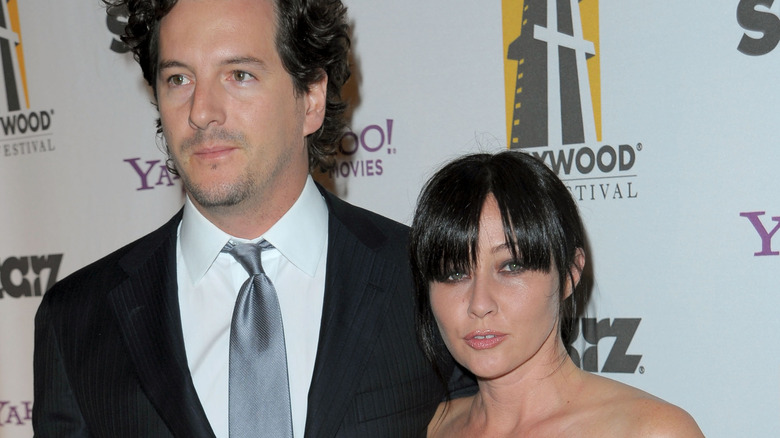 Shutterstock
The beginning of the star couple's relationship was captured by reality TV cameras in 2012 on the short-lived show "Shannen Says" (via IMDb). But their romance has endured until today, with Iswarienko and Doherty conquering far more than many couples during a lifetime. Indeed, as fans know, the 1990s TV icon was diagnosed with breast cancer in 2015, according to the Los Angeles Times.
Rather than the stress of her illness derailing the marriage, Doherty told People in 2019, "Cancer solidified us. Kurt and I have a much deeper appreciation for each other now."
The "BH 902010" star also told People, "We don't let a night go by mad at each other. The last time we had a big argument was pre-cancer." She also said about Iswarienko, "Cancer alters the people in your life. And it's shaped both of us. We look at life very differently now."
Shannen Doherty and Kurt Iswarienko are stronger than ever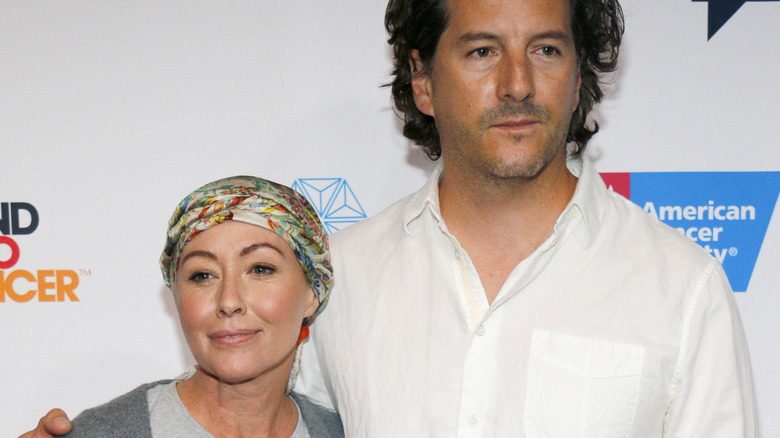 Jason Merritt/term/Getty Images
Indeed, as the actress, who went into remission in 2018, added about her marriage to Iswarienko pre-cancer, "We were definitely going through some growing pains. We would lock horns on things, and instead of resolving it, we wouldn't speak for a couple of days" (via Health).
She also said she doesn't feel the need to be sexy, and added, "How Kurt sees me really helps me be a better person. He was always like, 'I've never seen someone handle something so difficult with so much grace. You're so strong.' And I figured out, it's a quiet strength. And that is far sexier and appealing than I had before."
Doherty, whose cancer returned in 2020 and is now considered stage 4, also calls her husband her "rock in every possible way" (via AmoMama).