Longchamp Bags Are The Internet's New Favorite Accessory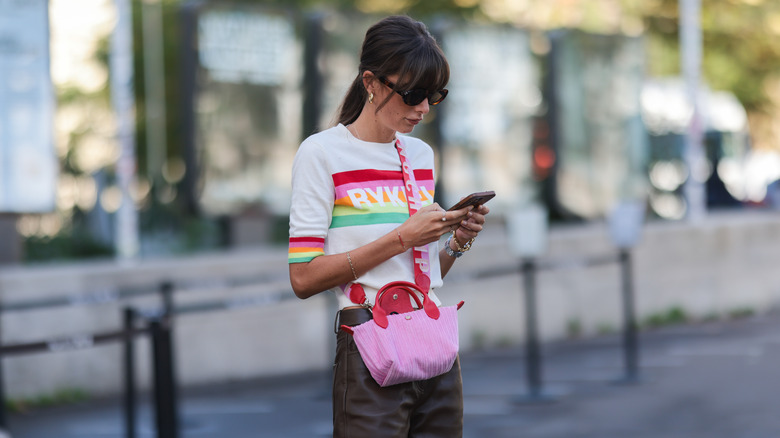 Jeremy Moeller/Getty Images
If you've never heard of Longchamp, the fact that it's one of Kate Middleton's go-to handbag brands should be an indicator that it's a quiet luxury brand. According to Page Six, the Princess of Wales has loved the brand since her college days and it's easy to see why. The Parisian fashion house was founded in 1948 and gradually rose to become a symbol of French luxury.
Not quite as well known to the general public as more high-profile luxury brands like Chanel and Dior, Longchamp can perhaps be considered more appealing to those who prefer understated accessories because of the more sensible, enduring designs it puts out — its tote bags are particularly famous. It's fallen relatively under the radar in recent years, generally speaking. 
Now, thanks to Gen Z and younger consumers in general the brand is experiencing a surprising uptick in popularity, specifically because of its bags. If you're tempted to buy a Longchamp bag yourself after seeing the brand's designs splashed all over your Insta feed, you're not alone. Here's everything you need to know about why a French quiet luxury brand that's almost 70 years old has suddenly gone viral.
Social media played a large role in catapulting the brand back onto people's radars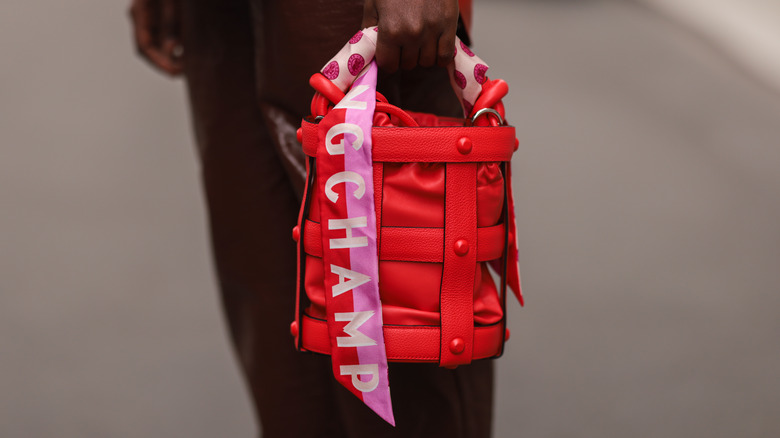 Jeremy Moeller/Getty Images
One of Longchamp's most popular bags is the Le Pliage pouch, which is priced at under $100. Technically a cosmetics bag, the simple and elegant design of the Le Pliage combined with its affordable price means it has been in seriously high demand lately. There are also larger versions of the Le Pliage that are made for carrying around all of your daily essentials and have a more traditional tote design. 
Naturally, TikTok has played a key part in making Longchamp chic again. Speaking to Byrdie, content creator Soraya Raji revealed she was one of the people who was influenced by TikTok to purchase her Le Pliage, noting, "I've been loving my Longchamp Le Pliage because it's the most durable bag I've ever used. I never have to worry about it getting damaged and you can't beat the spaciousness." 
Though the pouch version of the Le Pliage comes with a top handle only, TikTokers like @juliavaliranta have been adding a strap to theirs so it can be used as a crossbody-style bag too. Separate straps are available to purchase at Longchamp, or you can buy your own. To make your pouch into a crossbody, you'll need either grommets or a leather hole punch to thread your chosen strap through.
The bright colors really make Longchamp's designs stand out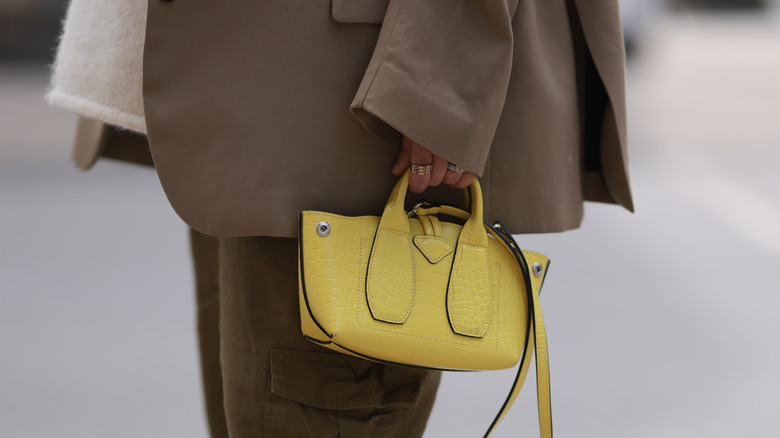 Jeremy Moeller/Getty Images
The preppy look of Longchamp bags is also reminiscent of the effortlessly cool and classic "French girl" style. Fitting in perfectly with the laidback vibe of Parisian women, the brand focuses less on what's trendy now and more on pieces that will never go out of style. The shapes may be timeless, but it's the colors that really make Longchamp bags pop. 
The brand's bag collection is infused with colors, from vibrant pink to acid orange (and of course, more neutral shades like beige and black). The sophisticated and understated luxury of the designs is partly why Longchamp bags are blowing up on social media. YouMe Lin, the founder of Cloud Studio, expressed her thoughts on why exactly she thinks Longchamp is so appealing as a brand. 
"They manage to maintain that touch of luxury, while still being friendly to different budgets," she told Byrdie. Lin also stated that she believes Longchamp is "flawlessly delivering what today's consumers desire. A perfect blend of status, style, quality, and accessibility that appeals to a diverse range of age groups." So, the next time you want to buy yourself something luxuriously timeless, look to Longchamp.