The Tragic Life Of Coco Chanel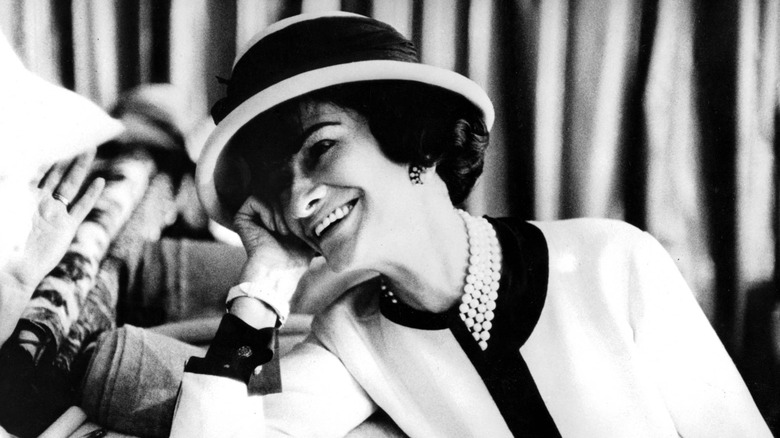 Apic/Getty Images
Coco Chanel. Few names in the world of fashion are quite as iconic as hers. After beginning her empire with a small hat boutique in 1910, Chanel went on to take over the industry with her famous "poor girl" look of the 1920s, her iconic No. 5 perfume, the little black dress, and, of course, her instantly recognizable tweed suits of the 1950s. These days, her name has become synonymous with Parisian chic, and celebrity ambassadors include the likes of Margaret Qualley, Sofia Coppola, and Whitney Peak.
However, despite the stratospheric success of Chanel's brand, her personal life wasn't always entirely happy. In fact, from a childhood tainted by poverty, to the loss of her first love, to a career shadowed by domineering male figures, her life was, behind closed doors, filled with sadness and struggle. Let's take a glimpse inside the little-known life of the iconic Chanel to find out — did Coco Chanel really have a tragic life?
Coco Chanel was born into poverty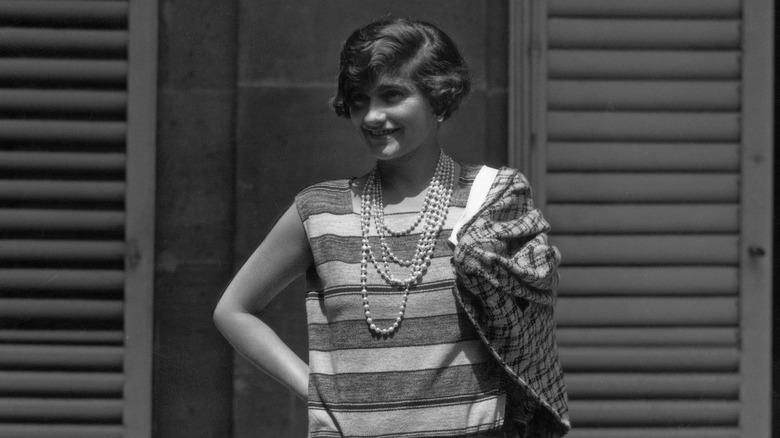 Sasha/Getty Images
Coco Chanel's early years were anything but easy. Born Gabrielle Bonheur Chanel in 1883 in the town of Saumur, France, Chanel experienced extreme poverty from a young age. Her parents were unmarried when she was born. Her mother soon died — Chanel claimed it was tuberculosis, but according to The Telegraph, it was probably illness brought on by poverty. Her father adopted her and her siblings, but soon, he abandoned them, leaving Chanel and her sisters at an orphanage. There, Chanel struggled to accept the strict rules of the nuns who raised her.
Later, when Chanel's fame grew, she seemed to resent her humble upbringing. In fact, according to many, she tried to escape her family through self-mythologizing rather than tell the full truth. "I don't like the family," she once said (via The Telegraph). "You're born in it, not of it. I don't know anything more terrifying than the family."
Coco Chanel got her start (and her name) as a singer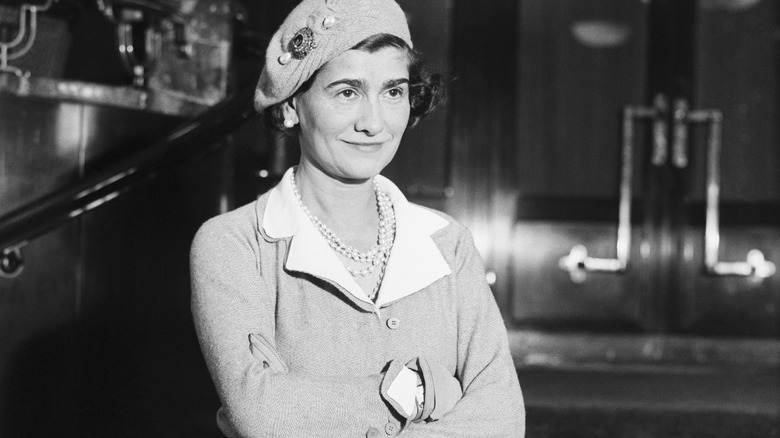 Bettmann/Getty Images
Upon finally leaving the orphanage where she was raised, Coco Chanel began to carve together a living. While she was taking her first steps in the world of fashion through a job as a seamstress, she also earned money by singing at a bar called La Rotonde. The bar was reportedly a hot spot for local soldiers. Her two songs were "Ko Ko Ri Ko" and "Qui qu'a vu Coco?" This is where she first got the name "Coco." 
Chanel later claimed this story was a myth intended to imply "that I have come up from goodness knows where; from the music hall, the opera or the brothel; I'm sorry, for that would have been more amusing," she said (via The Telegraph). Instead, she claimed that Coco was a nickname given to her by her father. Once again, Chanel, it seems, was embarrassed about her true past.
Coco Chanel opened her first shop as romantic drama raged in the background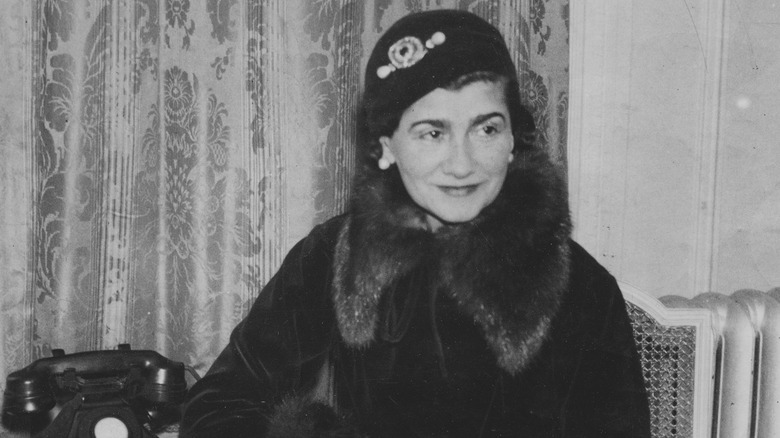 Fpg/Getty Images
Eventually, Coco Chanel opened her first shop, Chanel Modes, where she sold hats. While the shop was, in many ways, an exciting first step into the world of fashion, it was also clouded by her complicated love life, which was, from the beginning, intertwined with her professional life.
Around this time, Chanel had not one but two lovers — Etienne Balsan, a French officer, and Boy Capel, an Englishman. When Chanel tried to leave Balsan to be with Capel, a dramatic scene ensued. "We lunched and dined together, Etienne, Boy, and I," Chanel later recalled. "Occasionally Etienne talked about killing himself, and I wept. I wept so! 'You aren't going to let Etienne kill himself,' I said to myself. 'You'll set them both free. Go throw yourself into the Seine!'" (via The Telegraph). 
Despite all the drama and anguish, the two men ultimately joined together to help Chanel open her shop. "That history was also something that she was always very sensitive to and that made it especially difficult for her, because she was not quite reputable as a woman," said Tilar Mazzeo, author of "The Secret of Chanel No. 5" on the "Innovation Hub" podcast.
Coco Chanel's career took off after she popularized the poor girl look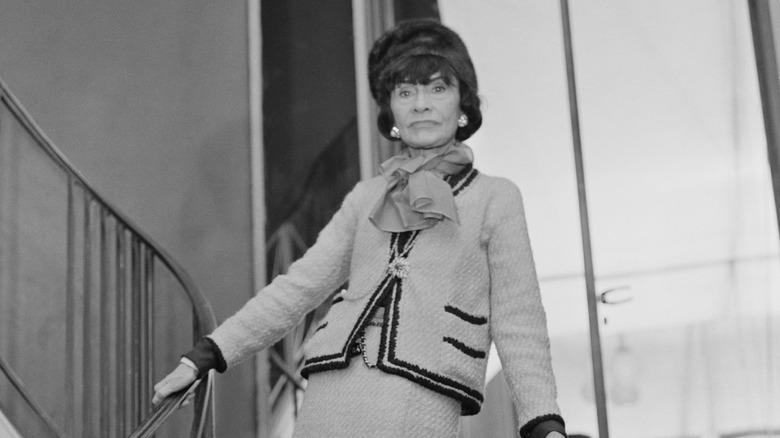 Michael Hardy/Getty Images
Soon enough, Coco Chanel's shop took off. Although Chanel's clothing was high-end, her classic style was actually inspired by her impoverished upbringing. It was dubbed the "genre pauvre," or "the poor style." Her clothes were simple, understated, and surprisingly unflashy. By using simple jersey fabric traditionally only seen in cheaper clothing, Chanel reinvented the very meaning of luxury. She also included references in her fashion to the clothing that had been worn by the nuns at her old orphanage. Ultimately, she brought the notion of comfort into the fashion world. "Luxury must be comfortable, otherwise it is not luxury," she once said (via Britannica). 
While the fact that Chanel's entire empire was built on her poor upbringing may seem somehow tragic, in many ways, it's remarkable to see how Chanel transformed her humble childhood into so much success. 
However, as Tilar Mazzeo said on the "Innovation Hub" podcast, she always feared her products weren't "luxurious enough." "That was always her primary concern," she said.
Coco Chanel adopted her nephew after her sister's death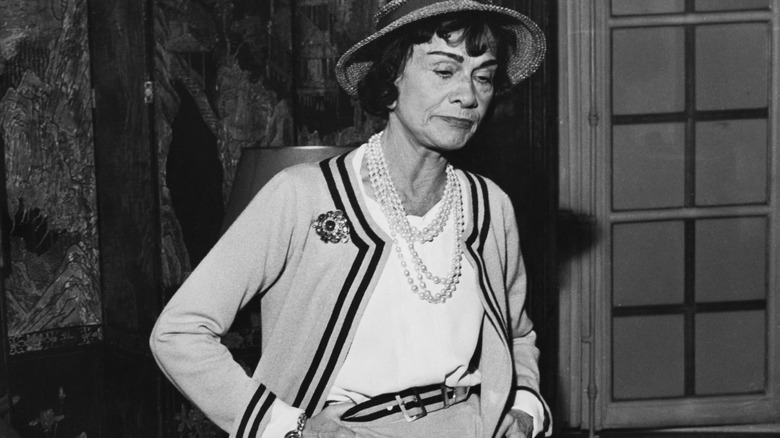 Archive Photos/Getty Images
Another tragedy befell Coco Chanel when her older sister Julia died around 1910. As Judith Little, author of the novel "The Chanel Sisters," wrote, Julia "seeks out physical love. She has no grand dreams to break out of poverty like the other two and is more willing to accept her lowly place in the world" (via Historical Novel Society). According to The Telegraph, Julia died by suicide when she discovered her husband's infidelity. 
Julia left behind a son, André, who had been born during Julia's time in the convent. His father was unknown. Chanel adopted her nephew, and, after living with him briefly, she sent him to a school in England — allegedly, the same one Chanel's lover, Boy Capel, had once attended.
Although little is known about Chanel's relationship with her nephew, upon her death, she left much of her estate to him and his daughters.
Coco Chanel's first love died in a car crash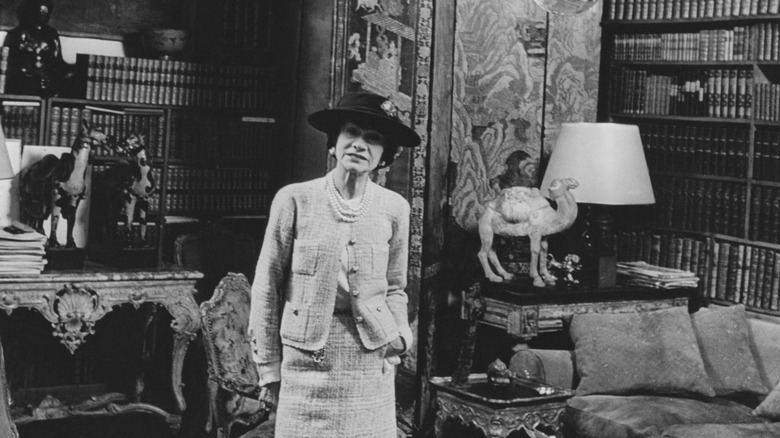 Photo Researchers/Getty Images
Tragedy struck once again for Coco Chanel in 1919, when Boy Capel died in a car crash. Many believe that Capel was the greatest love of Chanel's life, and his death hit her hard. "I lost ­everything with the loss of Capel," the designer later confessed (via Express). As actor Audrey Tatou, who played Chanel in a biopic, told Express, "She loved him dearly. It could have been all she needed to be happy."
As author Tilar Mazzeo said on the "Innovation Hub" podcast, his death was "one of the real tragedies of her life." She added, "She was really in love with him."
After his death, Chanel is said to have read novels as a means of connecting with Capel who had first inspired in her a love of literature. As AnOther Magazine reported, one of Chanel's most prized possessions was her copy of Paul Morand's novel "Lewis and Irène," which is said to have been inspired by her affair with Capel. Many years later, the Chanel brand also reportedly created the famous "Boy Bag" in his honor.
Coco Chanel designed clothes for several films — but critics weren't impressed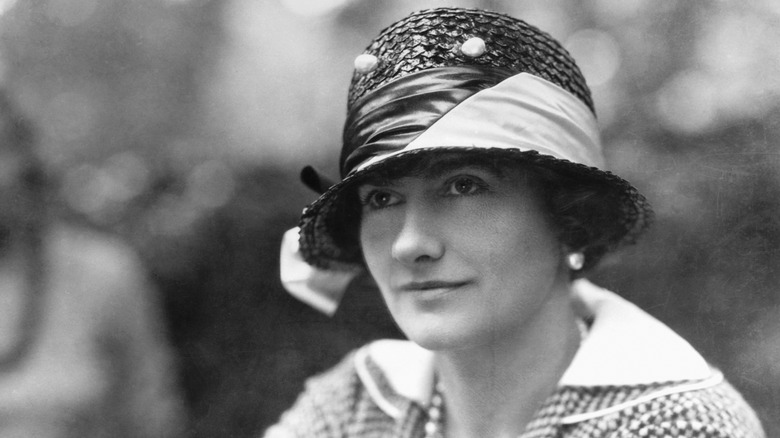 Hulton Deutsch/Getty Images
Throughout the 1930s, Coco Chanel's career continued to soar — however, not all of her ventures were wholly successful. Along with her hugely popular fashion line and her iconic No. 5 perfume, Chanel also dipped her toe into the world of Hollywood costume design.
As Vanity Fair reported, Samuel Goldwyn, a big movie producer at the time, wanted to utilize Chanel's designs to draw more female audience members to the cinemas. "I think that in engaging Mme. Chanel I have not only solved the difficult problem of how to keep clothes from being dated, but also there is a definite service rendered American women in being able to see in our pictures the newest Paris fashions — sometimes even before Paris sees them," he said.
However, despite Chanel's fame as a fashion designer, as a costume designer, she was less successful. Critics seemed to think that her designs weren't exciting enough for the screen. She "made a lady look like a lady. Hollywood wants a lady to look like two ladies," wrote one for The New Yorker, while a Hollywood costumer said, "The most elegant Chanel ... was a washout on the screen." While Chanel's misfire with Hollywood may not be tragic, it was certainly not a career high point.
Coco Chanel had a tumultuous affair with the Duke of Westminster but never married him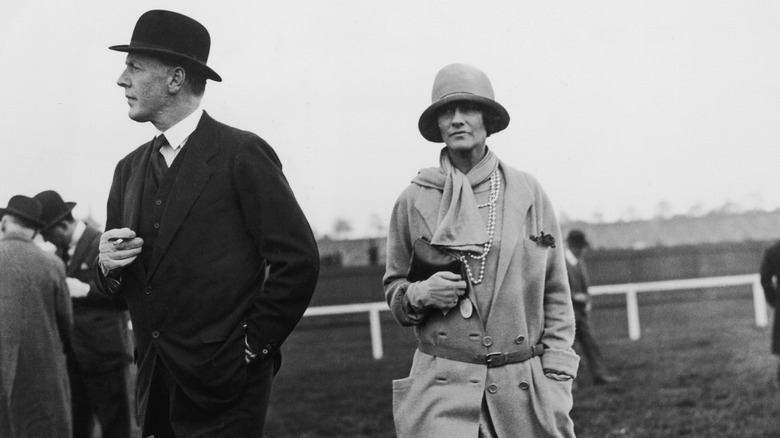 Phillips/Getty Images
After the death of Boy Capel, Coco Chanel embarked on another meaningful love affair — this time, with Hugh Grosvenor, the Duke of Westminster. Even though the duke was already married, they spent a lot of time together, and she even spent holidays with him in Scotland.
Although Chanel's relationship with the duke was, of course, filled with many happy moments, ultimately, it marked another tragedy for the designer. "She was also in love with the Duke of Westminster, and they also didn't get married," said Tilar Mazzeo on "Innovation Hub," referencing her earlier affair with Capel. "So, you know, there's a series of moments in her life where she falls in love with somebody and then the ultimate barrier to marriage and to having children and to having a family — you know, things that I think she really did want, especially in terms of marriage — were closed avenues to her in the circles that she ran because of her history."
In other words, Mazzeo believes that Chanel's relationship with the duke never culminated in marriage because of her past as an orphan and a bar singer.
Chanel closed down her business during World War II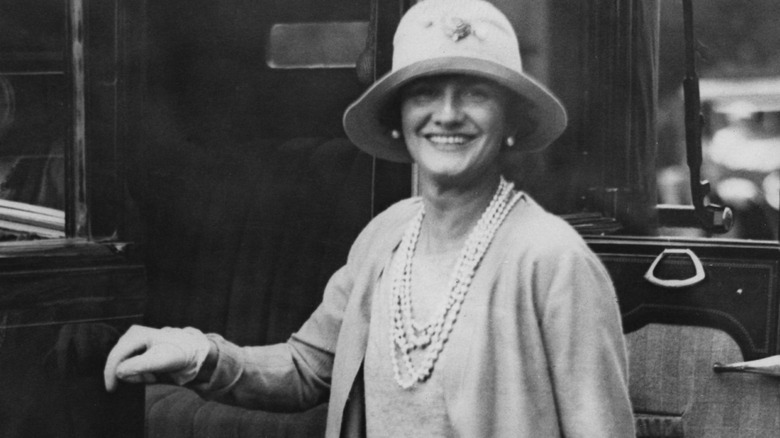 Fpg/Getty Images
Coco Chanel had dedicated her life to her fashion empire — but in the 1930s, the onset of World War II brought it all crashing down — at least for a time. France was, of course, occupied by the Nazis for much of the war. "At the beginning of the war, Chanel closed her couture house and withdrew to the shores of Lake Geneva, where she lived for 15 years on the royalties of her perfumes," Agence France-Presse wrote (via RFI). But this wasn't necessarily true.
Over the years, Chanel's questionable association with the Nazis during the war has come to light. For one thing, Chanel was having an affair with a German throughout the war. It is also believed that Chanel acted as a spy for a time. According to RFI, she operated under the code name "Westminster," and traded secrets in the hopes that the Germans would release her nephew from a war prison. 
Tilar Mazzeo told "Innovation Hub" there is a small chance that Chanel might have been a double agent who was secretly working against the Germans. Nevertheless, after the war she had to "flee France" because of her association with the Nazis. "There is no question that she was anti-Semitic. That's clear that she was," Mazzeo said. Allegedly, Winston Churchill helped her get out of the country.
Chanel made a miraculous comeback in the '50s — but was shunned in France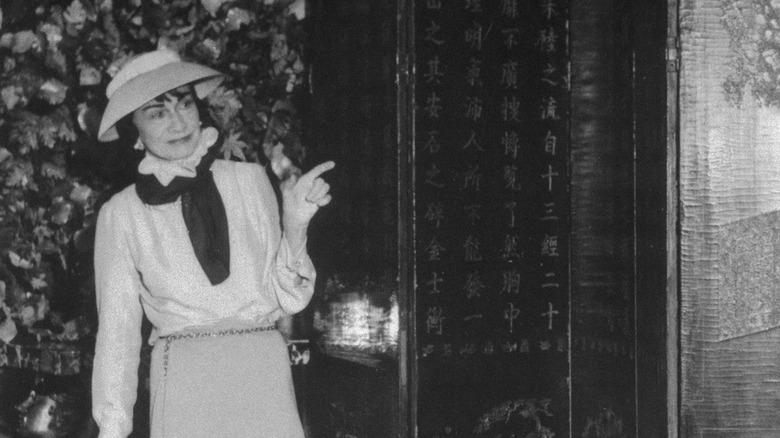 Bettmann/Getty Images
After what was essentially an exile from France and from the fashion world altogether, Coco Chanel managed to orchestrate an unlikely comeback. In 1954, at the age of 71, she returned to France with a brand new collection and reopened her couture house for the first time since the war. It was at this time that the famous Chanel suit was born.
According to Business of Fashion, she was largely shunned by the industry in France. "The French press was beyond horrible to her," designer Karl Lagerfeld told Women's Wear Daily (via The Telegraph). Lagerfeld even made a short film about the comeback.
However, she did find some success in America and Britain. This was enough for the Chanel brand to continue on and become the success it still is today. Sadly for Chanel, but perhaps fairly, she never again got to experience the levels of success she had once enjoyed in France before the war.
Coco Chanel didn't have full control of her company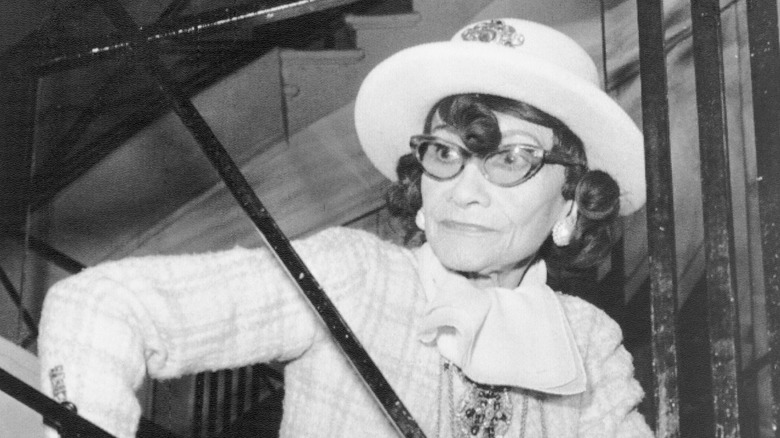 Bettmann/Getty Images
While Coco Chanel's fashion empire was hugely successful during her lifetime, she never had the chance to have full control of it herself. Since the 1920s, the Chanel brand had been owned by a family called the Wertheimers. It all began when Pierre Wertheimer financed Chanel's famous No. 5 perfume and took a 70% share in the company, leaving fellow business partner Theophile Bader with 20% and Chanel with just 10%.
Years later, as Tilar Mazzeo told "Innovation Hub," Chanel began "a very acrimonious legal battle" to regain a greater share. However, Chanel never wrestled back control of her company. Instead, she only managed to get 2% of worldwide sales.
Today, the Wertheimers remain fastidiously secretive about their role in Chanel. "It's about Coco Chanel. It's about Karl. It's about everyone who works and creates at Chanel. It's not about the Wertheimers," said one of the current owners, Gérard Wertheimer, to The New York Times.
Coco Chanel died alone in 1971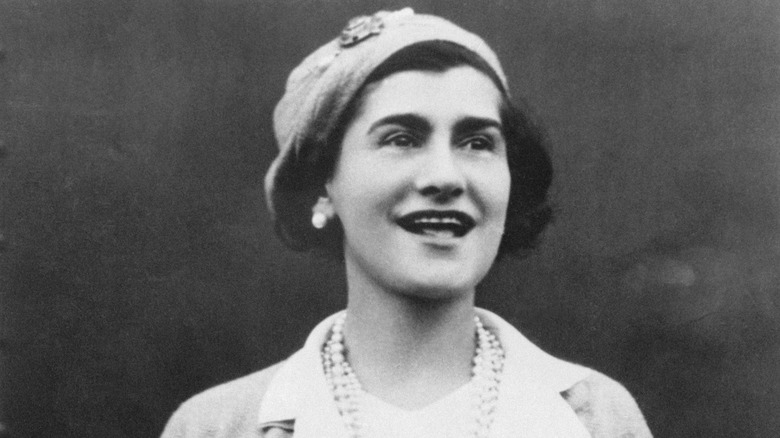 Bettmann/Getty Images
Although Coco Chanel had a number of intense love affairs throughout her life, she never married or had children of her own. By all accounts, at the end of her life, she was lonely. Chanel died in 1971 at the age of 87 at the Ritz in Paris, where she had been living.
"Her end was very gentle. We are dismayed because nothing in the days running up to it led us to believe this would happen," a friend said later (via Times of India). However, it seems that Chanel might have sensed her life was almost over. According to staff members at her fashion house, she had been working feverishly in the days before her death.
Chanel's last words were to her maid, Celine. "You see, this is how you die," the designer reportedly said (via Hello! Magazine). Chanel died before showing her final collection. While her life may have been filled with tragedy, there's no denying that she made a seismic impact on the fashion industry that will be remembered for many years to come.