How Many Kids Does Robert Kennedy Jr. Have?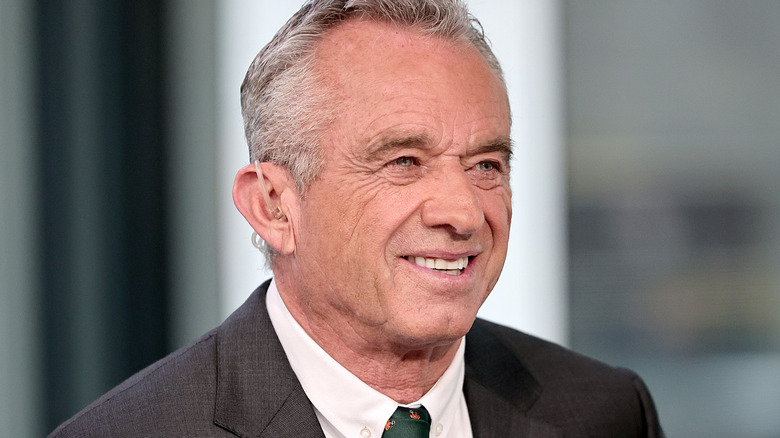 Jamie Mccarthy/Getty Images
There's no mistaking the Kennedy name. If you thought one of the Democratic presidential candidates sounded familiar, it's because he is from the same lineage as JFK. Robert F. Kennedy Jr. — sometimes referred to as RFK Jr. — is the nephew of former president John F. Kennedy. His father, Robert Kennedy, also ran for president before he was tragically assassinated in 1968. Similarly, his uncle Edward Kennedy ran against Jimmy Carter in 1980.
However, even though he possesses the Kennedy name, the family isn't a united front when it comes to his campaign platform. Aside from being an environmental lawyer, RFK is strongly anti-vaccine, something not all his family members agree with. The 2024 presidential candidate has said he bears "no ill will" for those relatives that oppose him. 
He is prepared to present a list of family members who support his run for the White House, which includes some of his children. All six of whom are members of the infamous Kennedy grandchildren clan.
Two kids from marriage number one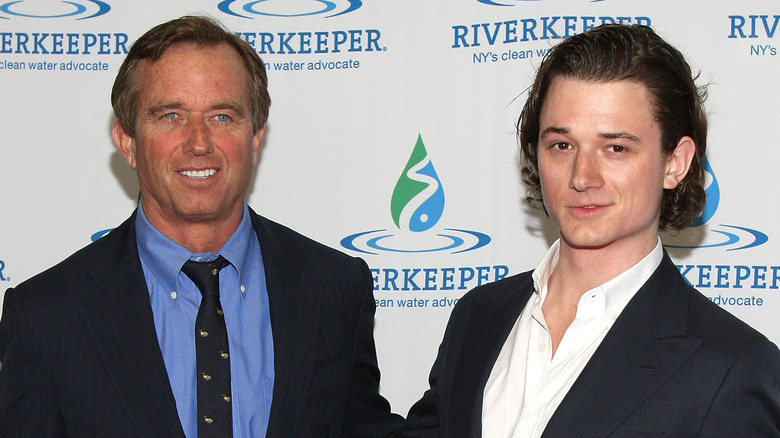 Ben Hider/Getty Images
Robert Kennedy Jr. has had a bit of a rocky past with matrimony. In April 1982, he married fellow law student Emily Ruth Black. Over the course of their 12-year relationship, they had two children. The first, Robert Francis "Bobby" Kennedy III, was born in 1984. Today, he is a writer and producer, occasionally delving into other entertainment industry career paths like acting. He and his wife, former CIA officer Amaryllis Fox, have two children.
Black and RFK had a second child, Kathleen Alexandra Kennedy, in 1988. She's more commonly known as "Kick" Kennedy after her great aunt, who devastatingly died at age 28 in a plane crash. Like her brother, she is also involved with Hollywood as an actor. So far, she has played a cameo as herself on "Gossip Girl," and appeared on "Curb Your Enthusiasm."
Unfortunately, Bobby and Kick's parents divorced in 1994 — allegedly after RFK proposed to the woman who would become his second wife, Mary Kathleen Richardson.
Four from marriage number two, plus...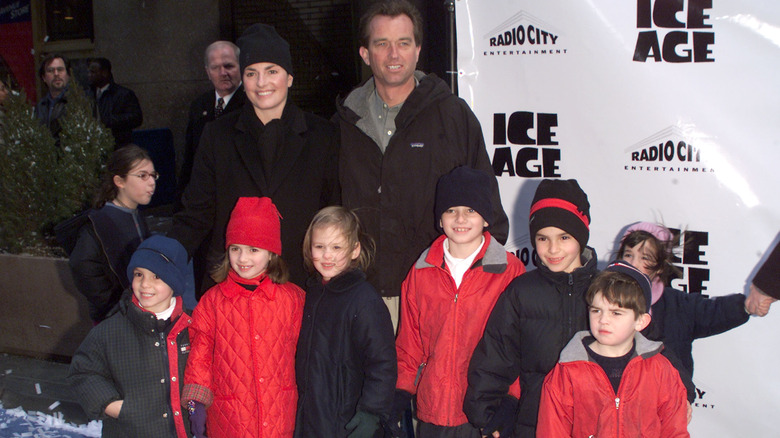 Evan Agostini/Getty Images
By the time Robert Kennedy Jr. and Mary Kathleen Richardson wed in April 1994, she was already six months pregnant with Conor Richardson Kennedy. It's a bit of an enigma as to what the 20-something-year-old does, with some citing that he is a writer, musician, and otherwise celebrity. He has also made headlines for dating Taylor Swift, and divulging that he secretly enlisted to fight in the Ukraine war.
With Mary, RFK had two more sons: William Finbar Kennedy and Aidan Caohman Vieques Kennedy, as well as a daughter in Kyra LeMoyne Kennedy. The latter made headlines for "bad behavior" and was "banned from Instagram" by her father for over three years. The socialite is back on social media today, though she mostly keeps a low profile. Mary, the four siblings' mother, tragically died by suicide in 2012.
Two years after her troubling passing, RFK wed Cheryl Hines from "Curb Your Enthusiasm." The actress has one daughter, Catherine Young, from her marriage to a man named Paul Young. Unlike his other children, Young wasn't seen supporting him during his presidential announcement. The candidate's own wife, Cheryl, has also distanced herself a bit from her husband's dismissive views of the COVID-19 vaccine, stating on Twitter that she doesn't share the same opinions.